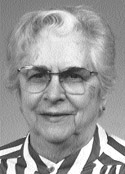 ODESSA — Helen Elizabeth Boverie, 79, resident of Odessa since 1996, passed from this life on Wednesday, April 7, 2004. She cherished her relationship with Jesus Christ and knew she would spend eternity with him. Helen was born in Chanute, Kan., on May 12, 1924.
She was preceded in death by her parents, Ester and Jesse Mathis. Also preceding her was her husband, John Boverie, and grandsons, Brent and Derek Corbin.
She is survived by daughters, Sharron Koenig and husband, Walt, of Grand River, Ohio, and by Linda Sullivan and husband, David, of Odessa. She also has three stepsons, Jack Boverie of Kendal, Texas, John Boverie of Denver, Colo., and Jules Boverie of Lubbock, Texas. Her only sibling is brother, Frank Strayer, and wife, Phyllis, of Prescott, Ariz.
Grandchildren are Robert Boyd and wife, Karen, of Manchester, Md., Andrea Douthit and husband, Chuck, of Arlington, Texas, Jennifer Bizzell and husband, Eddy, of Odessa, Texas, and Jason Boyd and wife, Heather, of Myrtle Beach, S.C.
She had two great-grandchildren, Bailey Douthit and Carlee Bizzell.
The joy of her life has been her church. She was an active member of "Young at Heart" and of her Sunday school class at Temple Baptist Church.
Services will be held at Frank W. Wilson Funeral Directors in Odessa on Saturday, April 10, 2004, at 3 p.m. with the Rev. Johnny Thomason from Temple Baptist officiating. Burial will follow at Sunset Memorial Gardens.
We need not ponder death with fear,
Though what's ahead we cannot see:
For we who put our faith in Christ
Look forward to eternity.
Sper
Services entrusted to Frank W. Wilson Funeral Directors.