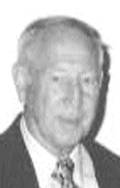 ODESSA — Curtis Callaway, 76, of Midland passed away on April 21, 2004, at Hospice Midland Inpatient Unit at Midland Memorial Hospital. He was born on November 13, 1927, in Rhonesboro, Texas, to Fred and Ida Bolton Callaway.
Services will be held at 2 p.m. Friday, April 23, 2004, at Sunset Memorial Funeral Home Chapel with Pastor Bob Hopkins, the Associate Pastor at First Baptist Church of Midland, officiating. Military Honors will follow at Sunset Memorial Gardens with the VFW.
He was preceded in death by his parents, four brothers and a sister.
Mr. Callaway graduated from SMU in 1952 with a degree in Civil Engineering and worked for Mobil Oil Co as a Process Engineering Advisor. Following his retirement, he formed and operated Callaway Engineering and Land Surveying. He was a member of the Board of Professional Engineers. He was a Veteran of WWII and the Korean War. He was an Avid golfer, but his favorite activity was spending time with his grandchildren.
He is survived by his wife, Betsy Callaway of Midland; two daughters, Teresa and husband, Allen Browning, of Abilene, Melissa and husband, Rodney Hatfield, of Midland; four sons, Mark Gibson of Kingfisher, Okla., Buddy and wife, Siegrid Beauvais, of Bryan, Bob and Kim Beauvais of Lincoln, N.M., Bill Beauvais of Lubbock; and Aunt Armor Edmunds of Longview; grandchildren, Brian Beauvais, Kacey, Chase and Kelsey Browning, Julie and Jennifer Hatfield, Justin Gibson, Gabriele, Tina, Mike Peter and Hans Beauvais, Danielle and Russell Beauvais.
In lieu of flowers, the family request memorials be made to the Hospice of Midland.