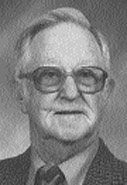 ODESSA — Clarence Earl Corzine, 84, a resident of Odessa since 1948, went to be with the Lord on Thursday, April 8, 2004, at Alliance Hospital. He was born March 18, 1920, in Ponca City, Okla. He served in the U.S. Army during WWII. He married Ethel Zumwalt March 14, 1947, in Winfield, Kan. They were married for 57 years.
Clarence had worked for Phillips Petroleum Co. for over 35 years. He and Ethel had been members of Crescent Park Baptist Church for 30 years and he had been a greeter at the east door for a number of years.
He was preceded in death by his parents, Earl and Irma Corzine, and brother, John Corzine.
He is survived by his wife, Ethel Corzine of Odessa; sons, Tracy Corzine and wife, Carolyn, and Danny Corzine and wife, Glyndel, all of Tyler; daughter, Anita Miller of Odessa; brother, Roger Corzine of Odessa; seven grandchildren and nine great-grandchildren; and a host of dear friends.
There will be a visitation from 7 to 9 p.m. Friday, April 9, 2004, at Hubbard-Kelly Funeral Home.
Funeral services are scheduled for 2 p.m. Saturday, April 10, 2004, at Crescent Park Baptist Church with grandson, Dr. Shawn Corzine assisted by Dr. Johnny Dickerson, Pastor at Crescent Park Baptist Church, officiating. Interment will follow at Sunset Memorial Gardens.
Memorials may be made to Crescent Park Baptist Church Building Fund.
Services entrusted to Hubbard-Kelly Funeral Home.