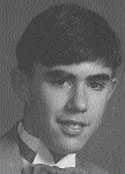 ODESSA — Bryan Michael Holbrook, formerly of Odessa, Texas, passed away peacefully on Saturday, April 10, 2004, at St. Luke's Episcopal Hospital in Houston.
Bryan was born to Janice and Vaughn Holbrook on August 18, 1977, in Andrews. He graduated from Odessa High School in 1995 and attended Odessa College. He was an outstanding student and participated in the choir. Bryan was a longtime member of Sunset Heights Baptist Church. Bryan was employed with Cierra Pipe Co. in Houston as an inventory control clerk. He was an avid Braves and Astros fan-a real armchair sports fanatic.
Bryan was a hero to many people. At the age of seven, he was only the ninth child to undergo a liver transplant at Children's Medical Center in Dallas. His enthusiasm for life was contagious. Even in illness, Bryan's optimism, his sense of humor, and his love and compassion for others made him a perfect role model for his family and friends. He valued the second chance at life he was given due to the generosity of organ donors. With the additional nineteen years of life that Bryan received after his transplant, he took every opportunity to live life to the fullest. He traveled, enjoyed the times spent with his family and friends, relished baseball and lived a happy, fulfilled life. His death resulted in pulmonary complications while his liver continued to work perfectly.
Bryan was preceded in death by his grandparents, Macon and Evelyn Henry and Willie Holbrook.
Bryan is survived by his parents, Vaughn and Janice Holbrook of Crosby, Texas; brother, Jonathan Holbrook of Crosby; grandmother, Mildred Holbrook of Odessa; his aunts and uncles, Gwen and Kirby Boyd of Fort Worth, Jo and Danny Zant of Odessa, Leon and Sylvia Henry of Donaldsonville, La., Charlie Holbrook of Alpine, Dan and Jeanie Holbrook of Odessa and Shawn and Jenny Holbrook of Odessa. He leaves a host of cousins, great-aunts and uncles and many friends.
Services will be held at 2 p.m. Wednesday, April 14, 2004, at Sunset Heights Baptist Church with Rev. Jess Little officiating. Interment will follow at Sunset Memorial Gardens.
Services entrusted to Hubbard-Kelly Funeral Home.