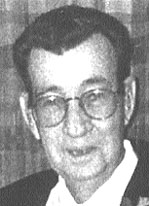 ODESSA — Billy Ray Everett, 65, of Odessa, passed away Wednesday, April 14, 2004, at his residence. He was born November 9, 1938, in Bonanza, Ark. He moved to Odessa in 1952 from Arkansas. He was retired production foreman, having worked for OXY Production.
He is survived by his sons, Larkin Everett of Odessa, Guy Everett and wife, Ruschelle, of San Angelo and Tony Everett and wife, Christine, of Big Spring; a sister, Patsy Owen and husband, Jerry, of Odessa; and five grandchildren, Tanya, Jeremy, Brandon, Andrew and Bryce.
Graveside services will be held at 10 a.m. Saturday, April 17, 2004, at Sunset Memorial Gardens with the Rev. Jimmy Braswell officiating.
Services entrusted to Hubbard-Kelly Funeral Home.