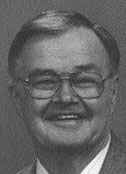 ODESSA — Albert W. Dale Jr., 81, an Odessa resident since 1959, passed away Saturday, April 3, 2004, at Medical Center Hospital in Odessa, Texas. Albert Dale Jr. was born in Falfurrias, Texas, on March 31, 1923, the first child of Leota and Albert Dale.
Albert Dale served in the Navy as a Chief Petty Officer. He was seasoned by World War II and the Korean Conflict and received his education from the "school of hard knocks."
In April 1941, he joined the Navy and flew escort patrols in South America monitoring enemy submarine movement to Africa. Two years later, he was transferred to England and was attached to a Norwegian squadron that monitored the German shipments along the Fjords of Norway. At 20 years of age, he was promoted to Chief Petty Officer in the Navy. Albert was discharged from the Navy in 1946, but was recalled to service in 1951 during the Korean Conflict to fly "surveillance" missions off the coast of China.
In 1953, he moved his family to Pecos, Texas, to start his life adventure in the private sector. Albert's insatiable curiosity and determination to succeed were the core ingredients that propelled him to success in the communication industry during the next 40 years.
In 1960, Albert expanded his business, Industrial Communications, and opened a new office in Odessa, Texas. In Odessa, his business success continued and he accepted new responsibilities as a civic leader. Albert's leadership abilities were apparent to anyone who worked for him. Albert was a leader who led by example. If there was a cause to support that would benefit the city of Odessa, he was the first person to volunteer.
He is a past president of the Optimist Club, past president of the Telephone Answering Service Association of Texas, a fund-raiser for the YMCA and the Permian Playhouse, a past nominee of the Friends of the Art award, a deacon and elder at St. Paul Presbyterian Church and a board member of the Presbyterian School of Pan American in Kingsville, Texas.
Albert loved life, family and friends. He had a contagious "happy face" smile, a loving spirit anchored by his religious faith and a warmth of soul that touched the heart of anyone who met him. He had no enemies. Albert Dale worked hard his whole life to make this world a better place for all of us. He will be missed, but his spirit will always be with us. The ascension of his soul is complete. He has begun a new life with a new beginning with Jesus Christ, his Lord and Savior.
Military graveside services are scheduled for 10 a.m. Tuesday, April 6, 2004, at Sunset Memorial Gardens with Steve Deines and Nora Fitch officiating. A Celebration of Life will be held at 2 p.m. Tuesday, April 7, 2004, at First Presbyterian Church.
Pallbearers are Munro Shintani, Charlie Taylor, Charles Perry, Charles Wood, Bryan Henderson, Eugene Martin and Paul Tittle.
If desired, memorials may be made to the Odessa Optimist Club Scholarship Fund or to the Presbyterian School of Pan American in Kingsville, Texas.
Albert was preceded in death by his mother and father. Albert is survived by the love of his life, his wife, Betty Dale of Odessa; son, Billy Dale of Mineola, Texas; grandchildren, Sarah Dale of Lubbock, Texas; and Bradley Dale of Lewisville, Texas; his brother, John Dale of Houston, Texas; sister, Elizabeth Tarr of Harlingen, Texas; his brother-in-law, Pete Donohoe and wife, Vicki, of Mineola, Texas; and numerous nieces and nephews.
Services entrusted to Hubbard-Kelly Funeral Home.