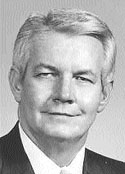 Roderic E. Griffin Jr.

ODESSA ó A welcome home celebration was given for Roderic E. Griffin Jr. of Odessa, Texas, at 3:23 p.m. Wednesday, Feb. 4, 2004. The affair was held in his Heavenly mansion with God and Jesus hosting. His mother, Esther Griffin Harris, and father, Rod Griffin Sr., were there to greet him and there were many loved ones, including his sister, Carolyn, in attendance, plus many other loved friends and relatives.
Rod was born Sept. 23, 1933, and everyone had a wonderful, glorious time. Those here on earth will celebrate with a home gathering at 2 p.m. Saturday, Feb. 7, 2004, at Antioch Christian Church, 4040 E. Maple.
Those joining the celebration were Rodís wife of 50 plus years, of the home; son, Rod Griffin and wife, Carolyn; son, Danny Griffin; grandson, Hayden Edward Griffin and his mother, Kristen Santa Maria, who is so loved by Rod and Jetta, of Lawrenceville, Ga.; granddaughter, Shannon Baldwin and husband, Scott, of Cedar Creek, Texas; sister, Phyllis Pinkston and husband, Ron, of Sapulpa, Okla.; plus many other nieces, nephews, loved relatives and friends.
Arrangements were handled by Frank W. Wilson Funeral Directors.
Master of ceremonies was Pastor Don Fankhauser, Antioch Christian Church. In charge of music were Rod Griffin, son, and Pastor Don Fankhauser. A poem was presented by Rodís sister, Phyllis.
In charge of Rodís luggage which will be transported later were pallbearers: Floyd Rountree, Bob Nolan, Bill Lewallen, Mike Johnson (nephew, Sapulpa, Okla.), Dave Vandever and PeeWee Robbins. Continuation of the celebration was at Sunset Memorial Gardens.