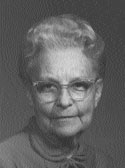 Dora Francis Gray
Odessa American Newspaper
Submittied by Dee Bishop

ODESSA — Dora Francis Wootan Gray was born in Mason County, Texas, on Nov. 10, 1918, to Sam Houston and Lillie Henry Wootan. She passed from this life on Tuesday, Feb. 3, 2004.
Dora married Moore Gray on Sept. 16, 1940. She was blessed with an instant family, as Moore brought his children, Moreen and Donald Wayne to this union. A daughter and son, Naomi and Nathan were later born and completed the family.
She always had time to play with her children, teaching them about God and disciplining them in her gentle, loving and patient way. When grandchildren came along, she continued to spend hours sewing for them, playing games and entertaining them with stories and songs. She was never too busy to get down on the floor and play with the children. She always took time to be with her family.
She was a dedicated Christian lady and was a longtime member of the First United Pentecostal Church. She was a Sunday school teacher for the junior class for many years. Dora took her relationship with God seriously, and prayed daily for her friends and family members.
She was preceded in death by her husband, Moore Gray; her sister, Selma Elliott; two grandsons; and her dear friends, Louise Johnston and Ruth Farris.
She is survived by her four children and their spouses, Nathan and Elaine Gray, Naomi and Larry Bunch, Donald Wayne and Faye Gray, and Moreen and Don Butchee. She is also survived by her 10 grandchildren and 16 great-grandchildren, with another one expected soon. She will also be greatly missed by her sister, Helen Sanders, her brothers, A.C. Wootan and Sam Wootan and their spouses, as well as numerous nieces, nephews and a host of friends.
The family will be receiving visitors from 7 to 9 p.m. Thursday, Feb. 5, 2004, at Hubbard-Kelly Funeral Home.
A funeral service will be held at 10 a.m. Friday, Feb. 6, 2004, at the First United Pentecostal Church with Rev. Terry Pugh officiating. Interment will follow at Sunset Memorial Gardens.
Services entrusted to Hubbard-Kelly Funeral Home.