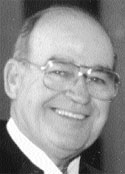 Edward A. Denning
OA Jan 13 2004

ODESSA ó Edward A. Denning, 75, passed away Jan. 11, 2004, at Medical Center Hospital after a brief illness.
He is survived by his wife, Betty Parrish Denning; his children, Phillip Denning and wife Laurie of Katy, Texas; Jeffrey Denning and wife Christa of Katy, Texas; and Sharon Denning of Odessa; his sister, Mary Alice Ellard of Graham, Texas; his brother Homer Denning of Frisco, Texas; and his grandchildren Peter Chang-Leon, Spencer Denning, Emma Denning and Megan Denning.
He was preceded in death by his parents and by his brother Winifred Denning.
Ed was born Feb. 12, 1928, in Bryson, Texas, to Luther Denning and Mary Butler Denning.
He grew up in Bryson and graduated from Bryson High School in 1945.
He served in the U.S. Navy from 1945 to 1947 and was stationed in China.
He moved to Snyder, Texas, in 1952 and began working as a field representative for TOTCO, an oilfield service company.
He married Betty Jo Parrish on Aug. 23, 1952, in Honey Grove, Texas.
Ed worked for TOTCO for nearly 40 years, retiring as a district manager in Odessa in 1991.
His family will remember a caring husband, father and brother and a devoted grandfather.
Edís friends will remember a plainspoken, kindhearted and unselfish man who loved to talk, helped his neighbors and cherished his home and family.
Visitation will be from 6 to 8 p.m. today at Frank Wilson Funeral Directors.
Following a private burial at Sunset Memorial Gardens, there will be a 2:30 p.m. memorial service Wed., Jan. 14, 2004, in the chapel at Frank W. Wilson Funeral Directors.