Sunset Memorial Gardens Cemetery
Odessa, Ector County, Texas (Obits)
Obits Submitted by Dolores I. Bishop
Cemeteries of Texas Coordinator: Dolores I. Bishop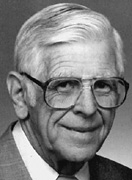 Earl C. Ballew

ODESSA — Earl C. Ballew, age 82, of Odessa, went to be with his heavenly Father on Jan. 1, 2004, at his residence. He was surrounded by his family.
A graveside service will be held at 9:30 a.m. Monday, Jan. 5, 2004, at Sunset Memorial Gardens. A memorial service will immediately follow at First Church of the Nazarene.
A family visitation is scheduled from 3 p.m. to 4 p.m. today, Jan. 4, 2004, at Hubbard-Kelly Funeral Home.
Earl was born on May 10, 1921, in Gainesville, TX. He served in the U.S. Army Signal Corps during World War II.
On Feb. 2, 1947, he married Emma Louise Vardeman and enjoyed 56 years of marriage. Earl was a dental technician for 54 years and owned Ballew Dental Lab locally. He was a very loving husband and father. His consuming love and close relationship with his grandchildren brought him a great amount of joy and contentment during his later years.
Earl is survived by his wife, Louise; sons, Dennis and wife Darlene and Steve and wife Terri; grandchildren, Jana Smith, Christy Noble, Mike Ballew, Keri Ballew and Scott Ballew. Earl is also survived by a sister, Evelyn Frampton; and a brother, Charles Bailey. He had three great-grandchildren.
Services are entrusted to Hubbard-Kelly Funeral Home.