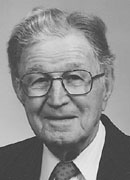 Troy George Lasater
OA Jan 11 2004

ODESSA — Troy George Lasater, age 96, passed away Thursday, Jan. 8, 2004, in Colorado Springs, Colo.
Troy was born Jan. 1, 1908, in Brandsville, Miss., to George Ruben and Anna Tiner Lasater.
Troy is survived by Louise (Stanfield), his wife of 73 years; his brother, Dick Lasater of Bartlesville, Okla; sister, Pauline Perrier of Tulsa, Okla; sister, Jenny Braden of Borger, Texas; son, Jerry Lasater and wife Flo of Weslaco, Texas; and daughter, Deanna Starkey and husband Ken of Larkspur, Colo. He is also survived by 12 grandchildren; 18 great-grandchildren; and one great-great-grandchild.
He was preceded in death by his mother and father; beloved son, Charles Lasater; brothers, Russell, Harry, Arthur (Blackie) and Charles (Chock); and sister Mildred.
Troy retired in 1973 after 43 years of service with Phillips Petroleum Co. He served as President of the school board in Andrews, Texas. He was a member of the First Baptist Church, the Masonic Lodge and Lions Club.
Troy and Louise lived in Odessa for many years and had lived in Donna, Texas, just prior to moving to Colorado Springs, Colo.
Troy enjoyed spending time with family and friends. He and Louise traveled in their motorhome with other "Philresters" many times during their retirement. He tended a garden and mowed his lawn well into his 90s.
Troy was a kind, gentle man with many friends and loved ones. He always worried about others and their happiness. His humility, honesty, faith and integrity were always apparent and his commitment to his wife and family will always be an inspiration. Although he lived a long and wonderful life, he will be dearly missed and always remembered in our hearts.
Visitation will be from 5 p.m. to 7 p.m. Tuesday, Jan. 13th at Hubbard-Kelly Funeral Home.
Services are scheduled for 10 a.m. Wednesday, Jan. 14, 2004, at First Baptist Church in Odessa. Burial will follow immediately at Sunset Memorial Garden Cemetery.
Services entrusted to Hubbard-Kelly Funeral Home.