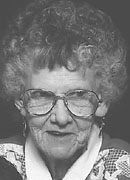 Dorothy 'Dot' Mae Kite
OA Jan 11 2004

ODESSA — Dorothy "Dot" Mae Kite, age 80, passed away Friday, Jan. 9, 2004, at Medical Center Hospital.
She was born Aug. 23, 1923, to Adebert and Ruth Goff in Lincoln, Neb. She moved from Montana to Odessa in 1955.
Dot married Billy Kite on April 13, 1972, in Odessa. She was a member of the Methodist Church.
Her son, Jerry Bell, preceded her in death.
Survivors include her husband, Bill Kite, of Odessa; daughter, Candy Knightstep and Glen Lawson of Odessa; grandchildren, Nova Montgomery, Crystal Bell, Cory Lawson and Cody Lawson; and great-grandchildren, Shelbi and Austyn Montgomery.
Graveside services are scheduled for 2 p.m. Monday, Jan. 12, 2004, at Sunset Memorial Gardens.
Services entrusted to Hubbard-Kelly Funeral Home.