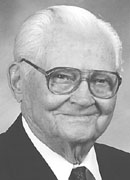 Rudolph Frederick Juedeman
1908 – 2004
OA Jan 24 2004
ODESSA — R.F. "Rudy" Juedeman, longstanding Odessa political and civic leader, died late Tuesday at Medical Center Hospital following a short illness. He was 95.
Mr. Juedeman was a mainstay of the Republican Party in Texas and was instrumental in building an effective party apparatus in Ector County during the early 1960s, an era when state and local politics were dominated by the Democratic Party. Relying on his experience as a three-term representative in the Montana Legislative Assembly, he mentored young Republican candidates running for office, advised party faithful on the creation of an effective vote getting organization, and campaigned tirelessly for Texas Republican issues and candidates for over three decades. Characterized by a positive attitude and an ever-present sense of humor, he zestfully entered the political fray. Victories were received with cheerful grace, and losses were received without bitterness or rancor.
Mr. Juedeman was active in local and regional public affairs, serving in a variety of civic capacities. He served on the University of Texas College Coordinating Board, Odessa College Board of Trustees, Small Business Administration Citizens Advisory Committee, and the Medical Center Hospital Board of Managers. Awards included Outstanding Citizen of Odessa in 1975, University of Texas Permian Basin Outstanding Citizen in 1985, and Heritage of Odessa Foundation Award for Excellence in Community Service for Government in 1998. He was a past Director and President of the Odessa Chamber of Commerce. He was also a 32-degree Mason and a member of the Shriners.
Rudy Juedeman was born on May 11, 1908, near Slick, Oklahoma. Cultivating an early interest in politics, he unsuccessfully ran for the Oklahoma House of Representatives in 1934. In 1936, he moved from Oklahoma to Montana and began farming wheat, barley and mustard near the Canadian border. In 1952, he was elected to the House of Representatives in the Montana Legislative Assembly. During a successful six-year tenure in the Montana House, he became Republican minority leader and served as Chairman of the Montana Republican Party. In 1958 he moved to Odessa and partnered with his best friend and brother-in-law, M. F. "Jake" Lawless, in a series of oil and gas investments that stretched over a 25-year period. During this time, Mr. Juedeman energetically and enthusiastically entered into Odessa political and civic life, an activity he continued for almost 40 years.
Mr. Juedeman was predeceased by his wife of 55 years, Ithai, in 1988. He is survived by his daughter, Dr. Lynne J. Baldwin of Omaha, Nebraska, his brother, Ralph E. Juedeman, of Bristow, Oklahoma, and numerous nieces and nephews.
Services will be held Saturday, January 24, 2004, at 10 a.m. in the Hubbard Kelly Funeral Home Chapel.