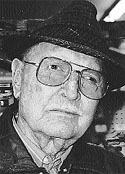 John Wendell Postelle
OA Jan 30 2004

ODESSA — John Wendell Postelle died Wednesday, Jan. 28, 2004, at Hospice House in Odessa, Texas. Wendell was born in Wehatta, N.C., Aug. 1, 1908, to C.N. and Florence Mae West Postelle. He married Edna Blalock in 1931 and they moved to the West Texas oilfields in 1937 to work for Fred Postelle. In 1948, he moved back to Odessa.
Wendell owned and operated Postelle Rod Service until he retired. He was a member of Cumberland Presbyterian Church and a Master Mason.
At age 95, Wendell still enjoyed sharing his knowledge and skills as a sportsman and outdoorsman with his family and friends.
Wendell is preceded in death by his first wife Edna, his parents, three sisters and three brothers.
He is survived by his wife of 23 years, Hootie Heaton Postelle. Together Wendell and Hootie loved to travel, fish, hunt and play golf.
Wendell is also survived by one daughter, Jo Freeman and her husband, Darrel, of Santa Rosa, N.M.; one son, Roddy Postelle and his wife, Eva, of San Antonio, Texas; two stepchildren, Stephen Thompson of Odessa and Peggy Gaitan and her husband, Robert, of New Braunfels, Texas; several grandchildren and great-grandchildren and many friends.
Graveside services will be held at 10 a.m. Saturday in the Sunset Memorial Mausoleum. Services entrusted to Sunset Funeral Home.