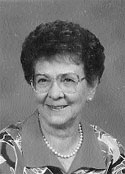 Martha Meinzer Floyd
OA Jan 27 2004

ODESSA — Martha Meinzer Floyd, 83, passed away Sunday, Jan. 25, 2004, at Manor Park in Midland. She was born Sunday, Feb. 15, 1920, in Breckenridge, Texas, to the late Stoke and Lottie (Martin) Hamil.
Martha was a member of the Christian Church and an Honorary Life Member of Ranchland Hills W.G.A. Association. She was a homemaker and resident of Midland for 44 years, having moved there from Odessa.
Those left to cherish her memory are one son, Larry Meinzer of Cresson, Texas; one daughter, Brenda Meinzer Gray and husband, Jerry, of Dallas, Texas; one sister, Juanita Stewart of Arlington, Texas; one brother, Ralph Hamil of Breckenridge, Texas; four grandchildren, Mark Gray and wife, Darla, Steven Gray and wife, Carrie, Coby Meinzer and wife, Laura, and Lance Meinzer; and six great-grandchildren.
Martha was preceded in death by her first husband, Archie Meinzer in 1958, and by her second husband, Bob Floyd in 1986.
Graveside services are scheduled for 2 p.m. Tuesday, Jan. 27, 2004, at Sunset Memorial Gardens in Odessa, with Steve Johnson officiating.
The family requests that memorials be sent to Hospice of Midland, 911 West Texas, Midland, TX 79701.
Arrangements are entrusted to Family Services Funeral Parlor of Kermit.