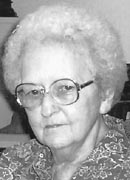 Patty Clements
Jan 22 2004

ODESSA — Funeral services for Patty Clements, 68, of Odessa will be held at 1 p.m. Friday, Jan. 23, 2004, at the Sunset Memorial Chapel with Rev. Gale Wilson officiating. Interment will follow in Sunset Memorial Gardens. Services entrusted to Sunset Memorial Funeral Home.
Mrs. Clements passed away Wednesday, Jan. 21, 2004, at the Hospice House. She was born Nov. 10, 1935, in Florien, La., to Charles and Bessie Haynie. She graduated from Odessa High School in 1953 and began working as a teller at the First National Bank. She later worked as the assistant to the editor at the Odessa American and for Joe White Lincoln-Mercury. Lastly, she was the Vice President and investment banker for the West Texas Educators Credit Union.
She has been a resident of Odessa since 1948 moving from Leesville, La.
Survivors include her brothers, Frank Haynie of Mobile, Ala., Louis Haynie of Odessa and Bob Haynie of Odessa; her grandson, Parish Moffitt of Concord, N.C.; and two great-granddaughters, Stephanie and Sarah Moffitt; numerous nieces, nephews, and great-nieces and nephews.
She was preceded in death by her parents; her brothers, Charles, Ralph, Dudley and William Haynie; her sisters, Mary, Merle and Dorathea Haynie; and her daughter, Elizabeth Ann Moffitt.
Pallbearers for Mrs. Clements' service will be Dudley, Mike and Doug Haynie, Ryan Blount, Joe Eddie Hernandez and Roger Hagood. Sam Haynie will be an honorary pallbearer.
The family suggests memorials be made to the Hospice House and/or Odyssey Hospice.
The family will receive friends at the funeral home from 6 to 8 p.m. Thursday.