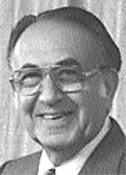 Bert M. Daum
OA Jan 07 2004

ODESSA — Bert M. Daum, age 93, of Odessa passed away Sunday, Jan. 4, 2004, at Medical Center Hospital. He was born April 1, 1910, to Michel and Flora Daum in Wheeling, W.V.
He married Mildred Sandlin Nov. 17, 1939, in Amarillo. He moved to Odessa in 1940 and was co-owner with his wife of "Mildred's," the prestige gift shop of the Permian Basin.
Bert was very active in civic affairs after his army service, starting in the early years with the Odessa Jaycees where he was a tireless worker in any endeavor. A member of the Chamber of Commerce, he supported Meals On Wheels for years, the Salvation Army and many other organizations. In 1962, he joined the Odessa Chuck Wagon Gang and for 42 years he promoted Odessa full time all across the USA and overseas. He was always ready to go anytime. In his later years he was a sustaining member of the Republican Party and there was no job too small or too large for him to take on, and he was always ready to help in any way for any candidate local or national.
He gave his heart and support to the First Presbyterian Church of Odessa.
So now he would say "Happy trails to you till we meet again, goodbye see you tomorrow."
He was survived by his wife, Mildred Daum of 64 years; stepson Bob Sandlin and wife Deanna of Dallas.
Visitation for family and friends will be 6 p.m. to 8 p.m. today at Hubbard-Kelly Funeral Home.
Services are scheduled for 10 a.m. Thursday, Jan. 8, 2004, at Hubbard-Kelly Funeral Home Chapel with the Rev. Nora Fitch of First Presbyterian Church officiating. Interment will follow at Sunset Memorial Gardens.