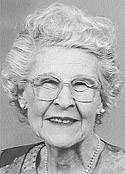 ODESSA — Helen R. Garner, 80, a longtime resident of Odessa passed away Tuesday, Feb. 24, 2004, at the Hospice House. She was born Jan. 24, 1924, in Sanderson, Texas, to Frank and Babe Harrell.
Helen attended Abilene Christian University for two years and graduated from Texas University in Austin. She was the church secretary for the 6th & Jackson Church of Christ for 12 years. She was also a member at 6th & Jackson Church of Christ for many years.
She was preceded in death by her parents; her husband Claude R. Garner Jr. in 1985; son, James Garner in 2002; and two brothers, Aubry and Frank Harrell.
She is survived by her son, Richard Garner and wife, Montie, of Odessa; daughter, Kay Robbins and husband, Darel, of Abilene; daughter-in-law, Deby Garner of Waco; brothers, J.M. Harrell of Abilene and Jack Harrell of Sanderson; six grandchildren, Jamie Flowers of Wylie, Jackson Garner and Stacie Pruitt, both of Abilene, Clint Garner of Odessa, Lynsey and Leah Robbins, both of Abilene; and three great-grandchildren, Rylee and Ashton Garner of Odessa and Jaycee Pruitt of Abilene.
Funeral services will be held at 10:30 a.m. Saturday, Feb. 28, 2004, at the 6th & Jackson Church of Christ with Roy Smalling and Larry Roberts officiating. Interment will follow at Sunset Memorial Gardens.
Services entrusted to Hubbard-Kelly Funeral Home.