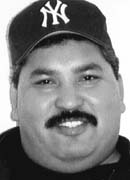 Mike Fierro Jr.
OA Jan 17 2004
ODESSA — Mike Fierro Jr., born to Mike and Amelia Fierro on Oct. 14, 1962, passed away on Jan. 15, 2004. He was a beloved son, brother and uncle who was always there for his family. Mike will be forever missed by all who knew him.
Visitation is at Martinez Funeral Home on Saturday from 10 a.m. to 10 p.m. and Sunday from 1 to 10 p.m. Rosary will be held at 7 p.m. Sunday, Jan. 18, 2004, at Martinez Funeral Home. Mass will be celebrated at 2 p.m. Monday, Jan. 19, 2004, at St. Joseph Catholic Church with Father Arturo Pestin officiating. Burial will follow at Sunset Memorial Gardens.
Mike is survived by parents, Mike and Amelia Fierro; sisters, Susie Briones and husband Junior of Kermit, Mary Lou Luna and Bobby of Midland; brothers, Steven Fierro and wife Judy of Clarksville, Tenn. and Manuel Fierro and wife Laticia of Gonzales, La.; nieces Megan and Gabby Briones Dominique, Natalie Vanessa, Tonya and Leya Fierro, Landon and LaRissa Luna. Pallbearers Junior Briones, Steven Fierro, Manuel Fierro, Bobby Luna, Frankie Garcia, Joe Pedraza.
Services under the direction of Martinez Funeral Home.