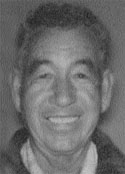 Rosendo Collazo


OA Jan 13 2004


ODESSA — Rosendo Collazo, 78, of Odessa, passed away Jan. 10, 2004, at his residence. He was born on March 1, 1925, in Midland to Teofilo and Martha Collazo. He was a Christian and a Catholic. He was preceded in death by his father Teofilo Collazo, mother Martha Urquid Hernandez, and stepfather Genaro Hernandez.
He is survived by his wife, Manuela Collazo of Odessa; sons, Manuel Rene C. Collazo of Odessa, Ernesto Collazo of Odessa and Alfredo Collazo and wife Angie of Odessa; Brothers, Gregorio Collazo of El Paso, Genaro Hernandez Jr., Fermin Hernandez, Andres Hernandez and Ruben Hernandez, all of Midland; sisters, Louisa Munoz of Beaumont, Modesta Munoz, Delia Segura and Victoria Lara, all of Midland; eight grandchildren, Manuel Rene Collazo Jr., Gilbert Collazo, Judy Collazo Salas, Joann Collazo, Alfredo Collazo Jr., Patricia Collazo, Adrian Collazo and Brianna Collazo; six great-grandchildren; and several nieces and nephews.
Mass will be celebrated at 10 a.m. Wednesday Jan. 14, 2004, at St. Joseph's Catholic Church with the Rev. Joseph Ueker officiating. Burial to follow at Rose Hill Cemetery. Pallbearers will be his grandchildren. Services by Odessa Funeral Home.