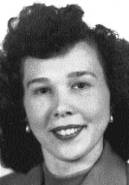 ODESSA — Irma Louise Bartlett, 83, of Odessa, died Monday afternoon, Feb. 16, 2004, at Deerings Nursing Home.
Funeral services will be held at 2 p.m. Thursday, Feb. 19, 2004, at Frank W. Wilson Funeral Directors chapel with the Rev. Harlie Patterson officiating. Burial will be at Sunset Memorial Gardens.
Mrs. Bartlett was born April 7, 1920, in Alleene, Ark., to Joe C. and Birt Crawford. She married Donald A. Bartlett on April 5, 1974, in Austin, Texas.
Louise is preceded in death by her husband, parents and four brothers, Otis Cecil Crawford, Dillard Floyd Crawford, Millard Lloyd Crawford and Jack Lee 'Gene' Crawford.
She is survived by one sister, Edith Beck and husband, Raymond, of Wilton, Ark.; and children, Harlie Patterson and wife, Myrna, of Hooks, Texas, Helen Gotcher of Odessa, Larry Patterson and wife, B.J., of Huntsville, Joe Smith and wife, Melissa, of Conroe, Sue Griffith and husband, William, of El Paso, Debbie McCravy and husband, Mike, of San Angelo, and Martie Jones-White and husband, Bobby, of Austin; and numerous grandchildren and great-grandchildren.
Services entrusted to Frank W. Wilson Funeral Directors.