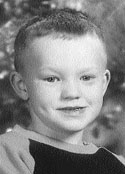 John Aaron Gentry

ODESSA — John Aaron Gentry, 5, of Odessa, a pre-kindergarten student at Fannin Elementary, passed away Sunday, March 21, 2004, at his residence. He was born January 10, 1999, in Odessa to Ernest Gentry and Connie Kiser.
Always eager, John as well as his sister, Debra, would get up early just to meet their bus drivers, Debbie O'Neal and Kathryn Hill, always trying to hurry them up to get them to school so they could greet their teachers, Mrs. Holly and Mrs. Cecil, with a smile at the doorway.
John is survived by his parents, Ernest Gentry of Odessa and Connie Kiser of Gallup, N.M.; sister, Kayla Kiser of Gallup, N.M.; grandparents, George and Pat Gentry of Odessa, Teresa Kiser of Gallup, N.M., David Kiser of Georgetown; great-grandmother, Louise Brooks of Odessa.
We the family are eternal grateful to Our Lord and Savior Jesus Christ for allowing us the time and the love with these two Beautiful Angels. As you know, we will greatly and deeply miss you Debra and John.
With great appreciation to you, the whole community, for your wonderful blessings of florals, donations, food, prayers and especially the kind love shown to us during this time, thank you so much. May the Lord bless each and every one of you.
Family to visit with friends from 6 p.m. to 8 p.m. today, March 25, 2004, at Odessa Funeral Home. Funeral services have been set for 10 a.m. Friday, March 26, 2004, at Odessa Funeral Home Chapel with the Rev. Bill Counts officiating. Burial will follow at Rose Hill Cemetery.
Services by Odessa Funeral Home.