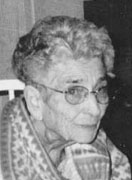 ODESSA — Marian A. Dickerson passed away Saturday, March 6, 2004, in Odessa.
She was born July 7, 1924, in Speonk, N.Y., to Carl and Rose Etta Raynor Lucas. She married Stanley Dickerson in 1942, and they moved to Odessa in 1957, coming from North Carolina.
Mrs. Dickerson was preceded in death by her parents; two brothers, George and Charles; and her husband, Stanley, in 1981.
Marian is survived by two sons, Dickie Dickerson and Bob Dickerson of Odessa; three daughters, Alberta Watson of North Carolina, Sally Aguirre of California and Betty Jessup of Houston, Texas; 13 grandchildren; and 14 great-grandchildren.
Funeral services were held at 3 p.m. Monday, March 8, 2004, at Sunset Funeral Home Chapel with interment in Sunset Memorial Gardens Cemetery.
The family requests memorials to Home Hospice House, 903 N. Sam Houston St., Odessa, TX 79761.
Services were entrusted to Sunset Memorial Gardens, Inc.