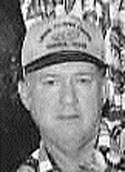 ODESSA — Franklin Whitt Lewis, 49, of Odessa passed away Friday, March 12, 2004, at his residence. He was born on February 21, 1955, to Pasty and R.P. Lewis.
Frank graduated from Odessa High School in 1973. While in high school, he was a captain on the basketball team and also received awards in baseball. He earned all-state in welding and after graduation he worked in Alaska as a pipeline welder.
Frank's many enjoyments in life included fishing, hunting, collecting antiques, golfing and panting. He was currently employed at Lewis Casing Crews, his family's business.
Frank is survived by his two daughters and their spouses, Olivia and Robert Dutko of San Antonio, Ashley and Warren Williams of Odessa; his mother, Patsy Lewis of Odessa; sister, LaDonna Lewis Weaver of Odessa; brother, Patrick Lewis of Odessa; grandchildren, Payton and Lauren Williams; and many extended family and friends.
He was preceded in death by his father, R.P. Lewis.
Frank was a Christian and served as a deacon for several years. He also preformed missionary work in the Philippines where he led many souls to the Lord. He will be greatly missed by his two beloved grandchildren and the many friends and family who loved him.
A family visitation will be at 7 p.m. Tuesday, March 16, 2004, at Sunset Memorial Funeral Home. Services will be held at 3 p.m. Wednesday, March 17, 2004, at Sunset Memorial Funeral Home Chapel with Brother Jack Oden officiating. Burial will be at Sunset Memorial Gardens.
Services are entrusted to Sunset Memorial Funeral Home.