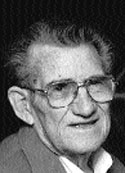 ODESSA — James Lee "Jim" Latham, 70, of Odessa passed away Monday, March 22, 2004, at Medical Center Hospital. Jim was born May 5, 1933, in Sabinal, Texas, to Elonzo Samuel Latham and Maggie Zaylee Latham.
Jim served in the United States Air Force at Lackland A.F.B. in San Antonio, Texas. While in the service, Jim and Rose Estelle Howard were joined in marriage on May 10, 1953. Jim and Estelle moved to Midland in 1955. In 1957, they moved to Odessa where they have settled ever since.
Jim started Latham Auto Supply in 1964 and served the automotive needs of friends and customers for over three decades until his retirement in 1995. Jim was also known throughout the Permian Basin for his outstanding lead-guitar playing in area clubs and dance halls.
Jim is survived by his bride of fifty years, Estelle; four children, Jim Latham and wife, Christy, of Tyler, Texas, Laura Sevier of Houston, Mike Latham and wife, Edith, of Odessa, Sandra Masters and husband, Greg, of Odessa; Jim's sister, Sue Bangert of Odessa; five grandchildren, Darren Pruett of Amarillo, Amy Latham of Frisco, Texas, James Latham of Blanchard, Okla., Morgan Nicole Greenough of Houston, and Sebastian; two step-grandsons; Jonathan Stark of Irving, Texas; and Jason Stark of Missouri City, Texas; four great-grandchildren; many nieces and nephews and great-nieces and nephews.
The family will receive friends at Sunset Memorial Funeral Home, Wednesday, March 24, 2004, between the hours of 7 p.m. and 9 p.m. Funeral services have been scheduled for 2 p.m. Thursday, March 25, 2004, at Sunset Memorial Funeral Home Chapel with Rev. Jimmy Braswell officiating.
Pallbearers will be Johnathan Stark, Al Weinkauf, Sidney Keith, Greg Masters, Kermit Rose and Steve Estes. Interment will follow at Sunset Memorial Gardens.
In lieu of flowers, memorials can be made to Medical Center Development Corporation, P.O. Box 7335, Odessa, TX 79760.
Services have been entrusted to Sunset Memorial Funeral Home of Odessa.