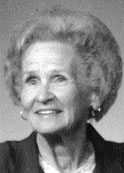 ODESSA — Ruth Helen Duncan, 78, of Odessa, passed away Thursday, March 11, 2004, at her residence.
Funeral services are scheduled for 2 p.m. Saturday, March 13, in Sunset Memorial Chapel with the Rev. Robert Lamb officiating. Burial will follow in Sunset Memorial Gardens.
Ruth was born on March 16, 1925, in Stigler, Okla., to George and Lillian Montgomery. She was united in marriage to Oscar Duncan on June 10, 1943, in Arkansas. They moved to Odessa in 1952. Ruth enjoyed life. She loved to fish, watch birds, and spend lots of time with her family.
She is survived by her daughters, Ruby Tull and husband, Wayne, of Odessa, Carolyn Hardegree and husband, James, of Odessa, Linda Boruff and husband, Jerry, of Odessa; brother, Joe Montgomery and wife, Beatrice, of Cross Plains; grandchildren, Karen Jones of Odessa, Laura Rodriguez of Odessa, Tonya Sides and husband, Billy, of Abilene, Stephen Hutson and wife, Misty, of Odessa, Kimberly Clayton of Odessa, Stephanie Brazeal of Shreveport, La., Robert Brazeal and wife, Melissa, of Monahans, and Connie Hardegree of Odessa; seven great-grandchildren, and numerous nieces and nephews.
She was preceded in death by her parents, George and Lillian Montgomery; husband, Oscar; one son, Billy Duncan; sister, Ruby Montgomery; and two brothers, Raymond and Jack Montgomery.
Pallbearers will be Wayne Tull, James Hardegree, Jerry Boruff, Billy Sides, Larry Tull and Larry Tull Jr.
Services entrusted to Sunset Memorial Funeral Home.
This "I Love You, Mom" is for all the everyday gifts of love you've given through the years.