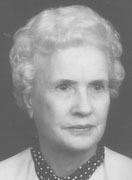 ODESSA — Coleete O. Brown, 92, a former resident of Odessa, passed away Wednesday, March 10, 2004, at the Covenant Hospital in Lubbock.
She was born Oct. 23, 1911, in Jefferson County, Okla. She was married to Charles J. Brown in 1936 in Comanche, Okla. They moved to Notrees, Texas, in 1945, where she was Postmaster for many years. She retired in 1978, and they moved to Odessa. In 2000, she moved to Ruidoso Downs, N.M.
She was preceded in death by her husband, Charles J. Brown in 1984; and daughter, LaNita Funderburk.
She leaves behind two daughters, Diane Stanley and husband Dale of Alamogordo, N.M., and Judy VanWinkle and husband Jonnie of Ruidoso Downs; two sisters, Gwen Daniels and husband Ned of Midland and Ruth Talley and husband Pete of Meridian, Okla.; seven grandchildren, Javaun and Dalton Amburgey of San Angelo, Chuck Stanley of Lawton, Okla., Jimmy Stanley and wife Heather of Alamogordo, Tommy Stanley and wife Trisha of McKinney, Cole VanWinkle of Ruidoso Downs and Becky Ewing and husband Mike of Ruidoso; and eight great-grandchildren.
Graveside services will be held at 2 p.m. today at Sunset Memorial Gardens with the Rev. Jack Watkins officiating.
Memorials may be made to CAPPED (Cancer Foundation) P.O. Box 4249, Alamogordo, N.M. 88311.
Services entrusted to Hubbard-Kelly Funeral Home.