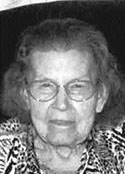 ODESSA — Catherine Lee Gaskill, was born Catherine Lee Hines, the 8th of 11 children born to Frank and Mollie Hines. She was born on January 15, 1917, in Rule.
She graduated from high school at Rule then attended a business school in Fort Worth, where she met Jesse Carlton Gaskill. They were married January 5, 1936. Her first child lived 18 short months before the Lord called him home.
They were later blessed with two other children, Carla and Doug. Catherine and Jessie moved to Odessa in 1948, and Jesse began preaching in 1951. Catherine played the piano at church, taught every level of Sunday School from children to senior adults. She served as WMU director and church clerk at several different churches during her 89 years. She always loved church and singing. When she was no longer able to teach a Sunday School class. She continued to go to Sunday School, give, read her Bible and pray. She was a member of Crescent Park Baptist Church where she was also a member of the Adult 8 Sunday School Class.
Catherine was preceded in death by her beloved child, Sonny, her parents and seven of her brothers and sisters, and her husband, Jesse Carlton Gaskill.
She will be greatly missed by many friends and her family which includes: three sisters, Travis Young of Lubbock, Thelma Spears of Kansas City, Elizabeth Brown of Fort Stockton; a son, Douglas Gaskill and wife, Shirley, of Odessa; a daughter, Carla Waddell of Odessa; three grandchildren, Mollie Christesson and husband, Mike, of Odessa, James Waddell and wife, Fern, of Wellington, and Tammy Underwood of Odessa; eight great-grandchildren, Michael Christesson Jr. and wife, Tonya, of Odessa, Catherine, Jesse, Peter and J.J. Christesson of Odessa, Brittany Underwood, Ashley and Kathy Llanez of Odessa; and two great-great-grandchildren, Taylor Christesson of Odessa and Elaine Thompson of Odessa.
The family would like to thank the members of Home Hospice and Hospice House for the excellent and loving care during our loved one's last days.
The family will be receiving friends at Hubbard-Kelly Funeral Home from 7-9 p.m. Tuesday, March 9, 2004.
Funeral services will be held 2 p.m. Wednesday, March 10, 2004, at Hubbard-Kelly Funeral Home Chapel with the Rev. Robert Berry officiating. Interment will follow at Sunset Memorial Gardens.
Services entrusted to Hubbard-Kelly Funeral Home.