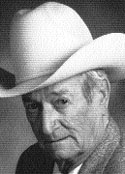 ODESSA — Bill Edmiston, 81, passed away Saturday, March 6, 2004, at Midland Memorial Hospital.
He was born October 25, 1922, to Lane and Katie Edmiston in Rising Star.
He worked for the Fire Department from October 1945 through April 1977. He married Alva Turner on March 25, 1977, in Odessa. He enjoyed fishing.
He is preceded in death by his parents, son, Buddy Edmiston, three sisters and one brother.
Survivors include his wife, Alva Scooter Edmiston of Odessa; sons, Ronald Edmiston and wife, Gloria, of Coleman; Keith Edmiston of Coleman; and Gaylon Edmiston and wife, Teri, of Santa Anna; stepson, Todd Turner and wife, Julie, of Odessa; stepdaughters, Sherry Rood and husband, George; Stephanie Armstrong, and Mickey Wilie, all of Odessa; eight grandchildren, 20 great-grandchildren, and two great-great-grandchildren.
Services are scheduled for 3 p.m. Tuesday, March 9, 2004, at Hubbard-Kelly Funeral Home Chapel. Burial will follow at Sunset Memorial Gardens.
Services entrusted to Hubbard-Kelly Funeral Home.