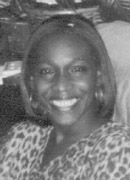 Teresa White

Odessa Teresa White went to be with our Lord and Savior on Wednesday, November 3, 2004, at Charlton Methodist Hospital, after a long battle with diabetes.
She was born on March 23, 1963, in Odessa, Texas, to Napoleon and Temple Daniels, where she was raised. She met and later married Kelvin Mitchem and later remarried Samuel "David" White on November 20, 1990.
She loved, enjoyed singing and telling jokes. She lived life to the fullest.
She was a member of New Friendship M.B. Church. She was a devoted and loving wife, mother, grandmother and friend.
She is preceded in death by her father, Napoleon Daniels; her mother, Temple Daniels; sister, Peggy Daniels, all of Odessa.
She is survived by her husband, Samuel "David" White; son, Kelvin Mitchem-White; daughter, Whitney Mitchem-White, all of Dallas; brother, Danny Daniels of Fort Worth; sister, Natalyn Daniels of Houston; and a host of uncles, aunts, nephews, nieces, cousins and many friends.