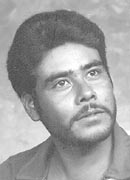 Salomon Salmeron Sr.

Odessa Salomon Salmeron Sr., 48 years of age, passed away Nov. 11, 2004, at Parkland Hospital in Dallas.
He was born Oct. 15, 1956, in Ojinaga, Mexico to Crispin and Maria Salmeron. He married Martha Alcantar on Feb. 14, 1975.
He was preceded in death by his parents; a brother, Juan Guzman Salmeron; and sister, Josefina S. Villa.
Surviving are his wife, Martha Salmeron of Odessa; sons, Salomon Salmeron Jr. of Dallas, and Gilbert Salmeron of Dallas; daughters; Denise Salmeron of Dallas and Maria Antonia Salmeron also of Dallas; brother, Gamaliel Salmeron of El Paso, sisters; Antonia Nino, Loida Hernandez, Abigail Lopez and Rebecca Carrasco, all of Odessa, Ninfa Rodriguez of Presidio, Texas, and Enice Soto of Elgin, Ill; grandchildren, Salomon Salmeron III, Delilah Salmeron, Savannah Salmeron and Nathaniel Salmeron, all of Dallas; and several nieces and nephews.
A prayer service is set for 7 p.m. Monday, Nov. 15, 2004, at Iglesia Apostolica en la fe de Cristo Jesus. Funeral services will be at 2 p.m. Tuesday at Iglesia Apostolica en la fe de Cristo Jesus with Pastor Roman Arreola and Victor Soto officiating. Burial will follow at Rose Hill Cemetery.
Pallbearers will be Salomon Salmeron Jr, Gilbert Salmeron, Rene Carrasco, Mario Rodriguez, Efren Rodriguez and Aaron Ramiez.
Services by Odessa Funeral Home.