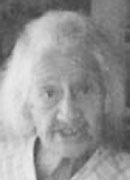 Eululia H. Natividad

ODESSA — Eululia H. Natividad, 86, of Odessa, passed away Thursday, Jan. 8, 2004, at her residence.
She was born Nov. 24, 1917, in Ruidosa, Texas, to Federico and Maria Hinojos. She married Rudolfo B. Natividad Jan. 4, 1931. She was a Christian Catholic and a homemaker.
She was preceded in death by her husband; parents; six grandchildren, Albert Jr. Barrera, Rudolfo "Rudy" Olivas, Larry Natividad, Ernie Granado, Gilbert Gonzales and Nickie Natividad; one great-grandchild, Lisa Granado; and two sons, Elias and Raul Natividad.
She is survived by sons, Severo H. Natividad of Mesa, Ariz., Zack H. Natividad and wife Virginia, Salvador H. Natividad and wife Amada and Robert H. Natividad and wife Irene, all from Odessa; six daughters, Ramona Granado and husband Arnulfo of Pecos, Ruperta Barrera and husband Albert, Juana Guzman and husband Cruz, Tonia Gonzales and husband Cipriano, Rachel Nichols and husband Hector and Gloria H. Natividad, all from Odessa; 44 grandchildren' 130 great-grandchildren, 20 great-great-grandchildren.
Pallbearers are Ismael Barrera, Micheal Guzman, Arnulfo Granado, Daniel Natividad, Robert Lee Natividad and Jaime Hinojos.
A rosary will be said at 7 p.m. today at Odessa Funeral Home Chapel. Mass will be celebrated at 10 a.m. Monday, Jan. 12, 2004, at Holy Redeemer Catholic Church with the Rev. Trini Fuentes officiating. Burial will follow at Rosehill Cemetery.
"She was a loving and caring person. She enjoyed herself by being outdoors and working in her yard, and being around her dogs. She was loved and appreciated by the ones that surrounded her.
"We appreciate all the ones that took good care of her, especially the people working in Hospice."
Services by Odessa Funeral Home.