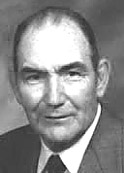 Henry 'Mitch' Mitchell

ODESSA Henry Mitchell, 72, went to be with Jesus and Theresa on Sunday, October 31, 2004.
Services to be held at 10 a.m. Tuesday, November 2, 2004, at Faith Tabernacle Assembly of God (42nd and Lyndale) with Rev. Neil Unwin officiating with guest speakers Becky Poyner and Rev. Robert Lamb, Jr. assisting. Songs by Cary Mitchell, Becky Poyner and Tanya Williams. Interment will follow at Rosehill Cemetery.
Henry was born March 13, 1932, in Red Level, Alabama. He married Marie Davis on June 7, 1952, in Red Level. He moved to Odessa in 1961 from Mobile, AL. He was owner of H&M Repair, Sales & Service and retired in June 1991. He was a member of Faith Tabernacle Assembly of God.
Henry was preceded in death by his daughter, Theresa.
Survivors include his wife of 52 years, Marie Davis Mitchell of Odessa, three sons, Tony Mitchell and wife, Pam, Terry Mitchell and wife, Lisa, and Cary Mitchell and wife, Ronda, all of Odessa; daughter, Becky Poyner and husband, Darvin, of Odessa; 13 grandchildren, Tanya and Chad Williams, Tanya and Chad Miller, Jason and Christina Poyner, Kischa Skaggs, Tracy Dial, Anthony Mitchell, Melissa Mitchell, Maranda Mitchell, Tiffany Mitchell and Sydney Mitchell; nine great-grandchildren; and extended family members, Henry, Ella, David and Shea Kalawe; two brothers, Billy Mitchell and wife, Kitty, of AL., and Ervin Mitchell and wife, Annie, of Odessa; three sisters, Beulah Smith and husband, Joe, of AL., Louise Morgan of AL., and Glenda Cannon and husband of TX.
The family would like to express their appreciation to the Hospice House and Home Hospice for their kindness and care.
Services are entrusted to Hubbard-Kelly Funeral Home.