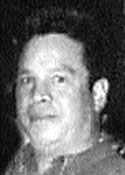 ODESSA — Raymond Vega Martinez, 39, of Odessa, passed away Saturday, March 6, 2004, at his residence.
Mr. Martinez was born March 31, 1964, in Big Spring to Anacleto and Neilda Vega Martinez.
He married Tanja Jo Dominguez February 14, 1992, in Odessa. Raymond was the Founder of Reinas Restaurant in Odessa, as well as a military enthusiast, a Christian Catholic and a truck driver. He was preceded in death by a brother; Anacleto Martinez Jr.; and grandparents H.R. and Caroline Martinez, Romalo and Aurelia Vega.
He leaves to cherish his memories wife, Tanja Jo Martinez of Odessa; daughters, Thacha Monique Dominguez and husband, Billy, of San Antonio, Valentina Martinez of San Antonio and Savannah Lee Flores of Odessa; and granddaughter, Adonica Bernice Martinez; parents, Cleto and Nielda V. Martinez of Odessa; two brothers, Robert Martinez and Augie Martinez of Odessa; one sister, Angie Marquez and husband, Freddie, of Odessa; six nephews, eight nieces, one grandnephew and one great-grand-niece; and a host of aunts, uncles, cousins and lots of friends.
Pallbearers will be Richard Tercero, Manuel Diaz, Mario Dominguez, Bailey Aguirre, Victor Gonzalez and Freddy Marcus.
Rosary will be recited at 7 p.m. today, March 9, 2004, at Odessa Funeral Home Chapel. Mass will be celebrated at 11 a.m. Wednesday, March 10, 2004, at St. Mary's Catholic Church with the Rev. Michael Udegbunam officiating, with Interment to follow at Rose Hill Cemetery.
Services by Odessa Funeral Home.