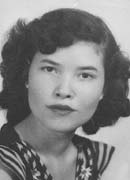 Vicenta Garcia Miranda

ODESSA — Vicenta Garcia Miranda, 68, of Odessa, who was born July 30, 1935, in Presidio, Texas, to Guadalupe and Maria Elena Garcia, passed away Friday, Jan. 16, 2004, at her residence.
At the age of 6, after the death of her father, Vicenta moved to and lived in Fort Stockton until 1948, when she decided to move to Odessa where she met her loving partner in Christ, Juan Miranda.
Vicenta Garcia and Juan Miranda united in marriage on April 24, 1952, and to this unification was born 14 children.
She was a loving housewife, mother and an active and devoted Christian and Church member of The Way, The Truth and The Life.
Mrs. Miranda was preceded in death by her parents; one son, Joseph Miranda; one daughter, Fatima Lourdes Miranda; one grandson, Johnny Alexander Miranda; and two sisters, Lisa Armendariz and Dolores Lopez.
She is survived by her husband, Juan Miranda of Odessa; seven sons, Manuel Miranda, Gene Miranda, Anthony Miranda, Andrew Miranda, Mark Miranda, Michael Miranda and Malachi Miranda, all of Odessa; six daughters, Consuelo Ramirez, Patsy Rios, Martha Miranda, Gloria Miranda, Tabitha Payne and Mary Miranda, all of Odessa; one brother, Marcelo Garcia of Odessa; two sisters, Jesus Garcia and Catherine Garcia, both of Odessa; 29 grandchildren; and 12 great-grandchildren.
Pallbearers will be Malachi Miranda, Michael Miranda, Jasper (Andy) Miranda, Michael Joseph Miranda, Richie Miranda and Jesse Dominguez.
A prayer service will be held at 7 p.m. Monday Jan. 19, 2004, at Odessa Funeral Home Chapel.
Chapel Services will be at 10 a.m. Tuesday, Jan. 20, 2004, at Odessa Funeral Home with the Rev. Paul Clark and Humberto Porras officiating. Burial will follow at Rose Hill Cemetery.
Services by Odessa Funeral Home.