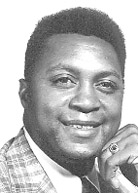 Bernis Lee Lincoln Sr.

ODESSA Bernis Lee Lincoln Sr. followed his angel sent by GOD to Glory at 3:55 on November 6, 2004, in Monahans, TX. Also known by many as "Kootsie" and others as "Pappy" was born on the blessed day of September 17, 1933, in Texarkana, Texas, to Mose Wesley and Minnie Ola Lincoln. He was the fourth oldest of nine brothers and two sisters. He grew up as a youngster who picked, pulled and chopped cotton.
He eventually moved and settled in Odessa, Texas, in 1941, where he attended and graduated from Blackshear High School and Odessa College where he studied Law Enforcement and received all his credentials as a trained officer for the City Of Odessa.
On October 11, 1953, he married his lovely wife, Dorthey Mae Stokes, whom together bore three loving children, Bernis Lee Lincoln Jr., Julia D Lincoln-Smith and Miriam "Penny" Lincoln-Harris, and the addition of his two sons-in-law, Clifton Smith and Marshall Harris.
Bernis is the proud grandfather of LaToya Lincoln of Ft. Worth; Ebony Lincoln, currently stationed in Germany. Tere Harris, BreAndrea Harris, Tia Harris and Jewelya, Summer and Shaquille Smith. And even prouder great-grandfather of two, Montashia Lincoln, 11, and Demetris Lincoln, one week. Bernis was a Police Officer from July 1, 1966 until January 31, 1998, when he retired. As an officer of the Odessa Police Department, he received numerous awards, commendations and his own appreciation date. May 7 dedicated to him by the Castenette Social, Civil, and Art Club of Odessa. Bernis has trained lots of "rookies" and had lots of partners but his favorite one was "Little Brother."
Prior to joining the Odessa Police Department, he was a Lifeguard and instructor for Ector County and delivered flowers and while still in school, in June 1951, he began working as floor sweeper, window dresser and stock to work himself into the position as the Stock Manager for 20 years at Walgreens, thus retiring, June 1, 1971. Along with working as a dedicated employee of Walgreens and the City, he provided security at Winwood Mall, the Village Market and most all sports events. In 1979, he realized and stated that Ector County needed a change and in 1980, he ran for sheriff. Unfortunately, he did not win, which he felt was a loss to the County. However, he did not give up the fight for justice.
Bernis loved his family and life. His hobbies and interests were FISHING, hunting, woodworks, treasure hunting and puffing his cigar.
Bernis fought the good fight but the Lord had other work that he needed him to do.
So if you are looking for him, by whatever name you know him by, Kootie, Daddy, Big Daddy, Bernis, Pappy, Unc, Lanc, Lincoln or simply Mr. Lincoln, know this....HE'S GONE FISHING!!!!!
Bernis was preceded in death by: parents; five brothers, John, Alonzo, Charles and Verdell Lincoln and Robert Hall; and sister, Ruby Herndon.
Bernis is survived by his wife, Dorthey Lincoln; son, Bernis Lincoln Jr. of Odessa; daughters, Julia and husband, Clifton, of Monahans and Miriam "Penny" Lincoln Harris and husband, Marshall, of Lubbock; brothers, Aron Lincoln of Paris, Texas, Robert "Son" Lincoln of Florida, and Bobby Dean Lincoln of Virginia Beach, Va; and a host of nieces, nephews, cousins and lots of friends
Visitation will be from 8 a.m. to 9 p.m. today with family to greet with friends from 6 p.m. to 8 p.m. at Odessa Funeral Home. Services will be at 11 a.m. Wednesday, November 10, 2004, at Rose of Sharon Baptist Church with Reverend Roy Gentry officiating. Burial will follow at Rosehill Cemetery.
Services by Odessa Funeral Home.