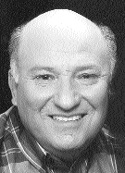 Baldemar Garcia

ODESSA — Baldemar Garcia, 72 years of age, passed away on Jan. 6, 2004, at his Odessa residence. He was born on Nov. 5, 1931, in Ochoa, Tamaulipas, Mexico, to Nestor and Victoria Garcia. On April 1, 1956, he married Aida Rodriguez. He was a member of St. Joseph's Catholic Church and was a supervisor in the oil industry.
Mr. Garcia was preceded in death by his parents and brother; Enrique Garcia. Surviving are his wife, Aida Garcia of Odessa; son, Baldemar Garcia Jr. of McAllen; daughters, Aida Castillo and husband Jerry of Cedar Park, Aleyda Garcia of Odessa, Adriana Martinez of Taylor, Victoria Salgado and husband Salvador of Odessa, Thalia O'Hanlon and husband Kevin of Cedar Park; brothers; Nestor Garcia and Ramiro Garcia, both of Ciudad Mier, Mexico, Israel Garcia of Santa Monica, Calif., Robert Garcia of Fresno, Calif., and Enede Garcia of Houston; sister; Anita Rodriguez of Roma; 12 grandchildren; and many extended family members and friends.
A rosary will be recited tonight at 7 p.m. at the Odessa Funeral Home Chapel. Mass will be celebrated at 10 a.m. on Friday, Jan. 9, 2004, at St. Joseph's Catholic Church with the Rev. Joseph Ueker officiating. Burial will follow at Rose Hill Cemetery. Pallbearers will be Baldemar R. Garcia, Jerry Castillo, Salvador V. Salgado, Kevin O'Hanlon, Steven Garcia and Salvador Salgado III.
We, the family, would like to express our utmost sincere gratitude to Elizabeth, staffs of Star Hospice especially Hortencia and Mary, The Cancer Center, Meals on Wheels, for the wonderful and loving care that was given to my husband and our father.
Services by Odessa Funeral Home.