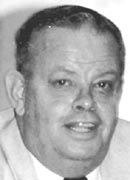 Ray Holt Conatser

ODESSA Ray Holt Conatser, 72, of Odessa, passed away November 11, 2004, at Hospice House in Odessa. He was a loving husband, father, grandfather, brother, brother-in-law, uncle and friend.
Services are scheduled for 10 a.m. Monday, November 15, 2004, at the Vine Baptist Church with Johnny Touchstone, pastor, officiating. Burial will follow at Rose Hill cemetery under the direction of Frank W. Wilson Funeral Directors.
Ray was born June 14, 1932, in Lingleville, TX, to John and Mable Hickey Conatser. He married Mary Frances Anderson on April 11, 1958, in Ft. Worth. They moved to Odessa in 1959. Ray worked at Crockett Jr. High School, as a teacher, for 32 years. He was a deacon at Vine Baptist Church, President of the Classroom Teachers Association and a longtime bowler.
Survivors include his wife of 46 years, Mary Conatser of Odessa; son, Kevin Conatser of Odessa; daughter, Kristi Nicholas and her husband, James, of Odessa; granddaughters, Morgan Blair Conatser, Krystyn Marie Conatser and Kaytlyn Suzanne Conatser; grandsons, Michael Nicholas and Keith Nicholas; brothers and sisters-in-law, Otis Conatser and his wife, Beverly, of Dallas, Billy Jack Conatser of Kennedale, TX, Jimmy Conatser and his wife, Peggy, of Andrews, Bobby and his wife, Jo Rita, of Stephenville and Donna Conatser of Stephenville; sisters and brothers-in-law, Ruth Robinson and her husband, Richard, of Hobbs, and Mary Jo Sheppard and her husband, Rex, of Mansfield, TX; and numerous nieces, nephews and a host of friends.
Memorials may be made to the Vine Baptist Music Ministry or the Hospice House.