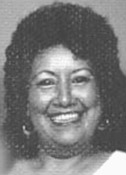 Carmen Bermudez

ODESSA Carmen Bermudez, 66 years of age, passed away on November 3, 2004, at the Hospice House in Odessa. She was born on February 9, 1938, in San Antonio, Texas, to Jose and Stella Schmidtt. She was a homemaker and Catholic.
She was preceded in death by her two husbands, Miguel Rodriguez and Ysidro Bermudez.
Surviving her are her sons, Miguel Rodriguez of San Antonio, Samuel Rodriguez and wife, Maria, of Odessa, Albert Rodriguez and wife, Anita, of San Antonio and Daniel Rodriguez of Odessa; daughters, Cynthia Carrasco and husband, Manuel, and Theresa Jiminez, both of Odessa; sisters, Gloria Montelongo and Angie Munoz, both of San Antonio; 30 grandchildren; and 25 great-grandchildren.
A rosary will be recited at 7 p.m. Friday November 5, 2004, at Odessa Funeral Home Chapel. Mass will be celebrated on Saturday at 1 p.m. at St. Joseph's Catholic Church with the Reverend Joseph Uecker officiating. Burial will follow at Rose Hill Cemetery. Pallbearers will be Xavier Sanchez, Chris Vogt, John Paul Jimenez, Arthur Jiminez, Jesse Vogt and David Lozano
Services by Odessa Funeral Home.