De Leon Cemetery (Partial)
Comanche Co. Cemeteries of TX
This Bassett monument for Isaac and Mary Bassett has this inscription on the other side, and the stones are said to sparkle.
Bassett, Isaac N., Jul. 15, 1844, Jan. 24, 1921
Bassett, Mary E., Jan. 11, 1849, Oct. 8, 1931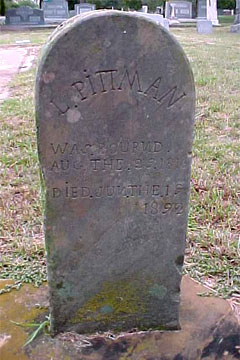 - -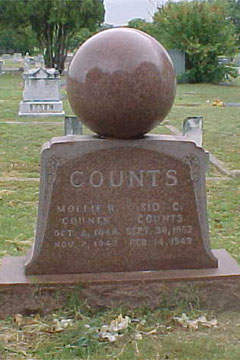 - -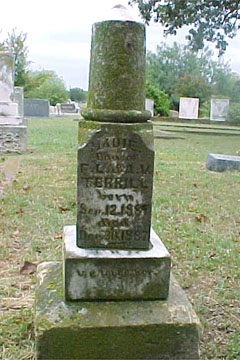 Photos and Inscriptions by Pamela E. Ford
Three interesting markers found at the DeLeon Cemetery: From Left, Hand carved Pittman marker (L. Pittman was [sic] bourned Aug. 29, 1816, died Jun. 19, 1892) , center photo, well crafted and unique style, the Counts marker (Mollie R. Counts, Oct. 2, 1865, Nov. 2, 1942, Sid C. Counts, Sep. 30, 1852, Feb. 14, 1948.), right, a typical, yet stylish marker from the 1880s (Madie Terrill, born Sep. 12, 1887, died Dec. 30, 1887 "We loved her, Dau. of F.L. & A.V. Terrill).


Location: 5 blocks West of Downtown DeLeon, Texas.
Photos by Johnny L. Hodges/bigger>/bigger>/bigger>/bigger>/bigger>/bigger> (JLH)

---

The listing below has an error, and we will correct it here, as the list we use for DeLeon Cemetery is from another site as designated by the asterisk symbol.
Last, First, comments
Carruth, Stanley Mar 02 1895 , Jun 23 1977 h/o Gladys
Carruth, Gladys Jun 01 1901, Aug 30 1991 w/o Stanley
Grimshaw, Anita June, Apr 15 1927 - no death date (JLH)
Grimshaw, James Robert May 30 1925, Dec 02 1974 h/o Anita (JLH)
Hattox, Amanda 1831 1909
Hattox, J. B. & Permelia (JLH)
Hattox, Mae, 1877, 1956 w/i Bob (JLH)
Hattox, Bob, 1876, 1948 h/o Mae (JLH)
Hodges, Albert Clyde, Jan 25 1899, May 29 1961 h/o Lela (JLH)
Hodges, Lela, Nov 23 1903, Nov 29 2000 (JLH)
Hodges, Johnnie W. , Sep 17 1887, Jan 07 1939 h/o Beulah (JLH)
Hodges, Beulah, Oct 20 1889, July 13 1966 w/o Johnnie (JLH)
Hodges, Mildred Lois, Feb 05 1917, Sep 27 1921, Our Darling Paved the Way (JLH)
Hodges, Verble, Feb 7 1929, Mar 18 1951 (JLH)
Macon, Edward (Jernigan), mother, [with Lillian C. & Leeroy C.] 26 Apr 1890 - 21 Dec 1974 ..A8
Macon, Lillian C., father, [with Edward & Leeroy C.] 10 Jan 1891-13 Feb 1957 ..A8
Webb, Mildred M. Apr 03 1930, Nov 1- 1070 w/o Glen W. (JLH)
Webb, Ralph Allen , 1954, 1980 USAF
Webb, Glen W. Oct 23 1927, Aug 05 1993 h/o Mildred (JLH)
| | | | | | | |
| --- | --- | --- | --- | --- | --- | --- |
| Last Name | First name | middle | othernames | Birth | Death | Inscription |
| CARAWAY | Autrey | Henry | - | 1907 | 1985 | Married 21 Dec 1926 |
| CARAWAY | C | M | - | 1888 | 1973 | foot |
| CARAWAY | Calvin | Marshall | - | 1888 | 1973 | - |
| CARAWAY | Cora | O | - | 1881 | 1955 | Gone but not forgotten |
| CARAWAY | Donna | Fae | - | - | - | - |
| CARAWAY | Ina | Estelle | SPENCER | 1909 | 1992 | Married 26 May 1926 |
| CARAWAY | Jesse | Calvin | - | 1895 | 1963 | Texas Pvt US Army W W I |
| CARAWAY | Jessie | Lee | HAVIS | 1902 | 1991 | - |
| CARAWAY | John | Havis | - | 1929 | 2000 | - |
| CARAWAY | Kenneth | Charles | - | 1949 | 1949 | - |
| CARAWAY | Lottie | C | - | 1890 | 1983 | foot |
| CARAWAY | Lucille | J | JONES | 1905 | 1998 | Married 21 Dec 1926 |
| CARAWAY | Luther | G | - | 1920 | 1998 | - |
| CARAWAY | Luther | G | Sr | 1871 | 1956 | Gone but not forgotten |
| GREGORY | infant | - | - | 1922 | 1922 | - |
| GREGORY | Lera | - | SPENCER | 1895 | 1967 | - |
| GREGORY | William | Wilson | - | 1889 | 1937 | - |
| LEATHERWOOD | Doralie | - | SPENCER | 1931 | 1977 | - |
| MAHON | Lela | - | SPENCER | 1904 | 1969 | She fought a good fight |
| MORRIS | Bamma | S | - | 1886 | 1976 | - |
| MORRIS | Charley | C | Jr | 1884 | 1954 | - |
| SPENCER | Alan | Ton | - | Jul 23 1930 | Aug 12 1954 | 1st lt US Air Force - second stone - son |
| SPENCER | Doralie | - | LEATHERWOOD | 1931 | 1977 | - |
| SPENCER | Elvireny | - | - | 1856 | 1932 | mother |
| SPENCER | Eudora | E | - | 1850 | 1942 | Asleep in Jesus |
| SPENCER | George | W | - | 1851 | 1930 | father |
| SPENCER | Ina | Estelle | CARAWAY | 1909 | 1992 | Married 26 May 1926 |
| SPENCER | Kenneth | N | - | 1907 | 1998 | Married 26 May 1926 |
| SPENCER | Lela | - | MAHON | 1904 | 1969 | She fought a good fight |
| SPENCER | Lera | - | GREGORY | 1895 | 1967 | - |
| SPENCER | Richard | Byron | - | 1931 | 2003 | - |
| SPENCER | V | A | - | 1862 | 1929 | - |
| SPENCER | Vera | - | - | 1895 | 1966 | - |
| SPENCER | W | L | - | 1855 | 1936 | - |
| WALL | Bertie | I | BELYEU | Feb 14 1900 | Jan 03 1977 | mother |
| WALL | Joseph | Hugh | - | Aug 02 1891 | Mar 28 1974 | daddy |