Fairview Cemetery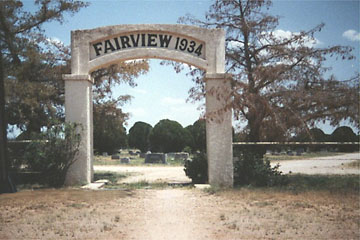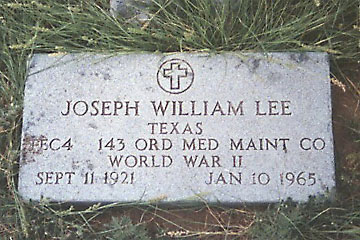 Photos by Linda Bowden
Photos & Additional Information by Janie Healer Davis
Location: in Bronte, Texas, Highway 87 borders the cemetery to the south and the two front gates open on South Franklin Street, which is one block off of Highway 277 and runs parallel to the highway. Above the main entrance there is a sign that says Fairview Cemetery 1924, however some of the tombstones are much older.

Cemetery Inscription by Arlene McKinney and Christy McKinney, assisted by Betsy and Tiffany Allen. It was completed in July 2001. The Cemetery Association is made up of volunteers from the community. All maintenance is the responsiblity of the family members. If you have questions or comments please contact Arlene McKinney. There are many unmarked graves in this cemetery. Some graves are marked with cement blocks no names or dates. Many funeral home markers were found mangled by mowers, some unreadable, some with names and dates, but location of grave unknown.
Since there was no map available and only records of who owned the property, we devised a system to keep the transcription in order by making a map and using a Section, Row, Plot and Grave# System. There are two parts to the cemetery. The Old Part has two Sections and is located at the East end, fartherest part from the entrances. The New Part has four Sections. They are numbered I, II, III, IV, South to North across cemetery. Row 1 begins with first row next to the road that divides Old Part from the New Part in the back.and rows are numbered from East to West. Then Plots are assigned letters A through T going South to North across cemetery.
---
New Part
Last, First, Middle, Birth, Death, Section, Row, Plot, Vet, Headstone Type, Inscription, Foot Stone, Notes, Military, Plot Size, Type
Adair, James, Isaac, Nov. 21, 1888, 17-Jun-73, I, 31, D, N, DS, In loving memory, , G, , , none
Adair, Nellie, M., Feb. 5, 1898, 5-Jul-93, I, 31, D, N, DS, in loving memory, , three lines symbol on grave , , , none
Adams, Ida, L., Jan. 9, 1899, 30-May-86, II, 16, F, N, SS, , , , , , curbed
Adams, Issac, , 1868, 1941, II, 15, F, N, DS, , , , , , curbed
Adams, John, M., Jun 19, 1893, Mar. 2, 1986, II, 16, F, Y, SS, , , , US Army World War I June 19, 1893 March 2, 1986, , curbed
Adams, Lillian, , 1876, 1932, II, 15, F, N, DS, , , , , , curbed
Adams, T., J., Oct. 19, 1921, Oct. 27, 1982, II, 16, F, Y, SS, , , , SF2 US Navy World War II Oct. 19, 1921 Oct. 27, 1982, , curbed
Adkins, Wanda, Mae, Feb. 24, 1933, Oct. 14, 1969, III, 20, L, N, SS, At Rest, , , , , curbed
Alexander, Martha, R., May 31, 1897, 18-May-85, III, 40, L, N, DS, Married Nov. 20, 1920, Mama, , , , curbed
Alexander, W., Monroe, Apr. 19, 1892, Mar. 8, 1985, III, 40, L, N, DS, Married Nov. 20, 1920, Daddy, , , , curbed
Alexander, Walter, N., 4-Jul-21, Mar. 3, 1944, III, 5, M, N, SS, In God's Care, , , , , none
Allen, Ina, B., Feb. 8, 1906, 26-Jun-93, III, 18, L, N, DS, Married Dec. 30, 1923, Mom, , , , curbed
Allen, Jamie, , Jan. 4, 1942, 17-Jun-65, III, 40, K, N, SS, Jim on back of stone, J.W.A.jr., , , , curbed
Allen, Robert, H., Sept. 17, 1904, Oct. 31, 1979, III, 18, L, N, DS, Married Dec. 30, 1923, Pop, , , , curbed
Allison, Callie, , 1878, 1941, I, 18, B, N, DS, , C.A., , , , curbed
Allison, Lee, , 1867, 1955, I, 18, B, N, DS, , L.A., , , , curbed
Allison, Olin, T., 19025, 1967, III, 41, M, N, SS, Pop, , Family Stone: The Family of Olin T. Allison, , , curbed
Andrews, Pearlie, Mae, 19-Nov-13, only date, IV, 36, R, N, DS, , , , , , curbed
Andrews, R. M., Murl, 4-May-12, only date, IV, 36, R, N, DS, , , , , , curbed
Armor, Lavonda, , Feb. 21, 1936, Mar. 25, 1955, I, 29, C, N, SS, , SUE, , , , curbed
Arrott, Bobbie, T., Aug. 9, 1931, only date, III, 13, L, N, SS, Beloved Wife, Mother, and Mi Mi, , There is a Family Stone in the back, center of the plot. It has the word Arrott as well as a brand; an A without the bar and a C inside it., , , curbed
Arrott, Byron, Phay, 1938, 1940, II, 14, F, N, SS, At Rest, , Family Stone: Arrott, , , curbed
Arrott, Clarence, E. PawPaw, Apr. 19, 1901, Nov. 20, 1991, III, 13, L, N, SS, , , There is a Family Stone in the back, center of the plot. It has the word Arrott as well as a brand; an A without the bar and a C inside, , , curbed
Arrott, J., E., 1873, 1937, II, 13, F, N, SS, Father, J.E.A., , , , curbed
Arrott, Jackie, Royce, 28-May-50, 30-May-50, II, 14, F, N, SS, Son of Mr. and Mrs. Jack Arrott How soon fades the tender flower, , Family Stone: Arrott, , , curbed
Arrott, James, P., Feb. 12, 1905, Apr. 29, 1994, II, 14, F, N, DS, Married Jan. 1, 1930, , Family Stone: Arrott, , , curbed
Arrott, LeDrew, , Nov. 20, 1929, only date, III, 13, L, N, SS, Beloved Husband Father and Poppa, , , , , curbed
Arrott, Loan, L. Jack, Mar. 24, 1918, Sept. 25, 1981, II, 14, F, N, DS, Married Jan. 14, 1940, , Family Stone: Arrott, , , curbed
Arrott, Lovie, E., 1920, 1929, II, 13, F, N, SS, , L.E.A., , , , curbed
Arrott, Marie, H. NaNa, Nov. 11, 1904, only date, III, 13, L, N, SS, , , There is a Family Stone in the back, center of the plot. It has the word Arrott as well as a brand; an A without the bar and a C inside it., , , curbed
Arrott, Marie, L. Tena, 17-Apr-20, only date, II, 14, F, N, DS, Married Jan. 14, 1940, , Family Stone: Arrott, , , curbed
Arrott, Marlene, , Apr. 8, 1931, only date, III, 21, L, N, SS, MeeMaw, , Family Stone: Vaughn, , , curbed
Arrott, Nora, , 1879, 1973, II, 13, F, N, SS, Mother, N.M.A., , , , curbed
Arrott, Paulie, Marie, Sept. 6, 1953, Sept. 9, 1953, II, 14, F, N, SS, Dau. of Mr. and Mrs. Jack Arrott How soon fades the tender flower, , Family Stone: Arrott, , , curbed
Arrott, Virgie, C., Sept. 30, 1908, Jan. 29, 1987, II, 14, F, N, DS, Married Jan. 1, 1930, , Family Stone: Arrott, , , curbed
Ash, George, Lester, 1890, 1975, III, 41, L, Y, DS, Mason Emblem, , Military stone almost buried, George L. Ash WAGR US Army WWI Oct. 15, 1890 Mar. 20, 1975, , curbed
Ash, Gertrude, , 1896, 1984, III, 41, L, N, DS, , , , , , curbed
Ash, Nannie, N., 1887, 1966, II, 22, F, N, DS, , Mother, , , , curbed
Ash, Robert, R., 1880, 1947, II, 22, F, N, DS, Mason Emblem, Daddy, , , , curbed
Atkins, Mary, L., 6-Jun-10, Aug. 10, 1995, III, 2, L, N, DS, , , , , , none
Atkins, William, V., Apr. 22, 1902, Dec. 6, 1985, III, 2, L, N, DS, , , , , , none
Bagwell, Donald, F., Dec. 18, 1939, Oct. 17, 1989, IV, 14, O, Y, SS, , , , Donald F. Bagwell Capt. US Air Force Dec. 18, 1939 Oct. 17, 1989, , none
Bagwell, Dwain, , Jun. 6, 1933, only date, I, 7, C, N, DS, Wedding Rings Sym: Februray 6,1976, , , , , curbed
Bagwell, Floyd, , 1908, 1957, I, 7, C, N, SS, Father, , , , , curbed
Bagwell, Mary, Jo, 1-Jul-39, Sept. 2, 1992, IV, 14, O, N, SS, , , , , , none
Bagwell, Sandra, , Dec. 31, 1936, only date, I, 7, C, N, DS, Wedding Rings Sym: Februray 6,1976, , , , , curbed
Bagwell , Patsy, Juanell, Sept. 29, 1936, Sept. 22, 1946, I, 7, C, N, SS, , , , , , curbed
Baker, B., C., 1904, only date on stone, I, 5, D, N, DS, Daddy and Mother, , , , , curbed
Baker, Callie, Stinebaugh, 1896, 1942, I, 18, A, N, SS, , , , , , curbed
Baker, M., B. (Jack), Mar. 31, 1913, Apr. 15, 1985, I, 19, C, N, DS, Wedding ring symbol---Mar. 2, 1934, , , , , curbed
Baker, M., Louise, Apr. 4, 1916, , I, 19, C, N, DS, Wedding ring symbol--Mar. 2, 1934, , , , , curbed
Baker, Minnie, Jewel, 1908, 1979, I, 5, D, N, DS, Daddy and Mother, , , , , curbed
Baker, Patricia, Ann, Feb. 7, 1941, Dec. 18, 1941, I, 19, C, N, SS, , , , , , curbed
Baldwin, J., A., 1873, 1942, I, 10, B, N, SS, , , Family Stone: Baldwin, , , curbed
Baldwin, Lucile, S., 1880, 1964, I, 10, B, N, SS, , , Family Stone: Baldwin, , , curbed
Ballard, Ulysses, L., Apr. 3, 1911, Sept. 9, 1989, IV, 36, N, N, DS, , , , , , curbed
Ballard, Vera, Mae, 24-Jun-17, only date, IV, 36, N, N, DS, , , , , , curbed
Bankhead, Eugene, L., Dec. 5, 1877, Mar. 23, 1971, I, 3, D, N, DS, , , , , , curbed
Bankhead, Minnie, Lee, Jul. 13, 1878, Oct. 2, 1938, I, 3, D, N, DS, , , , , , curbed
Bankhead, Robert, Dillard, 1918, 1925, I, 3, D, N, SS, , , , , , curbed
Barber, Clifford, F., Sept. 16, 1908, 7-Jul-85, III, 12, M, N, , He Did His Best, , , , , none
Barger, Clyde, Franklin, 1890, 1974, IV, 30, Q, N, DS, , , , , , curbed
Barger, Nora, Stevens, 1890, 1975, IV, 30, Q, N, DS, , , , , , curbed
Barker, Donald, Barron, Nov. 27, 1927, Feb. 18, 1988, III, 3, M, N, SS, Mason Emblem, has cross in middle of other emblems, USN (eagle), , FuneralHome marker: Carmichael-Whatley Fun. Home, , , none
Barker, Donald, Kenneth, 4-May-90, 8-May-90, III, 3, M, N, SS, Visiting Angel (w/Cross), , , , , none
Barrett, Clifford, O., Feb. 11, 1923, 22-Jul-87, IV, 22, P, N, DS, Married Mar. 21, 1942, , , , , none
Barrett, Curtis, W., 1901, 1992, IV, 16, O, N, , , , Funeral Home Marker w/info NO hs, , , curbed
Barrett, Mary B., Evans, Sept. 8, 1924, 29-Jul-87, IV, 22, P, N, DS, Married Mar. 21, 1942, , , , , none
Barrett, Scott, William, Jan. 25, 1926, Jan. 17, 1988, IV, 16, O, Y, SS, , , , Scott William Barrett US Navy World War II Jan. 25, 1926 June 17, 1988, , curbed
Basquez, Joanna, M., 1-Jan-90, only date, IV, 6, S, N, SS, Forever in our Hearts, , , , , curbed
Basquez, Juan, H., June 24, 1897, Feb. 15, 1991, IV, 6, T, N, SS, God Bless You Rest in Peace, , Headstone has picture, , , curbed
Beaty, Byron, L., 1915, 1970, II, 20, I, N, SS, husband of Edna L. Beaty, , , , , curbed
Beaty, J., C. W., 1852, 1942, II, 20, I, N, SS, , Father, , , , curbed
Beaty, J., E., 1918, 1937, II, 20, I, N, SS, son of Mr. and Mrs. L.W. Beaty, , , , , curbed
Beaty, L., W., 1885, 1964, II, 19, I, N, SS, , , , , , curbed
Beaty, Lizzie, , 1892, 1992, II, 19, I, N, SS, , , , , , curbed
Beaty, Margaret, L., 1857, 1937, II, 20, I, N, SS, wife of J.C.W. Beaty, Mother, , , , curbed
Beaver, Claude, , 1895, 1982, III, 30, K, N, DS, , Papa, , , , curbed
Beaver, E., M. (Pat), 1900, 1963, III, 34, J, N, DS, , , , , , none
Beaver, Frances, (Fannie), Nov. 23, 1912, Jan. 15, 1988, III, 31, K, N, DS, Wed Oct. 18, 1931, , , , , curbed
Beaver, Johnnie, Pearl, 1908, *see notes, III, 30, K, N, DS, , Meme(by hs), buried in July 2001 date not added to headstone, , , curbed
Beaver, Opal, , 1908, 1983, III, 34, J, N, DS, , , , , , none
Beaver, Sgt. Vernon, L., 1906, 1964, III, 30, K, Y, SS, , , , Vernon L. Beaver Texas S. Sgt. US Army World War II May 4, 1907 November 9, 1964, , curbed
Beaver, T., B. (Dink), Dec. 2, 1909, Nov. 1, 1997, III, 31, K, N, DS, Wed Oct. 18, 1931, , , , , curbed
Belcher, Jack, D., Oct. 29, 1920, 19-Jun-94, IV, 14, T, Y, SS, , , , Jack D. Belcher CPL US Army Air Corps Oct. 29, 1920 June 19, 1994, , curbed
Belcher, Savannah, Ruth, 5/31/21, 2/18/00, IV, 14, T, N, , , , Odessa Funeral Home marker with info Angeles Memorial Chapel, , , curbed
Bell, Alvin, Ewing, Oct. 15, 1888, Aug. 22, 1959, I, 30, C, Y, SS, , , , 5 Division World War I October 15, 1888 August 22, 1959, , curbed
Bell, Bailey, A., 1891, 1968, III, 28, M, N, DS, Father, , , , , curbed
Bell, Grover, C., Feb. 1, 1885, Nov. 23, 1973, II, 9, H, N, SS, , , , , , curbed
Bell, Iva, O, 1897, 1981, III, 28, M, N, DS, Mother, , , , , curbed
Bell, Seborn, , Dec. 25, 1882, Oct. 15, 1960, II, 9, H, N, SS, , , , , , curbed
Bell, Willard, Doak, Apr. 26, 1888, Aug. 18, 1974, II, 23, G, N, SS, , 4-26-1888 W. D. Bell 8-18-1974 footstone??? , small flat stone with info. in front of headstone may be a footstone, , , curbed
Bell, Willie, Ellen, 1888, 1932, II, 9, H, N, SS, , , , , , curbed
Bergen, Louis, G., 1890, 1975, III, 15, L, N, DS, , , , , , cement slab
Bergen, Millie, O., 1887, 1972, III, 15, L, N, DS, , , , , , cement slab
Best, Alvie, J., 1893, 1981, IV, 34, Q, N, SS, , , , , , curbed
Best, Ruby, B., Mar. 31, 1898, Oct. 13, 1953, II, 33, E, N, SS, In loving Memory, , , , , curbed
Best, Trannie, , Apr. 19, 1900, Aug. 26, 1969, I, 18, B, N, SS, , , , , , curbed
Bethune, Landon, , 10-May-29, 4-Apr-99, III, 35, M, N, SS, God is my Captain., , Johnson Funeral Marker--age 69, , , curbed
Billingsley, Merle, Ash, Nov. 7, 1923, Aug. 29, 1990, IV, 14, R, N, DS, , , , , , none
Billingsley, W., C. Skinnie, Feb. 6, 1914, Jan. 30, 1993, IV, 14, R, N, DS, , , , , , none
Bivins, George, Ross, June 28, 1900, 27-Jun-71, II, 6, E, N, SS, , , , , , curbed
Bivins, Lucy, Lowry, Nov. 10, 1909, Nov. 7, 1969, II, 6, E, N, SS, , , , , , curbed
Bivins, Nina, M., Sept. 24, 1920, only date, IV, 16, Q, N, DS, Married June 25, 1940, , , , , Curbed
Bivins, Thomas, M., Mar. 28, 1919, Jan. 12, 1999, IV, 16, Q, Y, DS, Married June 25, 1940, , , Thomas M. Bivins S SGT US Army World War II Mar. 28, 1919--Jan. 12, 1999, , Curbed
Black, C., , 1868, 1946, I, 10, A, N, SS, , , Family Stone: Black, , , curbed
Black, Earl, L., Oct. 18, 1903, Oct. 28, 1991, I, 9, A, N, DS, , , Family Stone: Black, , , curbed
Black, Earnest, , 1903, 1980, I, 10, A, N, SS, , , Family Stone: Black, , , curbed
Black, Ella, Clyde, 1905, 1991, I, 10, A, N, SS, , , Family Stone: Black, , , curbed
Black, J., , 1873, 1942, I, 12, B, N, , , , sig. on hs, , , curbed
Black, Jessie, L., 1872, 1961, I, 10, A, N, SS, , , Family Stone: Black, , , curbed
Black, Mollie, L., Nov. 21, 1901, Mar. 21, 1977, I, 9, A, N, DS, , , Family Stone: Black, , , curbed
Black, Mrs. , J., 1883, 1956, I, 12, B, N, , , , sig. on hs, , , curbed
Black, Mrs. Osino, , 1918, 1988, IV, 30, O, N, SS, , , Family Stone: Black, , , curbed w/red&black lava rock
Black, Osino, , 1916, 1971, IV, 30, O, N, SS, , , Family Stone: Black, , , curbed w/red&black lava rock
Blackmon, Ronald, W., Feb. 12, 1920, only date, IV, 34, O, N, DS, , , , , , curbed
Blackmon, Ruby, L., Nov. 5, 1919, Sept. 14, 1995, IV, 34, O, N, DS, , , , , , curbed
Blake, Cristola, , 4/22/23, 12/10/95, III, 18, K, N, , , , no headstone only funeral marker; name of funeral home not readable, , , none
Blake, Martha, A., 1880, 1978, III, 16, L, N, SS, Mother, , Family Stone w/inscription In His will is our peace, , , cement slab w/curb
Blake, Rev. Charles, Reuben, 1904, 1975, III, 16, L, N, SS, Husband, Father, Grandfather, , Family Stone w/ inscription In His will is our peace, , , cement slab w/curb
Blake, Velma, Lee, 1908, 1990, III, 16, L, N, SS, Wife, Mother, Grandmother, , Family Stone w/ inscription In His will is our peace, , , cement slab w/curb
Blum, William, F., Nov. 13, 1943, Apr. 30, 1979, IV, 29, S, Y, SS, In Memory of Our Beloved One, , , William Frank Blum US Navy Vietnam Nov. 13, 1943 Apr. 30, 1979, , curbed
Boatright, J., C. Tug, Oct. 24, 1903, 23-Jun-85, IV, 18, R, N, DS, Married Sept. 20, 1928, , , , , curbed
Boatright, Virginia, Lee, Oct.13, 1905, Oct. 19, 1997, IV, 18, R, N, DS, Married Sept. 20, 1928, , , , , curbed
Bone, A., J., 1867, 1932, II, 4, E, N, DS, , A.J.B., , , , curbed; cement has BAB 4-11-25 etched in
Bone, Inis, B., 1871, 1955, II, 4, E, N, DS, , , , , , curbed; cement has BAB 4-11-25 etched in
Bone, Willie, Hildred, Feb. 27, 1892, 19-Jun-24, II, 3, E, N, SS, Daughter of Mr. and Mrs. A. J. Bone Asleep in Jesus, , The stone had two pictures of Willie Hildred but both have been almost completely destroyed, , , curbed; cement has BAB 4-11-25 etched in
Bowden, Fannie O., 1871, 1952, Mother
Bowden, Infant, Apr. 11, 1904, Apr. 11, 1904, Son of R. S. & F. O. Bowden
Bowden, Ira Lester, Oct. 4, 1913, Dec. 11, 1976, PFC US Army WWII
Bowden, J. E., Jan. 21, 1893, Feb. 4, 1910, Son of R. S. & F. O. Bowden
Bowden, Robert S., 1858, 1940, Father
Box, Earl , E., Apr. 18, 1901, 21-May-75, I, 25, C, N, DS, , , , , , curbed
Box, Mabel, , Oct. 5, 1900, only date, I, 25, C, N, DS, , , , , , curbed
Boynton, Maurice, M., 1871, 1927, II, 8, E, N, DS, , , , , , none
Boynton, Pearl, G., 1887, 1959, II, 8, E, N, DS, , , , , , none
Bragewitz, Albert, J., July 8, 1901, Apr. 26, 1975, IV, 37, R, N, DS, , , , , , curbed
Bragewitz, Nellie, I., Oct. 6, 1902, only date, IV, 37, R, N, DS, , , , , , curbed
Braswell, Carol, Ann, Aug. 22, 1960, only date on stone, I, 4, A, N, SS, , C.A.B., , , , curbed
Braswell, George, A., Dec. 9, 1911, Oct. 13, 1994, II, 24, I, N, DS, Married Nov. 15, 1934, BRASWELL George A. 1911--Oleta M. 1913, , , , curbed
Braswell, M., F. (Mac), Apr. 22, 1928, only date on stone, I, 4, A, N, SS, , , , , , curbed
Braswell, Maurine, , Mar. 21, 1909, Sept. 26, 1980, I, 3, A, N, DS, , MOTHER, , , , curbed
Braswell, Oleta, , Oct. 28, 1913, only date, II, 24, I, N, DS, Married Nov. 15, 1934, BRASWELL George A. 1911--Oleta M. 1913, , , , curbed
Braswell, W., H. (Bill), Sept. 15, 1905, Mar. 9, 1966, I, 3, A, N, DS, , DADDY, , , , curbed
Brice, Edward, J., Dec. 17, 1926, Mar. 2, 1986, IV, 15, R, N, DS, Our Father which art in Heaven, , , , , curbed
Brice, Virginia, L., Jan. 25, 1931, only date, IV, 15, R, N, DS, Our Father which art in Heaven, , , , , curbed
brick with, flowers, *see notes, , , III, 18, K, , , , , grave marked only with a brick and some faded flowers no names or dates, , , none
brick with, flowers, *see notes, , , III, 18, K, , , , , grave marked only with a brick and some faded flowers no names or dates, , , none
Bridges, Floyd, , Jan. 10, 1893, Feb. 5, 1956, II, 37, I, N, SS, Dad, , Bridges Family Stone, , , CURBED
Bridges, Georgia, E., 1866, 1949, II, 21, E, N, DS, , Mother, , , , curbed
Bridges, Gilford, L., 1869, 1942, II, 21, E, N, DS, , Father, , , , curbed
Bridges, Nora, , Apr. 3, 1894, Dec. 26, 1980, II, 37, I, N, SS, Mother, , Bridges Family Stone, , , CURBED
Bridges, Ruby, , 1926, 2001, II, 36, I, N, , , , Headstone reads Bridges, no names, no dates, no curb; Eden Funeral Home Marker found , , , none
Brock, Annie, A., Apr. 23, 1874, Mar. 21, 1940, I, 14, B, N, DS, In Loving Memory, , , , , curbed
Brock, Dora, M., 1872, 19 not complete, II, 16, H, N, DS, , D.M.B., , , , curbed
Brock, Joseph, Gyon, 25-Jun-05, 23-May-67, I, 14, B, N, SS, In loving memory, J.G.B., , , , curbed
Brock, Judy, Lynn, July 6-, 8-Jul-49, I, 15, C, N, SS, , , , , , curbed
Brock, Mabel, Combest, Jan. 4, 1894, 4-May-72, II, 31, G, N, SS, , , , , , curbed
Brock, Nedra, Arlene, 24-May-14, 13-Jun-94, IV, 34, S, N, DS, Married Aug. 3, 1933 Love one another as I have loved you. Jn 15:12, , , , , curbed
Brock, Patsy, June, Nov 1-(1936), Nov 2., 1936, I, 15, C, N, SS, , , , , , curbed
Brock, Sam, E., 1891, 1960, I, 14, B, N, SS, , S.E.B., , , , curbed
Brock, V., Hiram Bud, Apr. 6, 1914, Sept. 18, 1981, IV, 34, S, N, DS, Married Aug. 3, 1933 Love one another as I have loved you. Jn 15:12, , , , , curbed
Brock, Will, Estella M., Dec. 30, 1913, 5-Jun-80, I, 15, C, N, DS, , , , , , curbed
Brock, William, J., 1857, 1940, II, 16, H, N, DS, , , , , , curbed
Brock, William, R., May 14, 1869, Apr. 12, 1952, I, 14, B, N, DS, In Loving Memory, W.R.B., , , , curbed
Brock, WM., G. Howard, 14-May-12, Jan. 7, 1998, I, 15, C, Y, DS, , , , William Howard Brock S SGT US ArmyWorld War II, , curbed
Brookshier, Della, , Sept. 7, 1906, Sept. 18, 1948, II, 24, E, N, SS, Wife of John J. Burroughs Gone but not forgotten, , , , , curbed
Brookshier, Emmitt, A., 1878, 1932, II, 24, E, N, DS, God defends the right., E.A.B., , , , curbed
Brookshier, Winnie, , 1879, 19561958, II, 24, E, N, DS, God defends the right., , , , , curbed
Brown, Floyd, P., Feb. 2, 1908, Feb. 25, 1970, IV, 28, N, N, DS, Track Foreman, , , , , curbed
Brown, Tom, Jr., 24-Aug-15, only date, II, 26, E, N, DS, Married Sept 24, 1939, , Family Stone: Wylie, , , curbed
Brown, , , 1-Jan-21, only date, II, 26, E, N, DS, Married Sept 24, 1939, , Family Stone: Wylie, , , curbed
Brown , A., Bernice, Sept. 30, 1912, Aug. 11, 1986, IV, 28, N, N, DS, Track Foreman, , , , , curbed
Brunson, Allie, B., Oct. 28, 1910, Jan. 28, 1992, I, 29, C, N, DS, , , , , , curbed
Brunson, Bessie, L., Jan. 3, 1883, 9-May-61, II, 21, I, N, DS, Married Sept. 30, 1900, Mother, , , , curbed
Brunson, Bessie, O., Oct.14, 1916, Jan. 24, 1988, III, 21, M, N, SS, , , , , , curbed
Brunson, Boog, , 1892, 1954, II, 21, I, N, SS, , E.H.B., , , , curbed
Brunson, Daniel, C., Nov. 10, 1919, Aug. 6. 1994, III, 23, M, Y, SS, , , Owens and Brumley Funeral Marker has Daniel D.C. Brunson 1919-1994, PFC US Army World War II, , curbed
Brunson, Dave, C., Mar. 16, 1875, 28-May-67, II, 21, I, N, DS, Married Sept. 30, 1900, Father, , , , curbed
Brunson, Edna, J., 1897, 1943, I, 4, C, N, SS, Mother, , , , , none
Brunson, Harvey, E, 1889, 1952, I, 4, C, N, SS, Father, , , , , none
Brunson, Heidel, H., 24-Sep-24, Jan. 18, 1985, III, 21, K, Y, SS, , , , S SGT US Army World War II, , curbed
Brunson, Huel, Hewitt, Jun. 27, 1926, Aug. 29, 1927, I, 2, C, N, SS, , H.H.B., , , , curbed
Brunson, Ida, (Brown), Aug. 17, 1883, Feb. 2, 1965, I, 8, C, N, DS, Precious Memories, , , , , curbed
Brunson, Ilona, L., Aug. 18, 1911, Sept. 22, 1982, I, 26, C, N, DS, , , , , , curbed
Brunson, Irvan, H., 1907, 1965, II, 21, I, N, SS, , L.H.B., , , , curbed
Brunson, J., L., 16-May-11, 4-May-85, III, 23, J, N, DS, other side blank, , , , , curbed
Brunson, Lois, , Jan. 19, 1915, Dec. 25, 1988, III, 23, K, N, DS, Married Nov. 12, 1932, , , , , curbed
Brunson, Margaret, Clifton, Aug. 25, 1914, Feb. 21, 1998, II, 18, H, N, SS, To know her was to love her, , , , , curbed
Brunson, Martha, , 1848, 1924, I, 1, C, N, DS, At Rest, , , , , curbed w/gravel
Brunson, Mathew, , 1849, 1927, I, 1, C, N, DS, At Rest, , , , , curbed w/gravel
Brunson, Mildred, , Aug. 11, 1912, Mar-69, III, 22, K, N, DS, At Rest, M.B., , , , curbed
Brunson, Neely, M., Mar. 5, 1906, Jan. 7, 1984, I, 29, C, N, DS, , , , , , curbed
Brunson, R., M. Bill, Apr. 26, 1905, 10-May-65, III, 22, K, N, DS, At Rest, R.M.B, , , , curbed
Brunson, Rance, , Feb. 20, 1914, only date, III, 23, K, N, DS, Married Nov. 12, 1932, , , , , curbed
Brunson, Robert, Lee, Jun. 11, 1880, Jul. 15, 1957, I, 8, C, N, DS, Precious Memories, , , , , curbed
Brunson, Sharon, L. Moody, 13-May-55, Aug. 15, 1995, III, 21, K, N, SS, God got the perfect angel, , Funeralhome marker, , , curbed
Brunson, Woodrow, W., 1-May-13, 26-Aug-80, I, 26, C, N, DS, , , , , , curbed
Bruton, C., Everett, Mar. 6, 1900, Feb. 16, 1987, III, 35, J, N, DS, , , , , , curbed
Bruton, Neva, , Feb. 22, 1901, Nov. 7, 1994, III, 35, J, N, DS, , , , , , curbed
Bryan, Allen, , Aug. 22, 1927, Sept. 2, 1969, IV, 25, N, N, SS, , , Family Stone: Bryan, , , curbed/w/lava rock
Buford, Cheryl, Jean, Mar. 11, 1949, Jan. 31, 1962, III, 28, J, N, DS, Daughter of Mr. & Mrs. Douglas Buford photos
Buford, Douglas, , 20-Jun-26, Oct. 2, 1993, III, 28, J, N, DS, Beloved Dad, , , , , curbed
Buford, Elizabeth, C., 1885, 1946, I, 8, A, N, DS, , , , , , curbed
Buford, Ernest, K., 1899, 1977, III, 29, J, N, DS, , Dad, , , , none
Buford, Gertrude, W., 1903, 1993, III, 29, J, N, DS, , Mother, Johnson FHM: Gertrude Wylie Buford age 89, , , none
Buford, John, Edward, 1876, 1953, I, 8, A, N, DS, , , , , , curbed
Buford, Leonard, , 1904, 1934, II, 19, F, N, SS, To forget is vain endeavor; Loves remembrance lasts forever, L.B., Photo on hs broken, , , curbed
Burk, Jo, Ann, 16-Jun-27, 28-Jun-52, II, 21, F, N, SS, , , , , , Cement Slab
Butler, Beulah, M., 1881, 1958, II, 21, G, N, SS, , B.M.B., , , , curbed
Butler, Thomas, R., 1871, 1943, II, 21, G, N, SS, , T.R.B., , , , curbed
Butner, Edna, , 1891, 1971, II, 11, H, N, SS, , , Family Stone Butner, , , curbed
Butner, M., Allen, 1890, 1948, II, 11, H, N, SS, , , Family Stone Butner, , , curbed
Byrd, Lois, Dagmar, Aug. 15, 1913, only date, I, 28, C, N, DS, , , , , , curbed
Cabe, Martha, , Oct. 10, 1888, Mar. 7, 1931, III, 13, M, N, DS, In Loving Memory Eastern Star Emblem, , , , , cement slab
Cabe, Oscar, , Mar. 30, 1888, Dec. 13, 1976, III, 13, M, N, DS, In Loving Memory Mason Emblem, , , , , cement slab
Campbell, Duvergne, , 1907, 1978, IV, 32, R, N, DS, , , , , , curbed
Campbell, L., G. Buck, 1905, 1976, IV, 32, R, N, DS, , , , , , curbed
Caperton, Armilda, Mil, Apr. 12, 1927, 15-May-96, IV, 16, T, N, SS, , , , , , curbed
Caperton, Emmit, L., 1897, 1975, IV, 27, O, N, DS, , , , , , curbed w/ cement slab
Caperton, Leslie, D., Oct. 26, 1937, Jan. 25, 1991, III, 26, L, N, DS, , , , , , curbed
Caperton, Lillian, G., 1898, 1985, IV, 27, O, N, DS, , , , , , curbed w/ cement slab
Caperton, Matthew, G. Jr. Little Matt, 14-Jul-54, Nov. 17, 1986, IV, 16, T, N, SS, , , Shaffer Funeral Home Marker Bronte Robert Lee, TX, , , curbed
Caperton, Seath, Bedford, June 13, 1899, Sept. 1, 1977, IV, 27, O, Y, SS, , , , Seath Bedford Caperton TEC 4 US Army World War II June 13, 1899 Sept. 1, 1977, , curbed w/ cement slab
Caperton, Wanda, M., Sept. 15, 1939, only date, III, 26, L, N, DS, , , , , , curbed
Carlile, Allen, , 1878, 1956, II, 34, G, N, DS, Father, , , , , curbed
Carlile, Edna, Winslow, 1904, 1999, IV, 25, P, N, DS, Pasar por aqui, , , , , curbed
Carlile, Ella, , 1874, 1962, II, 34, G, N, DS, Mother, , , , , curbed
Carlile, Thomas, Allen, 1907, 1991, IV, 25, P, Y, DS, Mason Emblem Pasar por aqui, , , Thomas A. Carlile CEM US Navy World War II May 23, 1907 June 5, 1991, , curbed
Carlson, Alice, S., Mar. 12, 1896, Sept. 22, 1978, IV, 24, S, N, DS, , , , , , curbed
Carlson, Harry, W., Mar. 10, 1896, Nov. 2, 1978, IV, 24, S, N, DS, , , , , , curbed
Carlson, Josephine, , 10/19/22, only date, IV, 24, S, N, DS, Married 9/10/1945, , , , , curbed
Carlson, Sam, T., 2/20/18, 8/5/95, IV, 24, S, N, DS, Married 9/10/1945, , , , , curbed
Carlton, Leland, , 22-May-20, only date, IV, 16, R, Y, DS, , , , Leland Carlton S SGT US Army World War II May 22, 1920--Nov. 21, 1999, , Curbed
Carlton, Leslie, J. Jr., 1-Apr-18, 11-Jun-69, III, 34, M, N, SS, , , Family Stone: Carlton, , , curbed
Carlton, Leslie, Sr., Apr. 29, 1894, Dec. 15, 1974, III, 34, M, N, SS, , , Family Stone: Carlton, , , curbed
Carlton, Monie, J., Aug. 4, 1896, Oct. 3, 1975, III, 34, M, N, SS, , , Family Stone: Carlton, , , curbed
Carlton, Ronnie, L., 1946, 1998, IV, 16, R, N, , , , Rains--Seale Funeral Home Marker only--No Headstone, , , Curbed
Carlton , Dorothy, F., Dec. 3, 1926, Sept. 11, 1985, IV, 16, R, N, DS, , , , , , Curbed
Carter, Elizabeth, , Mar. 19, 1893, Dec. 8, 1968, II, 11, I, N, SS, , , Family Stone Rawlings, , , none
Carter, Joe, A., July 31, 1886, Nov. 8, 1964, II, 11, I, N, SS, , , Family Stone Rawlings, , , none
Carwile, James, Lowell, 10-Feb-16, 25-Feb-79, IV, 31, S, N, DS, Married July 16, 1941, J.L.C., , , , curbed
Carwile, Wilma, Stewart, 27-Sep-17, 26-Jul-99, IV, 31, S, N, DS, Married July 16, 1941, W.S.C., , , , curbed
Casares, Christopher, , Feb. 2, 1984, only date, IV, 4, Q, N, , , , Date and name on Funeral Home Marker, , , none
Caudle, Glenda, Jean, Nov. 28, 1960, Feb. 6, 1973, IV, 31, P, N, SS, Daughter, , , , , curbed
Caudle, John , A., 1886, 1939, II, 3, I, N, DS, , , , , , curbed
Caudle, Mable, , 1886, 1934, II, 3, I, N, DS, His Wife, M.C., , , , curbed
Caudle, Mary, Edna, Mar. 12, 1904, Oct. 1, 1984, IV, 31, Q, N, DS, Married Oct. 20, 1921, , , , , curbed
Caudle, Naomi, , 9-Nov-12, Dec. 16, 1926, II, 3, I, N, SS, She was the sunshine of our home, N.C., , , , curbed
Caudle, Willard, Lee, Oct. 13, 1896, Jan. 22, 1987, IV, 31, Q, N, DS, Married Oct. 20, 1921, , , , , curbed
Caulder, Kenneth, Edward, 1941, 1963, II, 37, H, N, SS, , , Caulder Family Stone, , , none
Caulder, Raymond, Lewis, 27-Jul-36, Oct. 16, 1956, II, 37, H, Y, SS, , , Caulder Family Stone, Texas SN US Navy , , none
Caulder, Family Stone, , , , II, 36, H, , , , , Headstone reads Caulder, no names, no dates, no curb, , , none
Caulder, Family Stone, , , , II, 36, H, , , , , Headstone reads Caulder, no names, no dates, no curb, , , none
Caulder, Family Stone, , , , II, 36, H, , , , , Headstone reads Caulder, no names, no dates, no curb, , , none
Caulder, Family Stone, , , , II, 36, H, , , , , Headstone reads Caulder, no names, no dates, no curb, , , none
Champion, Billie, M., 10-Apr-30, only date, IV, 19, Q, N, DS, , , , , , curbed
Champion, Elmer, Lee, Apr. 27, 1922, 21-Jan-90, IV, 19, Q, Y, DS, MOMM 1 US Navy World War II Apr 27, 1922--Jan 21, 1990, , , , , curbed
Chapman, Julia, M., June 30, 1882, Nov. 11, 1951, II, 28, G, N, DS, , , , , , curbed
Chapman, O., W., July 24, 1882, Mar. 12, 1952, II, 28, G, N, DS, , , , , , curbed
Chisholm, George, Duane, 27-Aug-33, 27-Aug-33, I, 15, D, N, SS, , , Chunk of granite in front of hs with small stuffed dog lying on it., , , curbed
Chisholm, George, E., Jan. 17, 1896, Apr. 1, 1966, I, 15, D, N, DS, , Father, , , , curbed
Chisholm, Velma, L., Sept. 27, 1908, Oct. 4, 1991, I, 15, D, N, DS, , Mother, , , , curbed
Chumley, Sallie, D., 1869, 1936, I, 10, C, N, SS, , SDC, , , , curbed
Chumley Sr., Sam, H., 1866, 1948, I, 10, C, N, SS, , , , , , curbed
Clark, Alma, Corley, 1904, 1962, I, 32, A, N, DS, , , , , , none
Clark, Annie, Larkin, Dec. 15, 1895, 5-May-64, II, 35, I, N, SS, Beloved Sister, , Family Stone: Larkin, , , curbed
Clark, Bill, J., 4-May-22, Jan. 12, 1987, IV, 18, S, N, DS, In loving memory, B.J.C., , , , curbed
Clark, Billie, Marie, 1943, only date, I, 20, D, N, SS, I Pray Thee Lord My Soul to Keep, , , , , curbed
Clark, Christine, , 13-Jul-28, *see notes, IV, 18, S, N, DS, In loving memory, , large mound with flowers; headstone has no death date marked and there is no funeral home marker, , , curbed
Clark, Clifford, E., 1905, 1991, III, 36, J, N, DS, , C.E.C., , , , curbed
Clark, Cullen, , 1884, 1959, I, 4, B, N, SS, , , , , , curbed
Clark, Georgia, Mae (Gunn), 23-Mar-05, only date, I, 24, A, N, SS, MOTHER, , Famiy Stone: Clark, , , Curbed lot w/4 corner stones C
Clark, Henry, H., 1878, 1937, I, 20, D, N, DS, , , , , , curbed
Clark, J., Blair, 1898, only date, I, 32, A, N, DS, , , , , , none
Clark, James, Robert, Jr., 29-May-61, only date, III, 37, J, N, , , , , , , Curbed
Clark, John, B., Jan. 7, 1906, Nov. 13, 1986, I, 24, A, N, SS, FATHER, , Family Stone: Clark---Crowley Funeral Home Marker, , , Curbed lot w/4 corner stones C
Clark, Lillie, Hayley, 1905, 1962, III, 36, J, N, DS, , L.H.C., , , , curbed
Clark, Mary, E., 1883, 1967, I, 20, D, N, DS, , , , , , curbed
Clark, Paul, H., Dec. 3, 1914, Dec. 29, 1962, I, 20, D, Y, SS, , , Marker buried under and grave needs dirt, Texas SFC 7811 SVC COMD UNIT World War II BSM, , curbed
Clark, William, Clifford, 4-Jun-63, only date, III, 37, J, N, , , , , , , Curbed
Clark, Jr., J., B. , 12-Sep-29, Aug. 17, 1955, I, 24, A, N, SS, Son, , Famiy Stone: Clark, , , Curbed lot w/4 corner stones C
Clifton, Annie, , 1883, 1965, II, 18, H, N, DS, , Mama, , , , curbed
Clifton, Claud, , 1877, 1962, II, 18, H, N, DS, , Papa, , , , curbed
Clifton, Ethel, T. *see notes, Nov. 30, 1911, Nov. 28, 1983, IV, 22, N, N, DS, , , Shaffer Funeralhome marker with info headstone not engraved, , , curbed
Clifton, Meeta, Schmidt, 1902, 1968, II, 18, G, N, DS, , , , , , curbed
Clifton, Mittie, Cameron, 1899, 1968, II, 18, G, N, DS, , , , , , curbed
Clifton, W., B., 1872, 1935, II, 18, G, N, SS, Father Blessed are the merciful for they shall obtain mercy, , , , , curbed
Clifton, William, H., Aug. 24, 1909, only date, IV, 22, N, N, DS, , , , , , curbed
Coalson, Alvin, Ray, 30-Jul-04, Dec. 6, 1997, I, 15, A, N, DS, Married Nov. 15, 1924, , , , , curbed
Coalson, Arthur, Emmett, 1880, 1956, I, 15, A, N, DS, , , Names and dates are facing away from grave site, , , none
Coalson, Bernice, Pearl, Mar. 31, 1907, Jan. 29, 1974, I, 15, A, N, DS, Married Nov. 15, 1924, , , , , none
Coalson, Charlotte , Y., 11-Jul-37, only date, I, 15, A, N, DS, Married Dec. 23, 1955, , , , , none
Coalson, Delbert, Ray, 25-Jul-27, Dec. 14, 1975, I, 15, A, Y, DS, Married Dec. 23, 1955, , , PFC US Army World War II Korea, , none
Coalson, Mary, Francis, 1883, 1944, I, 15, A, N, DS, , , Names and dates are facing away from grave site, , , none
Coalson, Randy, Loyd, Dec. 21, 1956, Dec. 23, 1956, I, 15, A, N, SS, , , , , , none
Cogsdil, Calvin, R., 10-Jun-29, Sept. 30, 1990, IV, 14, Q, Y, SS, , , , Calvin R. Cogsdil TSGT US Air Force Korea Vietnam July 10, 1929 Sept. 30, 1990, , none
Coleman, Buck, R., 12/15/14, 5/9/85, I, 28, D, N, DS, Dependable, Caring, Cherished m. 2/12/43 Judy Linn B. 1945 Susan Hope B. 1950 Jeanie Marie B. 1951, , , , , curbed
Coleman, H., R. (Bob), 25-Jun-10, 6-May-00, I, 29, D, N, DS, , , , , , curbed
Coleman, Ila, Ellen, 1898, 1964, I, 9, D, N, DS, , , Family Stone: Seay, , , curbed
Coleman, Ivy, Belle Linn, 5/5/19- , onlydate, I, 28, D, N, DS, m. 2/12/43 Judy Linn B. 1945 Susan Hope B. 1950 Jeanie Marie B. 1951, , In front of hs brick w/painting of Christmas Tree fence w/red bird A good name is rather to be chosen than great riches, , , curbed
Coleman, Judy, Linn, Dec. 12, 1945, Sept. 27, 1949, I, 28, D, N, SS, Jesus Loves Me, , In front of hs brick w/painting of white fence yellow, blue, & red flowers (CCT-signature), , , curbed
Coleman, June, , Dec. 25, 1910, Apr. 24, 1978, I, 29, D, N, DS, , , , , , curbed
Coleman, M., P., 1871, 1942, I, 6, D, N, DS, At Rest, , , , , curbed
Coleman, Pledger, , 1896, 1964, I, 9, D, Y, DS, , , Family Stone: Seay, Texas PFC Supply DET Air SVC World War I Dec 17, 1896 - Jan 28, 1964, , curbed
Coleman, Raymond, M., 18-May-06, Dec. 26, 1943, I, 6, B, Y, SS, Death is only a shadow across the path to heaven, , , Texas SGT Cavalry, , cement slab
Coleman, Ruth, W., 1878, 1960, I, 6, D, N, DS, At Rest, , , , , curbed
Coleman, William, Dawson, Oct. 20, 1921, Feb. 5, 2000, IV, 10, S, N, , , , Johnson Funeral Home Marker with info, , , curbed
Collins, Beatrice, Lou, Apr. 23, 1915, only date, IV, 28, O, N, SS, , , , , , curbed
Collins, Capt., Austin, Sept 2, 1898, Oct. 14, 1964, I, 4, B, Y, SS, , , , Austin Collins Kentucky Captain corps of Mil Police World War I & II SS-PH, , curbed
Collins, Corkey, Eddie G., Sept. 7, 1929, Jan. 8, 1995, I, 7, D, Y, SS, To live in the hearts of those he left behind is to never die.-----Mason emblem, , , US Army Korea, , curbed
Collins, Gladys, Maude Clark, Mar. 21, 1910, Dec. 23, 1999, I, 4, B, N, SS, , , , , , curbed
Collins, Morris, Frank, Jan. 2, 1930, 17-Jul-89, IV, 28, O, N, SS, , , , , , curbed
Compton, Lula, , Feb. 3, 1899, Nov. 25, 1948, I, 7, A, N, DS, , , , , , curbed
Compton, Rube, , Aug. 23, 1890, Jan. 26, 1965, I, 7, A, N, DS, , , , , , curbed
Conger, Faye, Lowry, Dec. 25, 1912, 12-Jun-94, II, 6, E, N, SS, , , , , , curbed
Conger, James, Lowry, Nov. 15, 1944, only date, II, 6, E, N, SS, , , , , , curbed
Conger, James, W., Sept. 24, 1906, Mar. 22, 1966, II, 6, E, N, SS, , , , , , curbed
Conley, Doris, Alexander, Oct. 20, 1924, only date, III, 40, L, N, SS, , , , , , none
Conner, Aileen, M., 1914, 19 (date not complete), I, 26, A, N, DS, Rest in Peace, , , , , curbed
Conner, Aubry, J., 1904, 1987, I, 20, B, N, SS, Brother, , , , , cement slab
Conner, Eudean, , 1909, 1975, I, 2, D, N, SS, , , , , , curbed
Conner, George, A., 1-Sep-12, 17-Nov-82, I, 20, B, N, SS, , , , , , cement slab
Conner, John, T., 1908, 1956, I, 26, A, N, DS, Rest in Peace, , , , , curbed
Conner, Wilma, J., Jan. 17, 1934, Feb. 2, 1934, I, 26, A, N, SS, , W.J.C., , , , curbed
Conquest, Ora, Agnes, 1909, 1976, II, 9, H, N, SS, , , , , , curbed
Cooper, Danny, , Sept. 28, 1952, Mar. 27, 1980, IV, 21, T, N, SS, Our Loving Son; Given to us; Reclaimed: The Lord giveth, and the Lord taketh away, Blessed be the name of the Lord. , , , , , curbed
Cope, Annie, Lena, Oct. 16, 1907, 7-Jul-97, IV, 40, S, N, DS, , , , , , curbed
Cope, W., M., Oct. 30, 1904, Oct. 10, 1977, IV, 40, S, N, DS, , , , , , curbed
Coppedge, Anna, L., Nov. 25, 1919, only date, IV, 29, S, N, DS, , , , , , curbed
Coppedge, Carrie, B., Sept. 7, 1886, Mar. 29, 1968, II, 33, G, N, DS, , , , , , none
Coppedge, Greg, , 22-Jun-57, Mar. 15, 1979, IV, 27, S, N, SS, , , , , , none
Coppedge, Ida, Mae, Mar. 22, 1915, Nov. 5, 1981, IV, 25, S, N, DS, Mother Wed. Nov. 23, 1931, , , , , curbed
Coppedge, Ira, L., Feb. 21, 1913, Dec. 10, 1995, IV, 29, S, N, DS, , , , , , curbed
Coppedge, J., G., 17-Jul-12, Oct. 11, 1980, IV, 25, S, N, DS, Father Wed Nov. 23, 1931, , , , , curbed
Coppedge, Jesse, Allen, Jan. 28, 1921, Apr. 30, 1992, IV, 27, S, Y, SS, Our loving Father, Rest in peace., , , Jesse Allen Coppedge PFC US Army World War II Jan. 28, 1921 Apr. 30, 1992, , none
Coppedge, Jesse, L., Oct. 18, 1888, Mar. 5, 1953, II, 33, G, N, DS, , J.L.C., , , , none
Corley, Christine, , Oct. 20, 1923, only date, IV, 27, R, N, DS, Married March 15, 1941, , , , , none
Corley, Davis, J., 1862, 1945, I, 22, D, N, DS, Father, D.J.C., Footstones by headstone, , , curbed
Corley, Davis, Jack, Dec. 3, 1919, Nov. 2, 1994, IV, 27, R, Y, DS, Married March 15, 1941, , , Davis J. Corley US Army World War II 1919-1994, , none
Corley, Elizabeth, R., 1877, 1957, I, 22, D, N, DS, Mother, E.R.C., Footstones by headstone, , , curbed
Corley, Marvin, L., 19-Jul-12, 18-May-75, IV, 27, Q, N, DS, Married Jan. 11, 1941, , , , , curbed
Corley, N., Effie, Aug. 17, 1919, only date, IV, 27, Q, N, DS, Married Jan. 11, 1941, , , , , curbed
Coward, Bud, Elbert Lee, Aug. 16, 1909, 25-Jul-55, II, 29, H, N, SS, , , , , , curbed
Coward, Judy, Kay, Oct. 3, 1952, only date, II, 28, H, N, SS, Infant, , , , , curbed
Cox, Dallas C., Cowboy, Jan. 16, 1928, Sept. 2, 1999, IV, 11, O, N, SS, Shriner Emblem, , , , , none
Cox, Irene, Taylor, Mar. 12, 1908, Apr. 27, 1986, IV, 23, R, N, DS, There shall lie no night there, , , , , curbed
Cox, Thomas, Seat, Nov. 27, 1901, Mar. 5, 1981, IV, 23, R, N, DS, There shall lie no night there, , , , , curbed
Crow, Linton, , Dec. 20, 1895, 5-Jun-68, III, 38, M, Y, SS, , , Family HS: Crow, Texas 2d Lieutenant US Army World War I , , curbed
Crow, Mayme, Franks, Feb. 5, 1900, Feb. 12, 1989, III, 38, M, Y, SS, , , Family HS: Crow, Loving Mother and Grandmother, , curbed
Crume, George, W., 1866, 1951, II, 21, H, N, DS, , DAD, , , , curbed
Crume, M., Viola, 1873, 1953, II, 21, H, N, DS, , , , , , curbed
Culp, Hattie, , Sept. 18, 1911, Apr. 12, 1993, II, 36, F, N, DS, Eastern Star Emblem, , Funeral Marker: Hattie Harie Culp 1911 1993, , , curbed
Culp, William, , Apr. 16, 1906, Dec. 9, 1957, II, 36, F, N, DS, Mason Emblem, , , , , curbed
Culpepper, Jason, , Nov. 13, 1895, 22-May-72, III, 35, K, N, DS, , J.C., , , , none
Culpepper, Lydia, , 22-May-09, only date, III, 35, K, N, DS, , L.C., , , , none
Davis, John, W., Apr. 29, 1877, Jan. 24, 1955, I, 18, D, N, SS, Woodmen of the World Emblem Memorial, , , , , cement slab
Davis, Mamie, J., Jan. 27 1880, Sept. 26 1935, I, 18, D, N, SS, Wife of J. W. Davis, , , , , cement slab
Davis, Opal, A., 1916, 1942, I, 20, B, N, SS, Mother, , , , , cement slab
Denman, Aubrey, Don, 22-Mar-40, 17-Jul-62, III, 15, J, N, SS, , , , , , curbed
Denman, Aubrey, Z., 12-Apr-15, Feb. 5, 1995, III, 15, J, N, SS, Husband, Dad, PawPaw, Friend, , , , , curbed
Denman, Zada, Patterson, Dec. , , III, 15, J, , , , , , , ,
Deppe, Leroy, L., 1923, 1963, II, 3, F, N, DS, In loving Memory, L.L.D., , , , curbed
Deppe, Mable, E., 1905, 1992, II, 3, F, N, DS, In loving Memory, M.E.D., , , , curbed
Dismore, W., H., Nov. 10, 1907, Aug. 7, 1991, IV, 11, N, N, SS, , , , , , none
Ditmore, Claude, O., 1894, 1973, II, 32, I, Y, DS, , Father (by hs), , Texas PFC US Army World War I , , curbed
Ditmore, Claude, O. Jr., Feb. 13, 1923, Nov. 27, 1944, II, 32, I, Y, SS, In memory of , , , 2D LT Army Air Forces World War II, , curbed
Ditmore, Ethel, , 1894, 1954, II, 32, I, N, DS, , Mother, , , , curbed
Ditmore, Howard, , Feb. 13, 1921, Oct. 28, 1966, II, 32, I, N, SS, , , , , , curbed
Dixon, Edward, B., Apr. 3, 1868, Aug. 8, 1951, I, 28, C, N, DS, , EBD, , , , curbed
Dixon, Matthew, Jefferson (Jack), Feb. 3, 1897, Apr. 14, 1974, I, 28, C, Y, DS, , , , TEXAS PVT US Army World War I , , curbed
Dixon, Sally, L., July 4, 1873, 11-Jun-63, I, 28, C, N, DS, , SLD, , , , curbed
Doggett, C.S., Tex, 11-Jul-26, 4-Jul-93, III, 35, L, Y, DS, Married Nov. 1, 1950, , Shaeffer Funeral Marker Info: Clarence S. Doggett, Clarence Selmon Doggett PFC US Army World War II July 11, 1926--July 4, 1993, , curbed
Doggett, Rena, F., Feb. 8, 1931, only date, III, 35, L, N, DS, Married Nov. 1, 1950, , , , , curbed
Dominguez, Patricia, , Mar. 17, 1924, Feb. 19, 1967, IV, 1, P, N, SS, , Mother, , , , curbed
DuBose, Lula, B., June 13, 1898, 1-Jul-83, III, 11, J, N, DS, , L.B.D., , , , curbed
DuBose, Will, E., Sept. 11, 1885, 30-May-68, III, 11, J, N, DS, , W.E.D., , , , curbed
Duncan, Clint, , Feb. 18, 1895, Jan. 3, 1964, III, 26, K, Y, DS, , , , William C. Duncan Texas CPL 130 Machine Gun BN World War I Feb. 18, 1895 Jan. 3, 1964, , curbed
Duncan, Iva, , Sept. 10, 1890, Apr. 9, 1990, III, 26, K, N, DS, , Mother, , , , curbed
Duncan, Percy, , Aug 13, 1889, Nov. 11, 1950, II, 9, E, N, SS, Gone but not forgotten, , , , , curbed
Dyer, Johnnie, Roy, 13-Mar-27, 8-Jun-83, I, 24, C, N, DS, Married June 3, 1955, , , , , curbed
Dyer, Pauline, Virginia, Feb. 7, 1932, see notes, I, 24, C, N, DS, Married June 3, 1955, , Johnson's Funeral Home 435W. Beaugard San Angelo, TX marker--Date of Death Jan 4, 2001 , , , curbed
Dyess, A., C. (Kirk), Sept. 3, 1912, Jan. 22, 1969, III, 29, L, N, DS, , , , , , curbed
Dyess, Mable, , Mar. 31, 1914, Dec. 27, 1993, III, 29, L, N, DS, , , , , , curbed
Eaton, Jack, , 1892, only date, III, 9, J, N, DS, , DADDY, , , , curbed
Eaton, Nannie, L., 1904, 1967, III, 9, J, N, DS, , , , , , curbed
Edmiaston, Don, B., Aug. 9, 1906, Feb. 21, 1996, II, 31, I, N, DS, , , , , , curbed
Edmiaston, Ella, A., Apr. 21, 1882, Jan. 8, 1955, II, 31, I, N, DS, , E.A.E, , , , curbed
Edmiaston, Nell, , Apr. 7, 1907, 18-May-75, II, 31, I, N, DS, , , , , , curbed
Edmiaston, Rev. B., B., July 16, 1881, Dec. 2, 1964, II, 31, I, N, DS, , B.B.E., , , , curbed
Elam, DeLois, Sims, Jan. 23, 1926, Aug. 28, 1957, II, 27, F, N, SS, Mother, Del. S.E., Family Stone: Sims------footstone by family stone: Mama, , , curbed
Elam, Misty Lynn, Housman, 4-Jul-76, Oct. 4, 1981, II, 27, G, N, SS, , , 5ft. Section of white wroght Iron fence on west curb, , , curbed
Ellis, Cecil, , 1917, 1998, III, 9, K, N, , , , Funeral Home Marker ONLY: Shaffer Funeral Home Robert Lee-Bronte, TX, , , curbed
Emerson, Alene, , 1893, 1974, III, 24, M, N, DS, Eastern Star Emblem, A.G.E., Covered w/lava rocked, but grown over w/weeds, , , curbed
Emerson, Taylor, , 1889, 1968, III, 24, M, N, DS, Mason Emblem, T.E., Covered w/lava rocked, but grown over w/weeds, , , curbed
Ensor, Billy, Wayne, 10-Sep-60, 18-Jul-81, IV, 27, T, N, TS, Weeping may endure for a night. But joy cometh in the morning., , , , , curbed
Ensor, Delma, Anna, Apr. 15, 1939, only date, IV, 27, T, N, TS, Weeping may endure for a night. But joy cometh in the morning., , , , , curbed
Ensor, Hollis, Lee, 25-Jun-07, Jan. 5, 1990, IV, 14, S, N, DS, Father, , , , , curbed
Ensor, J., Lee, Nov. 5, 1934, only date, IV, 27, T, N, TS, Weeping may endure for a night. But joy cometh in the morning., , , , , curbed
Ensor, Nathalee, Ruth, Dec. 30, 1914, onlydate, IV, 14, S, N, DS, Mother, , , , , curbed
Epperson, M., I., 1892, 1968, II, 1, F, N, DS, , M. I. E., Family stone has Epperson; initials and dates are on foot stones, , , curbed
Epperson, R., J., 1889, 1940, II, 1, F, N, DS, , R.J.E, Family stone has Epperson; initials and dates are on foot stones, , , curbed
Eubanks, Donald, Leon, 1965, 1993, IV, 26, S, N, , , , Funeral Home Marker only with info, , ,
Eubanks, Jimmy, R., 27-May-35, Mar. 21, 1993, IV, 26, S, Y, SS, , , , Jimmy R. Eubanks PFC US Army Vietnam May 27, 1935 Mar. 21, 1993, , curbed
Eubanks, Johnnie, W., Sept. 18, 1928, only date, IV, 25, P, N, DS, , , , , , curbed
Eubanks, Meta, Hallmark, Jan. 19, 1918, Nov. 4, 1980, II, 12, G, N, SS, , , , , , curbed
Eubanks, Sidney, M., Feb. 21, 1923, only date, IV, 25, P, N, DS, , , , , , curbed
Eubanks, William, Ollie, 1912, 1993, IV, 26, S, N, , , , Funeral Home Marker only with info, , , curbed
Evans, Bernice, Glasscock, Oct. 16, 1902, only date, IV, 22, O, N, DS, , , , , , curbed
Evans, Felma, B., Sept. 2, 1934, only date, IV, 18, N, N, DS, Married Aug. 30, 1953 Mom, , , , , curbed
Evans, W., S., no dates, , II, 8, G, N, SS, , , , , , curbed
Evans, W. S., Sid, Nov. 4, 1896, Oct. 15, 1993, IV, 22, O, N, DS, , , , , , curbed
Evans, William, Sidney, Mar. 2, 1924, Sept. 1, 1982, IV, 18, N, Y, DS, Married Aug. 30, 1953 Dad, , , William Sidney Evans 1st Lt US Air Force World War II Mar 2, 1924 Sept. 1, 1982, , curbed
Fancher, Elsie, W., 1904, 1994, III, 17, L, N, DS, , , , , , curbed
Fancher, Floyd, E., 1900, 1977, III, 17, L, N, DS, , , , , , curbed
Fields, Dick, , Oct. 22, 1913, Sept. 16, 1992, III, 20, K, N, DS, , , , , , curbed
Fields, Jewel, Buford, Sept. 1, 1922, 5-Jul-96, III, 20, K, N, DS, , , , , , curbed
Fields, Onita, , 1910, only date, IV, 32, P, N, DS, Married Oct. 28, 1961, , , , , curbed
Fields, Walter, A., 1909, 1973, IV, 32, P, Y, DS, , , , Walter A.Fields SGT US Army World War II Feb. 7, 1909 Feb. 23, 1973, , curbed
Fisher, Infant Dau., of J.A. and Myrtle, 1924, 1924, I, 1, C, N, SS, , BABY, , , , curbed w/gravel
Fletcher, Charlie, B., Sept. 22, 1910, Aug. 28, 1996, II, 7, F, N, DS, , , , , , curbed
Fletcher, Gladys, Vinson, Dec. 9, 1914, Oct. 5, 1980, II, 8, F, N, DS, Married Jan. 11, 1933, , , , , curbed
Fletcher, Leonard, Orval, Oct. 11, 1907, Feb. 17, 1987, II, 8, F, N, DS, Married Jan. 11, 1933, , , , , curbed
Fletcher, Nora, L., Nov. 3, 1916, Oct. 29, 1994, II, 7, F, N, DS, , , , , , curbed
Fletcher, Thelma, Joyce, Mar. 13, 1928, Jan. 6, 1929, II, 8, F, N, DS, , , , , , curbed
Flores, Jose, O., Apr. 22, 1947, Mar. 29, 1967, IV, 3, O, N, SS, Son, Son, Headstones outside of curb Josie Divas--July 5 etched in curb, , , curbed
Flores, Lupe, Orozco, 6-Jun-19, Dec. 23, 1990, IV, 3, O, N, DS, Married Mar. 3, 1941, , Headstones outside of curb Josie Divas--July 5 etched in curb, , , curbed
Flores, Monico, , 2-May-19, Jan. 3, 2001, IV, 3, O, N, DS, Married Mar. 3, 1941, , Headstones outside of curb Josie Divas--July 5 etched in curb, , , curbed
foot stone , only , reads Brother, no headstone, , I, 31, B, , , , , , , , curbed
Forman, Robert, G., 1904, 1991, III, 24, J, N, DS, , , Green rock cover over grave, , , curbed
Forman, Vera, B., 1910, 1973, III, 24, J, N, DS, , , Green rock cover over grave, , , curbed
Fowler, F., E. (Jack), 1910, 1964, III, 33, K, N, SS, Woodmen of the World Emblem, F.E.F., , , , none
Franklin, Geneva, Lois, Sept. 12, 1926, 13-May-94, IV, 12, T, N, DS, , Lois, , , , none
Franklin, Thomas, Haral, Jan. 18, 1924, Apr. 27, 2000, IV, 12, T, N, DS, , T.H., Funeralhome Marker, , , none
Frazee, Virginia, , Nov. 4, 1937, Oct. 31, 1999, IV, 12, S, N, SS, A loving mother and grandmother, , , , , none
Freeman, Frances, E., Nov. 25, 1918, Nov. 4, 1986, IV, 38, R, N, DS, , , , , , curbed
Freeman, Marshall, W., Feb. 6, 1906, Oct. 18, 1986, IV, 38, R, N, DS, , , , , , curbed
French, G., B., Feb. 9, 1912, only date, IV, 23, P, Y, DS, , , , G. B. French PVT US Army World War II Feb. 9, 1912 June 24, 1991, , curbed
French, Molly, Lodema, Sept. 4, 1909, 29-Jul-86, IV, 23, P, N, DS, , , , , , curbed
Fuentez, Juanita, M., 24-Jun-11, Sept. 23, 1994, IV, 3, Q, N, DS, Married July 8, 1939, , Funeralhome Marker: Juanita M. Fuentez born June 24, 1911 died Sept 23, 1984 Age 83, , , curbed
Fuentez, R., C., Apr. 11, 1912, 6-May-84, IV, 3, Q, N, DS, Married July 8, 1939, , Funeralhome Marker: Mr. R, C, Fuentez Died May 6, 1984 age 72 years, , , curbed
Fueralhome, marker, unreadable, *see note, , III, 20, L, , , , , Mabene Allen Funeral Home marker unreadable, , , curbed
Gaddy, Mrs. W. N., (Modena Black), 1909, 1954, I, 11, B, N, , Mother, , Family Stone: Black, , , curbed
Gaddy, W., N., 1909, only date on stone, I, 11, B, N, , Father , , Family Stone: Black, , , curbed
Gallaway, Dora, Pauline, Aug. 1, 1918, only date, IV, 18, T, N, DS, God is Love, , , , , curbed
Gallaway, Robert, Louis, Mar. 13, 1917, Jan. 8, 1982, IV, 18, T, N, DS, God is Love, , , , , curbed
Gauwain, Hubert, Mearl Dudly, Apr. 21, 1923, Jan. 21, 1997, IV, 27, N, N, DS, Married Aug. 17, 1941, , Johnson Funeral Home Marker San Angelo, Tx, Hubert Mearl Gauwain PFC US Army World War II Apr. 21, 1923 Jan. 21, 1997, , curbed
Gauwain, Oma, Edith Terry, Feb. 12, 1925, only date, IV, 27, N, N, DS, Married Aug. 17, 1941, , , , , curbed
Gentry, Albert, E., 1906, 1978, II, 25, E, N, DS, , , , , , curbed
Gentry, Baby, Boy, Mar. 1, 1980, only date, IV, 22, Q, N, SS, , , , , , none
Gentry, Charles, L., Dec. 24, 1896, 4-Apr-62, III, 31, J, Y, SS, , , , Charles L. Gentry Texas CPL Ordnance Department World War I Dec. 24, 1896 April 4, 1962, , none
Gentry, Claude, C., Jun. 29, 1901, Nov. 21, 1994, II, 16, G, N, SS, double headed eagels--32, , , , , curbed
Gentry, Edna, Earle, 1907, 1939, II, 16, G, N, SS, Eastern Star Emblem, , , , , curbed
Gentry, Laura, M., 1913, only date, II, 25, E, N, DS, , , , , , curbed
Gentry, Norma, Jean, Feb. 6, 1933, Mar. 31, 1998, II, 16, G, N, SS, , , , , , curbed
Gentry, Thelma, , Nov. 26, 1901, Jan. 15, 1985, III, 31, J, N, SS, , , , , , none
Gibson, Joseph, F., 1895, 1988, II, 30, H, N, DS, Married May 23, 1925, , Funeral Home Marker: Joseph Floyd Gibson. Curb is covered with dirt, barely visible in a few places, , , curbed
Gibson, Lola, M., 1903, 1986, II, 30, H, N, DS, Married May 23, 1925, , Funeral Home Marker: Lola Maude Gibson. Curb is covered with dirt, barely visible in a few places, , , curbed
Gibson, Mattie, , 1872, 1965, II, 30, H, N, SS, , Mother, Funeral Home Marker: Mrs. Mattie Gibson, , , curbed
Gibson, Zadie, , 1893, 1953, II, 30, H, N, SS, , , , , , curbed
Gideon, Annie, Lee, Sept. 2, 1891, Mar. 22, 1961, I, 12, A, N, , , MOTHER, , , , curbed
Gideon, Gary, Lynn, 26-Apr-43, 8-Jun-44, I, 11, A, N, , , G.L.G., , , , curbed
Gideon, George, W., 6-Nov-13, Mar. 5, 1980, I, 11, A, N, , , , , , , curbed
Gideon, Juanita, , Feb. 3, 1918, Dec. 30, 1993, I, 11, A, N, , , Mother, fs by hs, , , curbed
Gideon, William, J., Apr. 22, 1879, Feb. 17, 1965, I, 12, A, N, , , DAD, , , , curbed
Gilbert, Cecil, , Feb. 3, 1905, 20-Apr-80, III, 20, J, N, DS, , , , , , curbed
Gilbert, David, Elmer, 1892, 1936, I, 14, C, N, DS, , Father, , , , curbed
Gilbert, Donald, , Jan. 8, 1936, Dec. 20, 2000, II, 9, F, N, DS, Dad Married May 28, 1960, , , , , curbed
Gilbert, Donald, , Feb. 7, 1961, Dec. 9, 1996, II, 9, F, N, SS, , , Johnson's Funeral Home Marker: Donald Alonzo Gilbert, , , curbed
Gilbert, Ethel, , 1892, 1964, I, 14, C, N, DS, His Wife, Mother, , , , curbed
Gilbert, Gladys, , Mar. 20, 1912, 15-Jun-64, III, 20, J, N, DS, , , , , , curbed
Gilbert, Pettit, Ruby, Apr. 25, 1904, Mar. 7, 1992, II, 5, I, N, SS, Mother, FuneralhomeMarker, , , , curbed
Giles, Charles, F., Oct. 11, 1925, 22-May-99, IV, 32, P, N, DS, Married Oct. 28, 1961, , , , , curbed
Gilreath, Benjamin, I, 1883, 1953, II, 32, E, N, DS, , Father, , , , curbed
Gilreath, Etta, B., 1910, 1981, II, 32, E, N, SS, , , , , , curbed
Gilreath, Fannie, B. Gilreath, June 17, 1894, only date, III, 39, M, N, DS, , Mother by hs, , , , curbed
Gilreath, Murry, George, Jan. 6, 1896, Mar. 7, 1969, III, 39, M, N, DS, , Daddy, , , , curbed
Gilreath, Ola, W., 1892, 1962, II, 32, E, N, DS, , Mother, , , , curbed
Gilreath, Oleta C., Bradburn Jackie, 1921, 1990, II, 32, E, N, SS, , , , , , curbed
Gleghorn, Ollie, T., 1895, 1985, IV, 28, P, N, DS, , , , , , curbed
Gleghorn, Theodore, G., 1891, 1973, IV, 28, P, N, DS, , , , , , curbed
Glenn, Angie, L., 1902, 1980, IV, 32, Q, , SS, , , , , , curbed
Glenn, Annie, , Aug 22, 1889, 18-Jul-54, I, 17, C, N, SS, , , , , , curbed
Glenn, Betty, , 1915, 1975, II, 11, H, N, SS, , , Family Stone Glenn, , , curbed
Glenn, Cecil, , Aug. 12, 1886, Nov. 30, 1955, II, 35, E, N, SS, , , , , , curbed
Glenn, D., K., 1911, 1973, II, 11, H, N, SS, , , Family Stone Glenn, , , curbed
Glenn, J., Herman, Dec. 30, 1896, 12-May-68, II, 34, E, N, DS, , J.H.G., , , , curbed
Glenn, James, , 1895, 1974, IV, 32, Q, Y, SS, , , , James Glenn Texas SGT US Army World War I Feb. 26, 1895 Jan. 1, 1974, , curbed
Glenn, Jimmy, Mack, 26-May-29, Nov. 1, 1997, II, 34, E, Y, SS, , , , US Army, , curbed
Glenn, John, B., 1890, 1945, I, 19, A, N, SS, , , Family Stone: Glenn, , , curbed
Glenn, Mabel, V., Sept. 3, 1903, 30-May-54, II, 34, E, N, DS, , M.V.G., , , , curbed
Glenn, Mattie, E., 1892, 1980, I, 19, A, N, SS, , , Family Stone: Glenn, , , curbed
Glenn, O., E., 1860, 1937, I, 17, C, N, DS, , , , , , curbed
Glenn, Willie, M. E., 1897, 1981, II, 35, E, N, SS, , , Elliot Hamill Funeral Home marker with info NO Head Stone, , , curbed
Glenn, Wm., A., 1853, 1939, I, 17, C, N, DS, , , , , , curbed
Glenn, Jr., John, Bryant, 13-Jul-15, Feb. 5, 1993, I, 19, A, N, SS, , , Family Stone: Glenn, , , curbed
Glibert, Jackie, Dell, Dec. 29, 1938, only date, II, 9, F, N, DS, Mom Married May 28, 1960, , , , , curbed
Glies, Trilby, O., Nov. 9, 1930, only date, IV, 32, P, N, SS, , , , , , curbed
Good, Harold, , 19-Dec-12, 5-Dec-86, IV, 42, P, N, SS, , , Family Head Stone: Good Feb. 15, 1937 (Stone is shared w/another plot; has one family name on one side and the other family name on the other side), , , cement slab w/curb
Good, Janice, , 1904, 1935, I, 16, D, N, SS, , , , , , curbed
Good, Lenora, , 17-Sep-12, 14-Mar-96, IV, 42, P, N, SS, , , Family Head Stone: Good Feb. 15, 1937 (Stone is shared w/another plot; has one family name on one side and the other family name on the other side), , , cement slab w/curb
Good, Lois, , Jul-43, only date, IV, 42, P, N, SS, , , Family Head Stone: Good Feb. 15, 1937 (Stone is shared w/another plot; has one family name on one side and the other family name on the other side), , , cement slab w/curb
Gower, Kathy, , 1953, 1970, IV, 41, O, N, SS, Beloved daughter, , , , , curbed
Gray, Gertrude, , 5-Jul-10, Nov. 28, 1992, IV, 39, R, N, DS, They that wait upon the Lord shall renew their strength. They shall mount up with wings as eagles. They shall run and not be weary and they shall walk and not faint. Isaiah 40:30, , , , , curbed
Gray, Gladys, L., Nov. 8, 1890, Dec. 25, 1956, I, 17, C, N, SS, , , , , , curbed
Gray, Lucy, , Jun. 6, 1894, Jan. 16, 1988, III, 15, K, N, DS, Married Aug. 12, 1913, MOTHER, , , , curbed
Gray, Sam, , Jun. 23, 1891, Aug. 29, 1972, III, 15, K, N, DS, Married Aug. 12, 1913, DADDY, , , , curbed
Gregg, Clara, Thomas, Dec. 11, 1899, Nov. 25, 1984, II, 21, F, N, SS, , , , , , Cement Slab
Gregory, Lula, E., 1885, 1948, I, 25, D, N, DS, , MAMA, , , , curbed
Gregory, Miss Mollie, , 1878, 1960, I, 12, B, N, , , , sig. on hs, , , curbed
Gregory, Starling, T., 1879, 1959, I, 25, D, N, DS, , PAPA, , , , curbed
Grimes, Frank , Allen, June 22, 1896, Aug. 1, 1966, III, 24, L, N, DS, , F.A.G., , , , cement slab
Grimes, J., A., Nov. 24, 1855, Sept. 14, 1932, II, 1, F, N, DS, , FATHER, , , , curbed
Grimes, Jackie, , July 12, 1858, Oct. 11, 1922, II, 1, F, N, DS, his wife, MOTHER, , , , curbed
Grimes, John, A. Lonnie, May 24, 1900, 5-Mar-80, II, 2, F, N, SS, , , , , , curbed
Grimes, Maud, Thomas, Apr. 29, 1898, Oct. 31, 1974, III, 24, L, N, DS, , M.T.G., , , , cement slab
Grimes, R., M., Nov. 8, 1886, Aug. 16, 1924, II, 3, G, N, SS, We will meet again, , , , , curbed
Grimes, Sallie, B., Apr. 3, 1888, Apr. 7, 1977, II, 3, G, N, SS, Until we meet again, , , , , curbed
Gurley, Gladys, Kirl, Mar. 13, 1931, only date, IV, 35, R, N, DS, Wed. Nov. 18, 1949 Jeremiah 33:3, , , , , curbed
Gurley, John, O., Sept. 19, 1926, 9-Jul-92, IV, 35, R, N, DS, Wed. Nov. 18, 1949 Jeremiah 33:3, , , , , curbed
Gutierrez, Albino, , 1897, 1972, IV, 1, Q, N, SS, Rest in Peace, , , , , curbed
Gutierrez, Dora, E., Apr. 7, 1917, Dec. 7, 1986, IV, 1, R, N, DS, , , Shaffer Funeral Home Marker, , , none
Gutierrez, Joe, G., Aug. 27, 1930, Aug. 10, 1987, IV, 1, R, N, SS, Son, , Shaffer Funeral Home Marker Joe Guerred Gutierrez, , , none
Gutierrez, Leocadia, L., 1918, 1968, IV, 1, Q, N, SS, Rest in Peace, , , , , curbed
Gutierrez, Miguel, , Sept. 29, 1902, 19-May-95, IV, 1, R, N, DS, , , , , , none
Gutierrez, Rudy, , 26-Sep-35, 1-Sep-75, IV, 6, O, N, SS, , , Is included in the curb for N---picture is busted, , , none
Gutierrez, Vicenta, , 1899, 1975, IV, 1, Q, N, SS, Rest in Peace, , , , , curbed
Hageman, Clifford, E., Aug. 6, 1913, Mar. 6, 1987, I, 27, C, N, DS, Wed Dec. 8, 1937, , , , , curbed
Hageman, Dottie, D., Nov. 21, 1916, Jan. 16, 1996, IV, 26, P, N, DS, Married Nov. 7, 1936 Mother, , , , , curbed
Hageman, Frank, D., Apr. 14, 1914, 19-Jun-80, IV, 26, P, N, DS, Married Nov. 7, 1936 Father, , , , , curbed
Hageman, James, O., Nov. 14, 1891, Dec. 25, 1971, I, 27, C, N, DS, , , , , , curbed
Hageman, Maggie, L., Apr. 30, 1892, Oct. 9, 1964, I, 27, C, N, DS, , , , , , curbed
Hageman, Ruth, E., Sept. 5, 1918, only date, I, 27, C, N, DS, Wed Dec. 8, 1937, , , , , curbed
Hall, Ermine, M., October 16, 1896, 3-Apr-76, IV, 35, P, N, DS, Married April 23, 1926, , , , , curbed
Hall, Vida, Vilean (Norred), January 12, 1897, 5-Dec-74, IV, 35, P, N, DS, Married April 23, 1926, , , , , curbed
Hallmark, Amanda, , 1869, 1930, II, 11, G, N, DS, , Mother, , , , curbed
Hallmark, Ben, T., 1863, 1932, II, 11, G, N, DS, , Father, , , , curbed
Hallmark, Bessie, , 1897, 1989, II, 22, I, N, DS, , Mom, , , , curbed
Hallmark, Billie, Rae, Sept. 20, 1920, Jan. 15, 1987, IV, 24, T, N, DS, Married Mar. 6, 1937, , , , , curbed
Hallmark, Claude, , July 7, 1901, Jan. 20, 1983, II, 23, I, N, DS, , Daddy, , , , curbed
Hallmark, Clifford, Geo., Sept. 24, 1902, only date, II, 11, F, N, DS, , , , , , curbed
Hallmark, Comie, Lee, Aug. 20, 1918, Oct. 29, 1979, IV, 24, T, N, DS, Married Mar. 6, 1937, , , , , curbed
Hallmark, Fannie, , Feb 9, 1876, Aug. 9, 1966, II, 22, I, N, DS, Peace be yours, Mother, , , , curbed
Hallmark, Ford, , 1914, 1948, II, 22, I, N, SS, , , , , , curbed
Hallmark, J., R., Jan. 25, 1891, Jul. 9, 1947, II, 12, G, N, SS, , , , , , curbed
Hallmark, James, Alex, Sept. 28, 1873, Mar. 17, 1949, II, 22, I, N, DS, Peace be yours, Father, , , , curbed
Hallmark, Lee, , 1896, 1953, II, 22, I, N, DS, , Dad, , , , curbed
Hallmark, Mary, Jane, 1853, 1944, II, 21, H, N, DS, , , , , , curbed
Hallmark, Nora, Jacqueline, 1881, 1947, I, 23, D, N, SS, Mother, N.J.H., , , , curbed
Hallmark, R., D., Nov. 7, 1916, Sept. 4, 1986, II, 12, F, N, SS, , , , , , curbed
Hallmark, Richard, Edmund, 1850, 1943, II, 21, H, N, DS, , , , , , curbed
Hallmark, Robert, L., 8-Mar-04, 26-Apr-96, I, 23, D, Y, SS, , , , US Army World War II, , curbed
Hallmark, Shirlie, Ann, 11-Dec-35, only date, II, 11, F, N, DS, , , , , , curbed
Hallmark, Viola, , 2-Jun-06, 21-Jun-77, II, 23, I, N, DS, , Mother, , , , curbed
Hanks, Altha, L., 15-Jun-09, 9-May-79, IV, 39, S, N, DS, , , , , , curbed
Hanks, Jim , Henry, Oct. 21, 1906, 26-Jun-77, IV, 39, S, N, DS, , , , , , curbed
Hanna, Ava, Lou, Sept. 20, 1927, , I, 13, B, N, FS, To know him was to love him, , Family Stone: Hanna-----Tubb, , , curbed
Hanna, Vincent, A., Oct. 14, 1922, Oct. 14, 1956, I, 13, B, N, FS, To know him was to love him, , Family Stone: Hanna-----Tubb, , , curbed
Hannaford, Byron, W., Feb. 1, 1908, Nov. 9, 1967, III, 30, L, N, DS, Mason Emblem, Barney, , , , curbed
Hannaford, Lillie, Ora, Dec. 2, 1911, Mar. 2, 1990, III, 30, L, N, DS, , , , , , curbed
Hardin, Jewell, Sims, 1899, 1960, II, 1, E, N, SS, , , , , , curbed
Harris, Mary, Lewis, 1915, 1975, IV, 38, S, N, SS, , , , , , none
Harris M.D., John, R. , 1920, 1976, IV, 38, S, N, SS, , , , , , none
Hart, Clifford, L., Aug. 20, 1920, only date, III, 8, J, N, DS, , , , , , curbed
Hart, E., Florence, Mar. 15, 1915, Feb. 21, 1975, III, 8, J, N, DS, , , , , , curbed
Harwell, Ida, May, 1877, 1959, II, 15, G, N, DS, Mother, , , , , curbed
Harwell, James, Chester, 15-Jan-05, 31-Mar-64, II, 22, H, N, DS, Thy will be done, Father, , , , curbed
Harwell, Marjorie, Inez, 20-Mar-13, 21-Dec-96, II, 22, H, N, DS, Thy will be done, Mother (fs by hs), , , , curbed
Harwell, Myrtle, M., 1900, 1980, III, 29, K, N, DS, , , , , , curbed
Harwell, R., Estel, 1898, 1963, III, 29, K, N, DS, , , , , , curbed
Harwell, Robert, , 1870, 1951, II, 15, G, N, DS, Father, , , , , curbed
Harwell, Victoria, Lynn, Mar. 16, 1949, Mar. 16, 1949, II, 22, H, N, SS, Born and Died, V.L.H., , , , curbed
Haselden, Caswell, S., Aug. 22, 1908, Dec. 10, 1982, I, 1, A, Y, SS, , , , U.S. Navy World War II Korea, , none
Haselden, Joseph, Victor, 1880, 1973, I, 1, A, N, SS, , , , , , none
Hasty, Charles, T., Aug. 2, 1934, Feb. 8, 1998, III, 3, L, N, SS, Sonny, , Funeralhome marker: Shaffer Fun. Home Robert Lee-Bronte, TX, , , curbed
Hasty, Elsie, Marie, 2-Jul-36, 7-Jan-00, III, 3, L, N, SS, Marie, , , , , curbed
Hayes, Annie, J., 1884, 1966, III, 41, L, N, DS, Whither thou goest, I will go, A.J.H., , , , curbed
Hayes, Oscar, T., 1884, 1968, III, 41, L, N, DS, Whither thou goest, I will go, O.T.H., , , , curbed
Hayley, Davis, , Oct. 10, 1910, Feb. 21, 1990, I, 20, C, N, DS, , , Family Marker in curb: Hayley, , , curbed
Hayley, Gertrude, , 1874, 1960, I, 20, C, N, DS, , G.H., Family Marker in curb: Hayley, , , curbed
Hayley, Myrtle, Modelle, Mar. 12, 1913, *see note, II, 10, I, N, DS, , , Johnson Funeral Home marker b. Mar. 12, 1913 d. Oct. 10, 2000 age 87, , , curbed
Hayley, Robert, L., 1874, 1938, I, 20, C, N, DS, , R.L.H., Family Marker in curb: Hayley, , , curbed
Hayley, Rosa, Lee, 2-May-19, Feb. 17, 1997, I, 20, C, N, DS, , , Family Marker in curb: Hayley, , , curbed
Hayley, Royce, , Dec. 14, 1912, *see note, II, 10, I, N, DS, , , Johnson Funeral Home marker b. dec.14, 1913 d.Mar. 15, 1991 age 77, , , curbed
Hearn, Lillian, Beatrice, Oct. 11, 1887, Mar. 30, 1941, II, 19, E, N, SS, , , , , , curbed
Hedges, Henry, C., Jan.8, 1881, 30-Dec-51, II, 26, H, N, SS, Mason Symbol, , curb has name Hedges on it, , , cement slab
Hedges, Lucy, G., June 3, 1897, Jan. 8, 1988, II, 26, H, N, SS, , , curb has name Hedges on it, , , cement slab
Heidel, Mrs. Clara, , June 3, 1853, Mar. 19, 1924, II, 3, G, N, SS, Asleep in Jesus; Blessed are the dead which die in the Lord, , , , , curbed
Heidel, Oscar, P., Feb. 22, 1876, 8-Jul-56, II, 4, G, N, DS, , O.P.H., , , , curbed
Heidel, Virgie, M., Apr. 11, 1887, Oct. 11, 1939, II, 4, G, N, DS, , V.M.H., , , , curbed
Hensley, Christine, , 1925, 1927, II, 11, E, N, TS, , , , , , none
Hensley, Eldon, , 1921, 1941, II, 11, E, N, TS, , , , , , none
Hensley, Golden, Edward, 1905, 1967, II, 3, E, N, SS, in Memory, completely sunk in, , , , curbed; cement has BAB 4-11-25 etched in
Hensley, Jewel, Brunson, 1905, 1938, I, 8, C, N, SS, In Memory , Jewel, , , , curbed
Hensley, Junior, , Dec. 7, 1927, 13-May-60, I, 8, C, Y, SS, , , , New Mexico PFC TRP B 15 CONSTAB SQ World War II, , curbed
Hensley, Lee, , 1914, 1937, II, 11, E, N, TS, , , , , , none
Hensley, Nettie, R., June 9, 1884, Oct. 12, 1963, II, 4, E, N, DS, , , , , , curbed; cement has BAB 4-11-25 etched in
Hensley, Walter, R., April 17, 1878, Mar. 31, 1958, II, 4, E, N, DS, , , , , , curbed; cement has BAB 4-11-25 etched in
Hensly, Retha, , Nov. 8, 1903, 2-Jun-23, II, 3, E, N, SS, Wife of Hubert A. Hayley Our darling one has gone before to greet us on that golden shore, completely sunk in, , , , curbed; cement has BAB 4-11-25 etched in
Hernandez, Valentina, F., 21-May-43, Feb. 9, 1994, IV, 3, Q, N, SS, The Lord is my Shepard Our Beloved Mother, , Johnsons Funeralhome Marker: Valentina F. Hernandez born May 21, 1943 died Feb. 9, 1994 Age 50, , , curbed
Herron, James, M., March 11, 1884, 21-May-72, III, 12, L, N, , , , , , , none
Herron, Robert, H., 1892, 1971, II, 17, E, N, DS, , Rob, , , , curbed
Herron, T., M., Sept. 13, 1916, Jan. 4, 1931, II, 17, E, N, SS, Gone to be an Angel, SON, , , , curbed
Herron, Willie, B., 1893, 1976, II, 17, E, N, DS, , Willie B., , , , curbed
Hester, Buster, H. O., Aug. 12, 1900, Apr. 4, 1962, I, 6, B, N, DS, , , , , , cement slab
Hester, Charles, H., 1875, 1967, III, 28, K, N, DS, , C.H.H., , , , curbed
Hester, Don, W., 1943, 1975, II, 24, G, N, DS, Because of our faith we found life not death., , Geo.C.Price Funeral Home Marker--Donald W. Hester 1943--1975, , , cement slab
Hester, Donna, L., 1939, only date, II, 24, G, N, DS, Because of our faith we found life not death., , , , , curbed
Hester, Dovie, A., 1881, 1965, III, 28, K, N, DS, , D.A.H., , , , curbed
Hester, Joe, , 1914, 1989, II, 25, G, N, , Wrought Iron sign: has horse, woman, tree and the words Joe Hester, , Funeral Home Marker found with info no Headstone, , , curbed
Hester, Luther, R., Mar. 31, 1908, Dec. 19, 1989, III, 28, K, N, SS, , , Funeralhome marker: Luther Richard Hester 1908-1989, , , curbed
Hester, Marguerite, Wilson, 1918, 1991, II, 25, G, N, , , , Funeral Home Marker found with info no Headstone, , , curbed
Hester, Nora, Martha, , , II, 25, G, N, , , , Found this Funeral Home Marker in the center of a plot, obviously mowed up!, , , curbed
Hester, Sibyl, , Sept. 5, 1912, Sept. 26, 1991, I, 6, B, N, DS, , , , , , cement slab
Hickman, Daisy, Casner, Feb. 8, 1878, 1-Jun-55, II, 32, H, N, DS, , Mom, , , , curbed
Hickman, Georgia, Lou, 1911, 1991, III, 6, M, N, SS, Daughter of Ed and Malindy, , , , , curbed
Hickman, Robert, Casner, Sept. 8, 1909, Aug. 31, 1978, II, 32, H, N, SS, , Robert, , , , curbed
Hickman, Robert E., Lee, Mar 7, 1877, Nov. 3, 1959, II, 32, H, N, DS, , Father, , , , curbed
Higginbotham, F., S. Jr., Nov. 3, 1929, Feb. 18, 1930, II, 10, G, N, SS, , F.H., , , , curbed
Higginbotham, Futha, S., July 9, 1888, 24-May-65, II, 10, G, N, DS, , F.S.H., , , , curbed
Higginbotham, Mattie, A., August 5, 1891, 12-Jun-76, II, 10, G, N, DS, , , , , , curbed
Holman, Eddie, T., 1887, 1933, II, 11, G, N, DS, , E.T.H., , , , curbed
Holman, Eula, A., 1889, 1977, II, 11, G, N, DS, His Wife, E.A.H., , , , curbed
Holt, Alice, C., Dec. 22, 1900, Sept. 10, 1970, I, 13, D, N, SS, , , , , , curbed
Hudman, Joseph, Lee, 11-Jul-26, Dec. 17, 1942, I, 20, A, N, SS, None knew thee but to love thee; None named thee but to praise, , , , , curbed
Hudman, Minnie , Lee Odom, Mar. 15, 1904, Oct. 7, 1983, I, 20, A, N, SS, Her name is written in the book of life Rev 21:27 Our Mother and Grandmother, , , , , curbed
Huffaker, Claudie, , Feb. 5, 1895, Aug. 3, 1979, II, 6, H, N, DS, , C.H., curb overgrown and covered w/dirt, , , curbed
Huffaker, Donnell, , May 20, 1893, Dec. 29, 1972, II, 6, H, N, DS, , D.H., curb overgrown and covered w/dirt, , , curbed
Huffaker, Jerene, Ladell, Dec. 17, 1927, only date, II, 5, H, N, SS, , J.L.H., there is no space for a second date, , , curbed
Huges, Leola, Wrinkle, Sept. 23, 1918, Mar. 12, 1996, IV, 34, N, N, DS, , , , , , curbed
Huges, W., , 18-May-21, 22-Jun-90, IV, 34, N, Y, DS, , , , W. Huges PFC US Army World War II May 18, 1921 June 22, 1990, , curbed
Hughes, Ronda, Jo, Nov. 29, 1958, Dec. 25, 1958, I, 29, A, N, SS, Infant daughter of Mr. and Mrs. R.L. Hughes, , , , , curbed
Hull, Dudley, , 1879, 1937, I, 18, C, N, SS, , , Family Stone: Hull, , , curbed
Hull, Janie, , 1892, 1975, I, 18, C, N, SS, , , Family Stone: Hull, , , curbed
Ivey, Elizabeth, Ann, 14-May-07, Aug. 14, 1978, IV, 24, Q, N, DS, , , , , , curbed
Ivey, Elizabeth, , 1869, 1951, II, 30, F, N, DS, , Mama, , , , curbed
Ivey, Ernest, , Feb. 3, 1899, 14-May-82, IV, 24, Q, N, DS, , , , , , curbed
Ivey, Homer, E., Dec. 19, 1901, Aug. 22, 1985, IV, 39, O, N, DS, Married Nov. 4, 1922, , , , , curbed
Ivey, Homer, F., Sept. 17, 1925, Nov. 28, 1988, IV, 39, O, N, DS, Wed Oct. 10, 1943, , , , , curbed
Ivey, Jack, Douglas, 29-Aug-26, 24-Apr-66, III, 10, J, Y, SS, , , , Texas S1 USNR World War II, , curbed
Ivey, Jimmy, Dean, 9-Jul-50, 9-Jul-50, II, 28, F, N, SS, Son of Mr. and Mrs. E.H. Ivey. Born and Died July 9, 1950, Baby, , , , curbed
Ivey, Julia, F., Apr. 9, 1904, 5-Jul-85, IV, 39, O, N, DS, Married Nov. 4, 1922, , , , , curbed
Ivey, L. C., Cumbie Jr., Sept. 29, 1925, Apr. 9, 1998, IV, 10, T, N, SS, , , Family Stone: Ivey, , , curbed
Ivey, Mary, Hickman, 27-Apr-07, Mar. 17, 1999, IV, 10, T, N, SS, , , Family Stone: Ivey, , , curbed
Ivey, Mary, L., Sept. 19, 1906, 21-Jul-76, III, 10, J, N, DS, , , , , , curbed
Ivey, Oscar, C., 1866, 1956, II, 30, F, N, DS, , Papa, , , , curbed
Ivey, Viginia, L., Jan. 23, 1927, only date, IV, 39, O, N, DS, Wed Oct. 10, 1943, , , , , curbed
Ivey, Willard, W., Feb. 8, 1904, Jan. 24, 1986, III, 10, J, N, DS, , , , , , curbed
Jackson, Charlie, J., 1871, 1936, I, 13, C, N, DS, , , , , , curbed
Jackson, E., Herman, 1899, 1968, I, 13, C, N, SS, , , , , , curbed
Jackson, Susie, , 1877, 1968, I, 13, C, N, DS, His Wife, , , , , curbed
Jimerson, Doris, M., 30-Jun-25, Feb. 7, 1969, III, 19, K, N, SS, , , , , , curbed
Johnson, Chelsea, Jo, Feb. 28, 1984, 21-Jun-98, IV, 13, P, N, DS, Granddaughter, , Shaffer Funeral Home Marker , , , none
Johnson, Daniel, M, Oct. 26, 1909, 31-Jul-79, III, 24, K, N, DS, , Dan, Cement slab with lava rock in center, , , cement slab
Johnson, Dixie, , 14-May-42, only date, IV, 13, P, N, DS, Married July 17, 1961, , , , , none
Johnson, John, B., Mar. 1, 1866, Nov. 13, 1934, II, 19, G, N, SS, , , Family Stone: Johnson, , , curbed
Johnson, Laura, T., Aug. 29, 1874, Apr. 14, 1964, II, 19, G, N, SS, , L.T.J., Family Stone: Johnson, , , curbed
Johnson, Ovid, L., Mar. 8, 1891, 30-May-65, II, 19, G, Y, SS, , , Stone is broken in half--Family Stone: Johnson, PVT Co. B III Engrs. 36 DIV World War I Mar. 8, 1891 May 30, 1965, , curbed
Johnson, Robert, Lewis, Mar. 21, 1912, Apr. 12, 1993, II, 19, G, Y, SS, , , Family Stone: Johnson, US Army World War II Mar 21, 1912 Apr. 12, 1993, , curbed
Johnson, Ruby, Mae, 22-Jul-11, Nov. 26, 1973, III, 24, K, N, DS, , Ruby, Cement slab with lava rock in center, , , cement slab
Johnson, William, Conn, Sept. 17, 1908, Apr. 6, 1995, IV, 16, N, N, SS, , , , , , curbed
Johnson, Willie, , 16-May-41, Feb. 19, 1992, IV, 13, P, N, DS, Married July 17, 1961, , , , , none
Jones, Keenan, Roy, 1991, 1991, III, 9, K, N, , , , Funeral Home Marker ONLY: Shaffer Funeral Home Robert Lee-Bronte, TX, , , curbed
Jowers, Shirley, June, Mar. 8, 1947, 8-May-97, I, 7, C, N, SS, In loving memory wife, , photo on hs, , , curbed
Joyce, C., R., Apr. 7, 1908, Sept. 12, 1990, IV, 14, Q, N, DS, , , , , , none
Joyce, Gladys, A., 5-Jun-11, Apr. 12, 1997, IV, 14, Q, N, DS, , , , , , none
Keele, Audie, Randle, 17-Jun-10, Dec. 25, 1987, III, 10, K, N, DS, on front: Together Forever-----on back: To live in the hearts of those we love is to never die, , , , , curbed
Keele, Ela, Erma, Jan. 19, 1911, 7-Jun-70, III, 10, K, N, DS, on front: Together Forever-----on back: To live in the hearts of those we love is to never die, MOTHER, Funeralhome Marker 1911---1970, , , curbed
Keeney, Charles, E., 1885, 1956, II, 12, E, N, SS, Woodmen of the World Emblem, , Family Stone: Keeney, , , cement slab
Keeney, Eva, , 1879, 1964, II, 12, E, N, SS, , , Family Stone: Keeney, , , cement slab
Keeney, Frank, , 1877, 1956, II, 12, E, N, SS, Mason Emblem, , Family Stone: Keeney, , , cement slab
Keeney, Georgia, , 1865, 1933, II, 13, E, N, SS, Mother, G.K., , , , curbed
Keeney, James, L. Jr., Feb. 13, 1923, Mar. 21, 1962, II, 18, E, N, SS, , , Family Stone in center KEENEY , Texas MOMM2 US NR World War II Feb. 13, 1923 Mar. 21, 1962, , curbed
Keeney, James, L. Sr., Nov. 15, 1891, Aug. 11, 1965, II, 18, E, N, SS, , , Family Stone in center KEENEY , , , curbed
Keeney, John, , 1880, 1964, II, 14, E, N, DS, , POP, Family Stone: Keeney, , , curbed
Keeney, Lee, , 1880, 1963, II, 14, E, N, DS, , MOM, Family Stone: Keeney, , , curbed
Keeney, Mrytle, Celeste, Dec.3 ,1891, 11-Jul-75, II, 18, E, N, SS, , , Family Stone in center KEENEY , , , curbed
Keeney, Olive, Lowry, 1893, 1982, II, 12, E, N, SS, Eastern Star Emblem, , Family Stone: Keeney, , , cement slab
Keeney, Tom, , 1849, 1929, II, 13, E, N, SS, Father, T.K., , , , curbed
Keesee, Frank, , Apr. 29, 1897, Mar. 22, 1970, II, 6, F, N, DS, , Daddy (badly sunken), , , , curbed
Keesee, George, W., 1869, 1931, II, 10, E, N, SS, , , , , , curbed
Keesee, Irene, , Apr. 20, 1909, Dec. 5, 1965, II, 6, F, N, DS, , Mother, , , , curbed
Keesee, Laverne, , Dec. 17, 1928, Jan. 1, 1929, II, 6, F, N, SS, , Baby, , , , curbed
Keesee, Minnie, , Nov. 6, 1902, 20-Jun-25, II, 5, F, N, SS, , MOTHER, Family Headstone: Keesee, , , curbed
Keesee, Nannie, , 1873, 1951, II, 10, E, N, SS, , , , , , curbed
Keesee, Oreon, , Aug 20, 1893, Oct. 27, 1955, II, 10, E, N, SS, , , , , , curbed
Kemp, Cecil, W., 1912, 1988, IV, 16, P, N, DS, , , , , , Curbed
Kemp, Frances, L., 1917, 1999, IV, 16, P, N, DS, , , , , , Curbed
Kennedy, Roddy, Daryl, 1934, 1969, II, 38, I, N, SS, , , , , , curbed
Kennedy, Stella, E., Nov. 21, 1896, Apr. 14, 1981, IV, 37, O, N, DS, Precious Lord Take My Hand Eastern Star Emblem, , , , , curbed w/cement slab
Kennedy, Steve, J., Sept.1, 1900, 25-Jul-83, IV, 37, O, N, DS, Precious Lord Take My Hand Mason Emblem, , , , , curbed w/cement slab
Kevil, Jacob, Roberts, May 20, 1886, Sept. 29, 1966, I, 31, C, N, DS, Kevil, , , , , none
Kevil, Ludie, Bass, Mar. 23, 1891, 26-Jul-60, I, 31, C, N, DS, Kevil, , , , , none
Keyes, Robert, Lee, Oct. 3, 1883, Sept. 18, 1951, II, 8, E, N, DS, , , Family Stone: Keyes, , , curbed
Keyes, Thomas, L., Mar. 7, 1862, Apr. 4, 1926, II, 8, E, N, DS, , T.L.K., Family Stone: Keyes, , , curbed
Kiker, Charles, Wayne, Feb. 21, 1924, Mar. 17, 1974, II, 28, I, Y, SS, , , , US Navy, , curbed
Kiker, Chester, L., Dec. 16, 1901, 13-Jul-87, II, 24, F, N, DS, , Dad, , , , cement slab
Kiker, Chester, R., Nov. 26, 1921, Mar. 29, 1944, II, 24, F, Y, SS, , Son, , Chester R. Kiker FL. O. U.S. Army Air Force World War II Nov. 26, 1921---Mar. 29, 1944, , cement slab
Kiker, David, Burnett, Mar. 4, 1897, Apr. 5, 1988, II, 28, I, Y, SS, , , , US Army World War I, , curbed
Kiker, Dellah, , Jan. 3, 1874, Jan. 26, 1970, II, 25, F, N, DS, , Mother, , , , cement slab
Kiker, Gussie, O., Apr. 11, 1904, Aug. 13, 1975, II, 24, F, N, DS, , Mother, , , , cement slab
Kiker, Lizzie, M., 1906, 1974, II, 29, I, N, DS, , Mother, Plot covered with rocks, tile covering graves, , , curbed
Kiker, Orbie, S., 1904, 1955, II, 29, I, N, DS, , Daddy, Plot covered with rocks, tile covering graves, , , curbed
Kiker, S., A., Feb. 4, 1869, Mar. 18, 1955, II, 25, F, N, DS, Mason Emblem, Dad, , , , cement slab
Kiker, Winnie, , 1902, 1992, II, 28, I, N, SS, , Mother, no head stone: Shaffer Funeral Home Marker with info, , , curbed
Kinney, Annie, I., 2-2-1887, 7/8/38, I, 5, C, N, DS, , A.I.K., , , , curbed
Kinney, Fred, N., 4-16-1884, 1/24/57, I, 5, C, N, DS, , , , , , curbed
Kirk, Gracie, Lockhart, 1897, 1933, II, 17, F, N, SS, Wife of J.V.Kirk, , , , , curbed
Kirkland, Hardie, M., 1912, 1966, III, 27, L, N, DS, , , , , , curbed
Kirkland, Helen, M., no dates, , III, 27, L, N, DS, , Helen (by hs), , , , curbed
Knierim, Charlie, L., 1884, 1964, III, 33, J, N, DS, , , , , , none
Knierim, Eva, , 1885, 1979, III, 33, J, N, DS, , Mama(by hs), , , , none
Knierim, Minnie, C., 1882, only date, II, 14, H, N, DS, Married Sept. 21, 1905, , , , , curbed
Knierim, Walter, I., 7-Aug-10, Aug. 7, 1910, III, 33, J, N, SS, In Memory of , , This info is on a small stone beside the DS of Charlie and Eva Knierim, , , none
Knierim, Wm., Robert, 1874, 1961, II, 14, H, N, DS, Married Sept. 21, 1905, , , , , curbed
Knight, James, H., Feb. 6, 1931, Sept. 1, 1980, IV, 41, S, N, DS, Daddy, , , , , curbed
Knight, Norma, J., Oct. 5, 1937, only date, IV, 41, S, N, DS, Mother, , , , , curbed
Kresta, Almedia, , 18-Feb-08, Nov. 15, 1994, III, 35, M, N, DS, , Mother, , , , curbed
Kresta, Oscar, E., Oct. 22, 1909, 19-Apr-78, III, 35, M, N, DS, , , , , , curbed
Kule, Elmer, , Jan.17, 1932, Mar. 21, 1933, I, 14, C-D, N, SS, , , Stone is leaning against a tree in the walkway, , , walkway
Kunkel, A., J., 1925, 1944, I, 8, B, N, SS, In memory of.....lost at sea, , , , , curbed
Kunkel, Daniel, , 1934, 1943, I, 8, B, N, SS, , D.K. , fs by hs, , , curbed
Lambert, Joseph, P., 1882, 1935, II, 20, F, N, DS, Father, , , , , curbed
Lambert, Josephine, R., 1887, 1949, II, 20, F, N, DS, Mother, , , , , curbed
Lambert, Robert, C. Jr., *see note, , II, 20, F, N, SS, , , The stone has no place for dates, , , curbed
Lammers, Albert, B., Oct. 14, 1900, 25-Jul-58, I, 28, A, N, SS, , , , , , curbed
Lammers, Elizabeth , I., 1881, 1953, II, 17, I, N, DS, , , , , , curbed
Lammers, James, Alan, Feb. 20, 1927, only date, III, 36, K, N, DS, Married April 7, 1945, , , , , none
Lammers, James, C., 1874, 1942, II, 17, I, N, DS, , , , , , curbed
Lammers, Jesse, Lee, Jan. 8, 1925, 3-Jan-98, III, 36, K, N, DS, Married April 7, 1945, , Shaffer Funeral Home., , , none
Lammers, Leslie, Hughes, Sept. 10, 1906, Oct. 1, 1981, III, 19, J, Y, DS, Married Dec. 21, 1934, , , US Army World War II, , curbed
Lammers, Mamie, O., Mar. 4 1908, Apr. 13, 1991, III, 19, J, N, DS, Married Dec. 21, 1934, , , , , curbed
Lammers, Nettie, M., 1906, 1989, III, 37, K, N, DS, Married Dec. 24, 1925, 1925, , , , Curbed
Lammers, Vernon, C., 1905, 1970, III, 37, K, N, DS, Married Dec. 24, 1925, , , , , Curbed
Landers, A., J. (Pat), Oct. 18, 1878, 11-Jul-34, I, 13, D, N, SS, , , , , , curbed
Landers, Arthur, F., Apr. 26, 1867, Aug. 16, 1951, I, 14, D, N, SS, Father, , Family Stone: Landers, , , curbed
Landers, C., N. (Bill), Apr. 3, 1909, Jan. 4, 1994, I, 14, D, N, SS, Beloved Husband-Father, , Family Stone: Landers, , , curbed
Landers, Emma, O., Aug. 11, 1874, Apr. 10, 1953, I, 14, D, N, SS, Mother, , Family Stone: Landers, , , curbed
Landers, Marvin, H., 8-May-24, only date, III, 28, M, N, DS, , , , , , curbed
Landers, Maurine, Snookye, 11-May-26, only date, III, 28, M, N, DS, , , , , , curbed
Larkin, D., , Nov. 21, 1866, Oct. 16, 1952, II, 35, I, N, SS, , Papa, Family Stone: Larkin, , , curbed
Larkin, Eliza, , Oct.7, 1873, Oct. 28, 1959, II, 35, I, N, SS, , Mama, Family Stone: Larkin, , , curbed
Larkin, Joe, B., Sept. 10, 1910, Sept. 20, 1987, III, 13, M, N, DS, , , , , , cement slab
Larkin, Lucille, , Mar. 23, 1914, 3-May-86, III, 13, M, N, DS, Eastern Star Emblem, , , , , cement slab
Lasswell, Elsie, E., 1902, 1980, III, 8, L, N, DS, , , , , , cement slab
Lasswell, Geo., C., July 1, 1845, Nov. 1, 1923, II, 1, G, N, DS, Gone but not forgotten, , , , , curbed
Lasswell, Margaret, M., Dec. 30, 1851, Dec. 20, 1931, II, 1, G, N, DS, his wife------Gone but not forgotten, , , , , curbed
Lasswell, Mary, E., 1884, 1973, II, 13, I, N, DS, , , , , , curbed
Lasswell, Melvin, J., 1900, 1982, III, 8, L, N, DS, , , , , , cement slab
Lasswell, Milton, E., 1877, 1958, II, 13, I, N, DS, , FATHER (by hs), , , , curbed
Lasswell, Myrtle, A., Aug. 15, 1906, only date, II, 13, I, N, SS, , , , , , curbed
Latham, Alene, C., 1906, 1980, I, 29, B, N, DS, In Loving Memory, MOM, , , , curbed
Latham, Betty, Ann, Jan. 21, 1933, , I, 31, A, N, DS, Love Touched Many Married June 18, 1955, , , , , curbed
Latham, Hervey, H., Feb. 9, 1928, Sept. 6, 1992, I, 31, A, N, DS, Love Touched Many Married June 18, 1955, , , , , curbed
Latham, Jay, W., 1904, 1958, I, 29, B, N, DS, In Loving Memory, DAD, , , , curbed
Latham, Noretta, Ann, 9-Jun-32, Mar. 20, 1933, I, 29, B, N, SS, , SISTER, , , , curbed
Latham, Suzanne, , 1956, 1959, I, 29, B, N, SS, An angel here and in heaven, grand daughter, , , , curbed
Lee, Annie, L., 1891, 1944, I, 21, B, N, SS, Wife of Alto Lee -- At Rest, , , , , curbed
Lee, Barbara, A., Jul. 27, 1923, only date, III, 38, K, N, DS, , B.A.L. by headstone, , , , curbed
Lee, Bernice, Little, Oct. 8, 1893, Dec. 13, 1985, III, 39, K, N, DS, Married May 21, 1916, , , , , curbed
Lee, Bertie, Rue, 30-Jun-20, only date, III, 8, M, N, DS, Married Oct. 7, 1939 Parents of: Louis, Wendell, Joe, Carol, Ann., , , , , curbed
Lee, Betty, Ruth, Mar. 9, 1924, Mar. 27, 1996, III, 38, M, N, DS, Married Feb. 21, 1946, , , , , curbed
Lee, Claude, O'Brian, 17-Aug-26, Jan. 23, 1983, IV, 20, O, Y, SS, , , , Claude O'Brian Lee S1 US Navy World War II Aug. 17, 1926 Jan. 23, 1983, , none
Lee, Eula, Verne Nixon, 10-May-19, only date, IV, 9, N, N, DS, Married Apr. 8, 1936 Eastern Star Emblem, , , , , none
Lee, Eyvonne, Hilliard, Feb. 7, 1947, only date, III, 38, K, N, DS, , , Married Mar. 26, 1964, Carving of Scissors, , , curbed
Lee, Hurlin, Dewitt, Sept. 17,1913, 20-Jun-96, IV, 9, N, N, DS, Married Apr. 8, 1936 Mason Emblem, , , , , none
Lee, Joe, B., Sept. 11, 1921, Jan. 10, 1965, III, 38, K, N, DS, , J.B.L., , Joseph William Lee, Texas Tec 4 143 ORD MED MAINT Co. WWII, , curbed
Lee, Lester, Claud, Nov. 9, 1907, 23-May-85, III, 8, M, N, DS, Married Oct. 7, 1939 Parents of: Louis, Wendell, Joe, Carol, Ann., , , , , curbed
Lee, Louis, C., Nov. 4, 1940, Feb. 7, 1989, III, 7, M, N, SS, Gone, but not forgotten, , , , , curbed
Lee, Melvin, Royce, Dec. 27, 1923, only date, III, 38, M, N, DS, Married Feb. 21, 1946, , , , , curbed
Lee, Micheal, O., 17-May-47, 26-Jul-94, IV, 20, O, N, SS, , , , , , none
Lee, Randy, W., 17-Jul-51, Mar. 17, 1999, IV, 20, O, N, SS, Father of Nathan W. Lee, , Etching of man painting; dog; and football helmet on headstone, , , none
Lee, Renza, , Nov. 12, 1893, May 6, 1987, III, 39, K, N, DS, Married May 21, 1916, , , , , curbed
Lee, Troy, Don, 24-Jun-66, Feb. 27, 1997, III, 7, M, N, SS, Beloved husband, father, and son, , FuneralHome Marker: Shaffer Fun. Home Robert Lee-Bronte, TX, , , curbed
Lee, Turner, , Dec. 9, 1946, only date, III, 38, K, N, DS, , , Married Mar. 26, 1964, Carving of Eighteen Wheeler, , , curbed
Lee, Vernon, W., Nov. 15, 1916, Aug. 9, 1996, IV, 26, P, Y, SS, , , , Vernon W. Lee US Army World War II Nov. 15, 1916 Aug. 9, 1996, , curbed
Leonard, Eula, Lockhart, Oct. 23, 1886, Mar. 27, 1973, II, 18, F, N, SS, , Mother, , , , curbed
Leonard, James, Daniel, Feb. 8, 1872, Aug. 17, 1961, II, 18, F, N, SS, , Father, , , , curbed
Liles, Cordie, , Sept. 10, 1902, Dec. 7, 1983, III, 32, L, N, DS, , Mother, , , , none
Liles, Jessie, T., Mar. 20, 1897, 15-Jun-67, III, 32, L, N, DS, , Daddy, , , , none
Lindley, Josephine, , 14-May-09, Mar. 5, 1988, IV, 31, O, N, SS, , , , , , curbed
Littlefield, Bertie, Bell, Dec. 6, 1896, 20-Apr-87, II, 22, G, N, SS, , , , , , curbed
Littlefield, Elgin, P., 30-May-15, 14-Mar-45, II, 22, G, Y, SS, , , , Elgin P. Littlefield Texas Pvt. U.S. Marine Corps World War II May 30, 1915--March 14, 1945, , curbed
Littlefield, Marceill, Ellen, Jan. 2, 1924, Aug. 3, 1987, IV, 39, N, N, SS, Sweet and loving, wife and mother, , , , , none
Littlefield, O., Z., Apr. 17, 1892, Jan. 7, 1958, II, 22, G, N, SS, , , , , , curbed
Littlefield, Robert, Randall, 2-May-51, 9-Mar-93, IV, 39, N, N, SS, Rest in Peace, , , , , none
Littlefield, Willard, Wayne Spunky, 13-May-48, 10-Jul-86, IV, 39, N, N, SS, Love, Maw and Daddy, , , , , none
Lockhart, Sarah, E. Teague, Jan. 25, 1858, Mar. 21, 1934, II, 17, F, N, DS, , , , , , curbed
Lockhart, William, W., Dec. 19, 1854, Feb. 25, 1943, II, 17, F, N, DS, , , , , , curbed
Lofland, Allice, C., Jan. 24, 1904, Nov. 30, 1990, IV, 34, O, N, DS, Married Apr. 2, 1925, , , , , curbed
Lofland, Lumon, C., Aug. 17, 1906, 1-Jul-91, IV, 34, O, N, DS, Married Apr. 2, 1925, , , , , curbed
Lowrance, Allie, C., 1901, 1974, III, 15, M, N, DS, , , , , , none
Lowrance, Ervin, T., 1902, 1990, III, 15, M, N, DS, , , , , , none
Lowry, George, Thad, Jan 4, 1901, Oct. 16, 1947, II, 5, E, N, SS, , , Family Headstone: Lowry, , , curbed
Lowry, Maude, Lanford, 29-Jul-06, Mar. 31, 2000, II, 5, E, N, SS, , , Family Headstone: Lowry Robert Massey Funeralhome Marker, , , curbed
Lowry, Rhoda, Lee, Mar 5, 1874, Nov. 12, 1936, II, 5, E, N, SS, , , Family Headstone: Lowry, , , curbed
Lowry, Robert, O., Sept. 5, 1904, 10-May-66, II, 5, E, N, SS, , , Family Headstone: Lowry, , , curbed
Lowry, U., T., Sept. 13, 1868, Dec. 13, 1923, II, 5, E, N, SS, symbol on stone three circles: inside circle U T L; second circle K S H T W S S T , , Family Headstone: Lowry, , , curbed
Luckett, George, D., Apr. 30, 1902, Dec. 3, 1984, IV, 25, O, N, DS, In God's Care, , , , , curbed
Luckett, Mattie, M., May 22, 1902, Dec. 11, 1985, IV, 25, O, N, DS, In God's Care, , , , , curbed
Luttrell, Charles, W., 1883, 1945, I, 19, B, N, DS, , , , , , none
Luttrell, Hannah, A., 1855, 1934, I, 17, D, N, DS, , , grave sinking, , , curbed
Luttrell, J., D. Jr., 15-May-15, 8-May-68, III, 26, M, N, SS, , , Family Stone: Luttrell, , , curbed
Luttrell, James, David, Jan. 15, 1879, Nov. 18, 1960, II, 10, H, N, DS, , , , , , curbed
Luttrell, Jennie, Lou, Jan. 6, 1886, Mar. 8, 1931, II, 10, H, N, DS, , , , , , curbed
Luttrell, Maranda, , Jan. 9, 1898, 29-Jun-74, II, 10, H, N, SS, , M.L., , , , curbed
Luttrell, Margaret, , 8-May-19, Apr. 30, 1992, III, 26, M, N, SS, , , Family Stone: Luttrell, , , curbed
Luttrell, Tannie, E., 1885, 1954, I, 19, B, N, DS, , , , , , none
Luttrell, W., M. Thomas, 1854, 1936, I, 17, D, N, DS, , , grave sinking, , , curbed
Mackey, Barrett, D., Oct. 3, 1906, Mar. 20, 1984, III, 25, L, N, DS, , , , , , curbed
Mackey, Dolan, , Apr. 26, 1930, Oct. 11, 1992, IV, 42, Q, , , , , , , , curbed
Mackey, Elsie, L., Feb. 2, 1907, Apr. 30, 1977, III, 25, L, N, DS, , , , , , curbed
Mackey, Ershel, E., Apr. 23, 1907, Nov. 17, 1999, IV, 42, Q, N, DS, Wed. Oct. 31, 1925, , , , , curbed
Mackey, James, G., Dec. 5, 1901, Oct. 29, 1983, II, 35, F, N, SS, Brother, , , , , curbed
Mackey, Jessie, , Feb. 9, 1887, Jan. 15, 1981, I, 3, B, N, DS, , J.M.M. (by hs), , , , curbed
Mackey, Joe, M., 25-May-05, 24-Jul-93, IV, 42, Q, N, DS, Wed. Oct. 31, 1925, , , , , curbed
Mackey, Marvin, , Apr. 13, 1887, Jun. 28, 1960, I, 3, B, N, DS, , S.M.M. (by hs), , , , curbed
Mackey, Mattie, E., Aug. 18, 1873, Feb. 8, 1963, II, 35, F, N, SS, , , , , , curbed
Mackey, Nealy, , 1918, 1969, III, 28, L, N, DS, , , , , , curbed
Mackey, Pansy, , 1922, only date, III, 28, L, N, DS, , , , , , curbed
Mackey, Robert, Pharris, Dec. 10, 1915, Dec. 10, 1989, II, 35, F, N, SS, Brother, , , , , curbed
Mackey, W., H., Oct. 19, 1868, Oct. 3, 1955, II, 35, F, N, SS, Mason Emblem, , , , , curbed
Maginness, Gary, Wayne, Sept. 16, 1970, Nov. 10, 1976, IV, 1, P, N, SS, Our Beloved Son, , , , , curbed
Magness, *see note, , , , III, 32, M, N, DS, , , DS one side blank, , , none
Magness, Gwyna, Lou, Nov. 15, 1933, 6-Jun-69, III, 32, M, N, DS, , Mother, , , , none
Mann, Betty, Jo, 1923, Only date, II, 35, E, N, SS, , , , , , curbed
Mann, Normand, , 1916, 1978, II, 35, E, N, SS, , , , , , curbed
Marks, James, Douglas, 21-Jun-10, 4-May-92, IV, 23, S, N, DS, , , , , , none
Marks, Opal, Harrell, 27-Jul-13, 9-Jul-98, IV, 23, S, N, DS, , , Rains-Seale-Funeral Home Marker Ballinger, TX: Opal Gertrude Marks 1913-1998, , , none
Marks, Tony, Duwayne, Dec. 26, 1943, Dec. 27, 1943, II, 12, G, N, SS, Infant son of Jean Hallmark Marks, , , , , curbed
Marquez, Calistro, , Nov. 22, 1885, 15-Jul-67, IV, 2, P, N, DS, Married Nov. 7, 1907, Daddy, , , , curbed
Marquez, Isabell, , June 2, 1888, Jan. 12, 1968, IV, 2, P, N, DS, Married Nov. 7, 1907, Mother, , , , curbed
Marshall, Ernest, , Mar. 8, 1883, 16-Jul-78, IV, 36, P, N, DS, , , , , , curbed
Marshall, Pearl, M., Nov. 5, 1887, 4-Jul-73, IV, 36, P, N, DS, , , , , , curbed
Martin, Carl, D., 14-Jun-13, Jan. 16, 1981, IV, 20, T, N, SS, Beloved. Gone but not forgotten., , , , , curbed
Martin, Charles, , 1885, 1952, II, 13, G, N, SS, , C.M., , , , curbed
Martin, John, Wilbur, Oct. 27, 1913, Oct. 7, 1971, IV, 40, P, N, , , Family Head Stone: Martin, , , , curbed
Martin, Laura, , Dec. 14, 1894, Dec. 5, 1985, II, 14, G, N, SS, Eastern Star Emblem, , , , , curbed
Martin, Mary, E., 1855, 1939, II, 13, G, N, DS, , M.E.M., , , , curbed
Martin, Samuel, J., 1848, 1935, II, 13, G, N, DS, , S.J.M., , , , curbed
Martin, W., J. Bill, Oct. 21, 1890, Dec. 24, 1976, II, 14, G, N, SS, Mason Emblem, , , , , curbed
Martinez, Adolfo, , 24-May-31, Oct. 24, 1963, IV, 2, O, N, SS, , , , , , curbed
Martinez, Antonio, , May 15, 1901, Mar. 28, 1994, IV, 2, O, N, DS, Truly Thine Father, , , , , curbed
Martinez, Gloria, , 1964, 1984, IV, 2, O, N, *see note, , , Funeral Home Marker only, , , curbed
Martinez, Preciliana, H., Jan. 4, 1911, 23-Jun-82, IV, 2, O, N, DS, Truly Thine Mother, , , , , curbed
Turner, Marvin M. , Family Stone, , , III, 36, L, , , , , Marvin M. Turner Family on Family Stone, , , curbed
Turner, Marvin M. , Family Stone, , , III, 36, L, , , , , Marvin M. Turner Family on Family Stone, , , curbed
Turner, Marvin M. , Family Stone, , , III, 36, L, , , , , Marvin M. Turner Family on Family Stone, , , curbed
Turner, Marvin M. , Family Stone, , , III, 36, L, , , , , Marvin M. Turner Family on Family Stone, , , curbed
Mathews, Morgan, B., 15-Jul-89, only date, IV, 21, Q, N, SS, Our Special Angel: We didn't get to know you; but we love you, , , , , curbed
Mathis, Leslie, Sterling, 7-Jul-27, Feb. 22, 1994, IV, 38, Q, Y, SS, The Lord is my Shepherd I shall not want 23rd Psalm Together Forever, , , Leslie Sterling Mathis PFC US Army SI US Navy AIC US Air Force World War II July 7, 1927 Feb. 22, 1994, , curbed
Maxwell, Ernestine, C., Oct. 7, 1911, Jan. 19, 1990, IV, 23, Q, N, SS, , , Family Stone: Maxwell, , , curbed
Maxwell, W. H., Bill, III, 16-Jun-37, only date, IV, 23, Q, N, SS, , , Family Stone: Maxwell, , , curbed
Maxwell, W. H. , Bud Jr., Jan. 12, 1909, Mar. 6, 1995, IV, 23, Q, N, SS, , , Family Stone: Maxwell, , , curbed
Maxwell, W.H.M., , 1869, 1937, I, 12, C, N, , , W. H. M. 1869 - 1937, initials on large fs, , , curbed
McAulay, Alfred, Connell, 1908, 1951, II, 30, G, N, DS, Mason Emblem, Father, , , , curbed
McAulay, Bonnie, L. Pairish, 1906, 1997, II, 30, G, N, DS, Eastern Star Emblem, Mother, , , , curbed
McCaleb, David, Aaron, Jun. 15, 1966, Jun. 23, 1988, III, 3, L, Y, SS, , , , MM3 US Navy, , curbed
McCarley, Doris, I., Sept. 28, 1903, Jan. 15, 1984, IV, 30, T, N, DS, , , FuneralHome Marker: Doris Irene McCarley 1903-1984, , , curbed
McCarty, Floyd, , 18-Aug-11, 30-Jul-89, III, 27, K, N, SS, , Dad, Robert Massie Funeral Home Marker San Angelo, TX, , , cement slab
McCleskey, Eula Virginia, Norred, September 9, 1902, 29-Mar-81, IV, 35, P, N, DS, Married August 1, 1925 Precious Memories How They Linger, , , , , curbed
McCleskey, Lloyd, William, 30-Jul-04, 15-Jun-76, IV, 35, P, N, DS, Married August 1, 1925 Precious Memories How They Linger, , , , , curbed
McCuistion, Augustus, L., 1853, 1943, II, 21, G, N, SS, Gone but not forgotten---Husband, A.L.M., , , , curbed
McCuistion, Estelle, K., 1869, 1950, II, 21, G, N, SS, Gone but not forgotten---Wife, E.K.M., , , , curbed
McCutchen, David, , Oct. 20, 1957, Dec. 29, 1981, IV, 41, T, N, SS, Beloved Son, , , , , curbed
McCutchen, Edith, Joyce, Sept. 11, 1937, Dec. 8, 1990, IV, 41, T, N, SS, Beloved Wife and Mother, , , , , curbed
McCutchen, Eula, Maud, Mar. 5, 1912, only date, IV, 40, O, N, DS, In God we Trust. Married Oct. 6, 1931, , , , , curbed
McCutchen, Geraldine, L. JERRY, 23-May-26, only date, III, 8, L, N, DS, Married May 30, 1945----has ranch brand--a c w/a short line above and below, , , , , curbed
McCutchen, Joe, Dorman BINKS, Sept. 12, 1924, Jan. 11, 1998, III, 8, L, N, DS, Married May 30, 1945----has ranch brand--a c w/a short line above and below, , , , , curbed
McCutchen, Luther, F.`, Nov. 27, 1908, Feb. 9, 1993, IV, 40, O, N, DS, In God we Trust. Married Oct. 6, 1931, , , , , curbed
McCutchen, Mattie, M., Feb. 18, 1886, Apr. 30, 1980, II, 36, G, N, DS, , Mother, , , , none
McCutchen, Monroe, O., Feb. 2, 1980, Jan. 14, 1960, II, 36, G, N, DS, , Father, , , , none
McDaniel, Andrew, J., Dec. 12, 1883, Apr. 21, 1966, III, 41, K, N, DS, , , , , , curbed
McDaniel, Clara, K., July 1, 1890, 29-Jun-72, III, 41, K, N, DS, , , , , , curbed
McDole, Mary , Nail, 3-Jul-10, Jan. 13, 1993, II, 27, H, N, SS, We love you Mom Gone Home, , , , , curbed
McGuffey, Baby, Hallmark, 1979, only date, II, 23, I, N, SS, In loving memory of Baby Hallmark McGuffey 1979---In God's Care, , , , , curbed
McGuire, Charles, Eldred, 18-Jun-17, Oct. 21, 1999, III, 40, J, N, DS, Married May 11, 1940 Parents of: Modene, Laura Lee, Charles, Mary Ellen, Papa, , , , curbed
McGuire, Mary Mildred, Stinebaugh, 13-Apr-22, only date, III, 40, J, N, DS, Married May 11, 1940 Parents of: Modene, Laura Lee, Charles, Mary Ellen, Granny, , , , curbed
McKee, Neva, , Aug. 31, 1898, Jan. 26, 1983, IV, 40, Q, N, SS, , , , , , curbed
McKinney, Arvel, , 19-Jun-15, Aug. 27, 1946, I, 23, A, Y, SS, , , , Texas TEC 5 2 Port HQTC World War II , , curbed
McKinney, Millard, , Dec. 15, 1917, Dec. 18, 1956, I, 23, A, N, SS, , , , , , curbed
McKown, Iranadine, , Feb. 13, 1926, only date, II, 29, F, N, DS, Married Jan. 19, 1946, , , , , curbed
McKown, Judy, Dell, Aug. 18, 1950, Aug. 22, 1950, II, 29, F, N, SS, Dau. of Mr. and Mrs. Bell McKown, Baby, , , , curbed
McKown, William, B., Apr. 3, 1913, Apr. 15, 1991, II, 29, F, Y, DS, Married Jan. 19, 1946 Mason Emblem, , , William Bryan McKown SGT US Army World War II Dec. 3, 1913 Apr. 15, 1991, , curbed
McMullan, Beau, Dean, Jan. 3, 1986, Mar. 21, 1986, III, 9, M, N, SS, , , , , , none
McMullan, Willie, M., 1892, 1961, II, 5, I, N, SS, Mother, , , , , curbed
McQueen, Alex, , 1894, 1964, II, 16, I, N, SS, , , Center south edge of plot has section abt. 3ft. long wooden fence, , , curbed
McQueen, Donald, M., 1859, 1948, II, 15, I, N, DS, , Father, , , , curbed
McQueen, E., Immard, 1857, 1940, II, 15, I, N, DS, , Mother, , , , curbed
McQueen, M., Lola, 1898, 1990, II, 14, I, N, DS, , , , , , curbed
McQueen, Mae, , 1897, 1988, II, 16, I, N, SS, , , Center south edge of plot has section abt. 3ft. long wooden fence, , , curbed
McQueen, Omah, R., 1897, 1988, II, 14, I, N, DS, , , , , , curbed
McShan, Annie, Laurie, 1907, 1997, I, 9, A, N, DS, , , Family Stone: Black, , , curbed
McShan, W., Beauford, 1907, 1976, I, 9, A, N, DS, , , Family Stone: Black, , , curbed
Meek, Catherine, Fay, Dec. 29, 1922, Feb. 19, 1976, I, 8, C, N, SS, Our Mother, , , , , curbed
Meyer, Benjamin, F., 1901, 1960, II, 38, I, N, DS, , , Has emblem: circle with wings; OB in circle, , , curbed
Meyer, Gwyn, E., 15-Jan-14, only date , II, 9, G, N, DS, , , , , , curbed
Meyer, Maurice, G., 1908, 1985, II, 38, I, N, DS, , , , , , curbed
Meyer, Wilbur, E., Dec. 31, 1918, only date, II, 9, G, N, DS, , , , , , curbed
Middleton, Lillian, , no dates, no dates, IV, 26, N, N, DS, , L.M.(by hs), , , , curbed
Middleton, William, Bond, July 28, 1885, Oct. 5, 1969, IV, 26, N, N, DS, , DAN, , , , curbed
Millikin, William, Wish, 1900, 1961, I, 32, B, N, SS, Mason Emblem, , Family Stone reads Millikin, , , none
Mills, Brady, O., Oct. 6, 1925, 20-May-99, III, 22, M, N, DS, Mason Emblem, , , , , curbed
Mills, Charley, T., 1876, 1969, I, 5, B, N, DS, , DADDY, , , , curbed
Mills, J., G., Aug. 26, 1889, Jan. 1, 1972, III, 22, M, N, DS, , Father, , , , curbed
Mills, L., Marie, Oct. 26, 1931, Mar. 28, 1989, III, 22, M, N, DS, Medical Emblem, , , , , curbed
Mills, Lula, A., Feb. 5, 1896, Aug. 12, 1967, III, 22, M, N, DS, , , , , , curbed
Mills, Martha, L., 1872, 1965, I, 5, B, N, DS, , MOTHER, , , , curbed
Mills, Winnie, , Mar. 16, 1916, Dec. 13, 1967, I, 5, B, N, SS, , WFM, , , , curbed
Minjarez, Tomasa, R., 1927, 1963, IV, 1, O, N, SS, , , , , , curbed
Minnick, Geneva, C., 13-Sep-18, only date, IV, 21, N, N, DS, , , , , , curbed
Minnick, J., R., Oct. 20, 1904, Nov. 1, 1987, IV, 21, N, N, DS, , , , , , curbed
Minnick, Raymond, J., Aug. 5, 1928, 18-Jun-92, IV, 21, N, N, SS, Loving Brother and Son, , , , , curbed
Mitchell, Allene, G., Mary 31, 1914, only date, IV, 33, O, N, DS, , , , , , curbed
Mitchell, Elizabeth, , Nov. 14, 1881, 17-Jun-57, II, 24, H, N, DS, , , , , , curbed
Mitchell, Elmer, Don, 1937, 1907, IV, 33, O, N, , , , Funeral Home Marker only w/info, , , curbed
Mitchell, Emmagene, , Dec. 29, 1932, only date, II, 23, H, N, DS, Mother---Whither thou goest, I will go Married June 7, 1947, , curbing broken, , , curbed
Mitchell, James, E., 14-Jun-16, Oct. 26, 1970, II, 23, H, Y, DS, Father---Whither thou goest, I will go Married June 7, 1947, , curbing broken, Texas SGT US Air Force World War I Korea Aircom, , curbed
Mitchell, James, E., Nov. 14, 1874, Jan. 24, 1971, II, 24, H, N, DS, , , , , , curbed
Mitchell, John, Daniel, 31-May-07, 17-May-63, II, 25, H, N, DS, , , , , , curbed
Mitchell, Lillie, Mae, Mar. 28, 1908, only date, II, 25, H, N, DS, , , , , , curbed
Mitchell, Marion, E., 8-Jul-09, Apr. 6, 1989, IV, 33, O, N, DS, , , , , , curbed
Mitchell, Theophilus, A., 1901, 1979, IV, 28, O, N, SS, Mason Emblem 50 years, , , , , curbed
Moates, Addie, M., 1904, 1978, III, 1, K, N, DS, , NANNY, , , , curbed
Moates, Aubrey, J., 1900, 1980, III, 1, K, N, DS, , POPS, , , , curbed
Modgling, Adah, L., 1891, 1970, IV, 38, O, N, DS, Married Sept. 29, 1912, Mother, , , , curbed w/gravel
Modgling, Barnie, E., 1892, 1980, IV, 38, O, N, DS, Married Sept. 29, 1912, Dad, , , , curbed w/gravel
Montano, Juventino, , Jan. 25, 1891, Aug. 25, 1978, IV, 6, O, N, SS, , , , , , none
Moore, Dora M., Haskew, Sept. 25, 1918, Aug. 31, 1990, IV, 12, N, N, DS, Married Feb. 24, 1934, , , , , none
Moore, Mary, Jacqueline, 1942, 1946, I, 23, D, N, SS, Our Baby--Daughter of Mr. and Mrs. W.E.Moore, , , , , curbed
Moore, Walter, E., Feb 23, 1888, 18-Jul-63, I, 23, D, Y, DS, , , , Texas PVT 329 Supply Co. QMC World War I , , curbed
Moore, Wilburn, H. Bill, Nov. 5, 1914, Oct. 13, 2000, IV, 12, N, N, DS, Married Feb. 24, 1934, , , , , none
Moore, Zell, , Mar 5, 1902, only date, I, 23, D, N, DS, , M.Z.M., , , , curbed
Morgan, Priscillia, Darlene, 11/2/39, 2/7/01, IV, 38, P, N, none, , , Robert Massie Funeral Home marker only w/info, , , curbed
Morley, Adelia, E., Feb. 20, 1903, Feb. 15, 1997, IV, 29, N, N, DS, Married July 26, 1920, , Elliot Hamill Funeral Home Marker: Adelia Eliza Morley 1903-1997, , , curbed
Morley, William, L., Nov. 3, 1900, Oct. 1, 1969, IV, 29, N, N, DS, Married July 26, 1920, , , , , curbed
mound with, flowers, no funeral home, marker no headstone, , IV, 27, S, N, , , , , , , none
Mound with, no marker, buried in 2001, , , IV, 20, S, , , , , , , , curbed
Murphree, Doyle, R., Feb. 25, 1924, Nov. 1, 1983, II, 25, I, Y, DS, Pahdner (spelled as on stone), D.R.M., , Doyle R. Murphree Sr. Us Army World War II, , curbed
Murphree, Verna, G., Nov. 20, 1924, Oct. 3, 1988, II, 25, I, N, DS, Pahdner (spelled as on stone), V.G.M., , , , curbed
Murtishaw, Helen, V., Feb. 28, 1924, only date, IV, 14, N, N, DS, , , Has four corner stones marked M, , , none
Murtishaw, J., I., Mar. 6, 1926, Aug. 15, 1990, IV, 14, N, Y, DS, , , Has four corner stones marked M, J. I. Murtishaw US Navy World War II Mar. 6, 1926 Aug. 15, 1990, , none
Myer, Charles, A., 1877, 1962, II, 6, H, N, SS, , , curb overgrown and covered w/dirt, , , curbed
Myers, Abe, , March 17, 1854, 4-Aug-27, II, 5, H, N, SS, Asleep in Jesus, sunk, , , , curbed
Myers, Bill, L., 1888, 1952, II, 31, F, N, DS, , , , , , curbed
Myers, Elizabeth, , 1854, 1934, II, 5, H, N, SS, Mother, sunk, , , , curbed
Myers, Mabel, C., 1898, 1993, II, 31, F, N, DS, , , , , , curbed
Nail, Andrew, J. (Doc), 9-Jun-06, Jan. 23, 1969, II, 27, H, N, DS, Married Dec. 28, 1924 Their children: Lurine, Betty, Doris, Patsy, , , , , curbed
Nail, Andrew, Jackson, Feb. 25, 1879, Mar. 21, 1955, II, 27, H, N, DS, , , , , , curbed
Nail, Lillie, Mae, Jan. 15, 1908, 27-May-89, II, 27, H, N, DS, Married Dec. 28, 1924 Their children: Lurine, Betty, Doris, Patsy, , , , , curbed
Nail, Lily, May, May 6, 1881, Sept. 1, 1971, II, 27, H, N, DS, , , , , , curbed
Nance, Kevin, Michael, Apr. 26, 1983, Aug. 25, 1983, IV, 19, O, N, SS, Our Beloved Son, , , , , curbed
Neatherlin, Laura, , 1865, 1922, II, 1, G, N, DS, his wife, , , , , curbed
Neatherlin, Levi, A., 1855, 1932, II, 1, G, N, DS, , , , , , curbed
Nelson, Tennie, , 1866, 1932, II, 15, E, N, DS, , , , , , curbed
Nelson, Tom, M., 1860, 1933, II, 15, E, N, DS, , , , , , curbed
Newman, Iva, Chiles, Oct. 3, 1887, Apr. 14, 1972, III, 26, M, N, SS, , , Family Stone: Luttrell, , , curbed
Nicholas, C .Inella, Burton, Nov. 17, 1920, only date, III, 35, J, N , DS, , , , , , Curbed
Nicholas, E. O., (Speck), 25-Dec-10, 24-Jun-75, III, 35, J, N, DS, , , , , , Curbed
Nixon, Roy, L., Apr. 14, 1924, Sept. 14, 1981, IV, 21, R, N, SS, My Ole Darlin, , , , , none
No Name, No dates, , , , III, 11, M, N, , , , Mound noted in plot, No marker., , , none
No Name , Infant, or child, *SEE NOTE, , III, 14, M, , , , , Small mound, marked with an oval of stones and lava rock, has an angel statue at the head, , , none
Norton, W., N. A., Feb. 10, 1842, 25-Apr-22, II, 1, H, Y, SS, In Loving Memory of our Father, , Family stone has Rawlings; names and dates on foot stones, William N. A. Norton PVT Co. F 8 Texas CAV CSA Feb 10, 1842 April 25, 1922, , curbed
Odom, Ollie, Beatrice (Worden), Jul. 20, 1885, 10-May-25, I, 1, B, N, SS, Mother Dear You did your best; Now may you with Jesus rest, , , , , curbed
Oglesby, Elizabeth, Young, Sept. 11, 1921, 19-Jul-72, IV, 27, P, N, SS, , , Family Stone: Oglesby, , , curbed
Oglesby, George, Benjamin, 27-Aug-22, 23-Jun-83, IV, 27, P, N, SS, , , Family Stone: Oglesby, , , curbed
Oglesby, Patsy Ruth, Luckett Bryan, Oct. 12, 1930, Nov. 8, 1994, IV, 25, N, N, SS, , , Family Stone: Bryan, , , curbed/w/lava rock
Olivas, Carlotta, R., 25-Jun-23, 21-Oct-96, IV, 1, N, N, DS, Married May 24, 1941, , Cement Bench in Plot, , , curbed
Olivas, Simon, R., 18-Feb-16, only date, IV, 1, N, N, DS, Married May 24, 1941, , Cement Bench in Plot, , , curbed
Ott, Alvin, T., Jan. 26, 1906, 2-Jul-53, II, 33, F, N, SS, , , , , , curbed
Ott, Bobby, Joe, 19-May-39, Nov. 12, 1967, II, 33, F, Y, SS, , , , Texas SP4 Co. B 501 ABN BN 1ABN DIV, , curbed
Ott, D., M., Dec. 14, 1867, Aug. 19, 1946, II, 9, E, N, SS, Gone but not forgotten, , , , , curbed
Ott, Dwain, , Aug. 25, 1935, Apr. 26, 2001, II, 33, F, N, SS, , , Johnsons Funeral Home San Angelo, TX , , , curbed
Ott, Laura, , Nov. 3, 1849, Oct. 10, 1928, II, 9, E, N, SS, At Rest, , , , , curbed
Ott, Minnie, B., Nov. 5, 1868, Aug. 8, 1962, II, 9, E, N, SS, , , , , , curbed
Ott, Vera, Lee, Sept. 7, 1907, Mar. 23, 1990, II, 33, F, N, SS, , , , , , curbed
Pairish, Florence, , 1887, 1921, I, 1, D, N, SS, , MOTHER, Family stone: Pairish, , , cement slab
Pairish, Geraldine, S., Aug. 17, 1905, Apr. 16, 1984, II, 32, F, N, SS, , , Family Stone at Head Pairish---info at foot on flat stone, , , curbed
Pairish, Homer, Curtis, Jan. 30, 1902, 8-Jul-52, II, 32, F, N, SS, , , Family Stone at Head Pairish---info at foot on flat stone, , , curbed
Pairish, J., B., Aug. 11, 1914, only date on stone, I, 2, D, N, SS, , , , , , curbed
Pairish, Jean, Odell, Jan. 3, 1910, Jun. 10, 1935, I, 1, D, N, SS, , , Family stone: Pairish, , , cement slab
Pairish, Jessie, P., 16-Feb-85, 17-Jun-83, III, 20, M, N, SS, , , , , , curbed
Pairish, Wint, J., Jun. 1882, Jun. 1968, I, 1, D, N, SS, , , Family stone: Pairish, , , cement slab
Palmer, Nora, Lois, Aug. 18, 1913, Feb. 18, 1999, II, 20, F, N, , , , Johnson's Funeral Home Marker San Angelo, TX, , , curbed
Palmer, Rev. D., Harvey, May 1, 1859, Jan. 18, 1953, II, 32, G, N, DS, , Father, , , , curbed
Palmer, V., Zimrude, Apr. 3, 1871, Oct. 19, 1957, II, 32, G, N, DS, , , , , , curbed
Palmer, Walter, H., Dec. 13, 1895, Feb. 6, 1969, II, 32, G, Y, SS, , , , PFC SCH Demon BN 2 Corps World War I, , curbed
Parker, Hallie, Truman, 1-May-05, 27-Feb-97, I, 21, C, N, DS, , , , , , curbed
Parker, Jesse, M., 20-Jul-14, 19-May-94, III, 25, J, N, DS, Married July 13, 1937, , Covered w/black lava rock, , , curbed
Parker, Joe, Dan, Jan. 18, 1974, Sept. 14, 1981, III, 31, L, N, DS, In God's Care, , , , , curbed
Parker, Lela, Sarah, Mar. 9, 1916, Dec. 11, 1993, I, 21, C, N, DS, , , , , , curbed
Parker, Steve, , Mar. 6, 1904, Jan. 21, 1985, IV, 31, O, Y, SS, , , , Steve Parker PVT US Army World War II Mar. 6, 1904 Jan. 21, 1985, , curbed
Parker, Valeria, M., 5-May-20, Sept. 20, 1997, III, 25, J, N, DS, Married July 13, 1937, , Covered w/black lava rock, , , curbed
Paschal, Nannie, Lee, 1889, 1970, III, 15, K, N, SS, , , , , , curbed
Patton, James, W., Jan. 17, 1857, Dec. 19, 1935, I, 19, D, N, DS, , J.W.P., foot stones sunk, , , curbed
Patton, Sarah , J., May 23, 1863, Mar. 17, 1942, I, 19, D, N, DS, , S.J.P., foot stones sunk, , , curbed
Peacock, Winston, Wayne, Mar. 30, 1930, Apr. 5, 1930, II, 8, H, N, SS, , W.W.P., , , , curbed
Percifull, Daniel, G., Feb. 15, 1919, Dec. 27, 1982, III, 36, M, N, SS, Son of J. A. P., , , , , curbed
Percifull, Denzel, Wayne, 20-Apr-43, 13-Apr-87, III, 36, M, N, SS, , , , , , curbed
Percifull, Hazel, E., Oct. 24, 1919, 24-Jul-95, III, 37, M, N, SS, Wife of J.A.P., , Perciful Family Stone, , , none
Percifull, Jesse, Noel, Dec. 11, 1921, 26-Nov-92, III, 36, M, Y, SS, , , , Jesse Noel Percifull TSGT US ARMY World War II Dec.11, 1921--Nov. 26, , , curbed
Percifull, Jessie, A., Nov. 17, 1890, Feb. 18, 1969, III, 37, M, N, SS, Son of A.J.P., , Perciful Family Stone, , , none
Percifull, Lennie, B., Sept. 21, 1893, 8-Jul-73, III, 37, M, N, SS, Wife of J.A.P., , Perciful Family Stone, , , none
Percifull, Wayman, W., Oct. 29, 1916, 28-Apr-95, III, 37, M, N, SS, Son of J.A.P., , Perciful Family Stone, , , none
Peters, Margarita, , Dec. 23, 1945, only date, IV, 7, S, N, DS, , , , , , none
Peters, Vernon, E., Nov. 9, 1926, Dec. 26, 1998, IV, 7, S, N, DS, , , , , , none
Pettit, Mary, Frances, March 11, 1878, 14-Jul-27, II, 5, I, N, SS, Mother, , , , , curbed
Pettit, Orbie, Phelix, Nov. 19, 1897, Dec. 25, 1933, II, 5, I, N, SS, , FuneralhomeMarker, , , , curbed
Phillips, Buford, A., 1911, 1961, III, 18, J, N, DS, Mason emblem, DADDY, , , , curbed
Phillips, James, David, Oct. 24, 1961, Nov. 22, 1996, IV, 41, O, N, SS, Beloved Son., , Cook-Walden Funeral Marker, , , curbed
Phillips, James, Henry, 16-May-11, Aug. 7, 1999, IV, 33, S, N, DS, Married June 14, 1941, , , , , none
Phillips, Lorene, , Mar. 15, 1916, , IV, 33, S, N, DS, Married June 14, 1941, , , , , none
Phillips, Mildred, I., 1916, 1984, III, 18, J, N, DS, , , , , , curbed
Phillips, Rudy, , Oct. 1, 1944, 30-Jun-97, IV, 41, O, N, SS, In loving memory. Football with helmet on back of Headstone, , , , , curbed
Pollard, Sammie, Jo, 1945, 1968, III, 18, K, N, SS, , , cement block for head stone, , , none
Pope, Ethel, Lucile, May 9, 1900, Feb. 7, 1995, III, 3, K, N, DS, , , , , , none
Pope, James, Lee, Jan. 21, 1901, Mar. 8, 1988, III, 3, K, N, DS, , , , , , none
Powell, Tristan, Clay, 1998, 1998, IV, 21, R, N, , Small wooden cross with flowers; ceramic angel statue; NO headstones, , Shaffer Funeral Home Marker only w/info , , , none
Price, John, Ann, 1839, 1937, I, 11, C, N, , , , Family Stone: Price----graves sinking, , , curbed
Price, Will, , 1879, 1956, I, 11, C, N, , , , Family Stone: Price----graves sinking, , , curbed
Price, Willie, , 1883, 1961, I, 11, C, N, , , , Family Stone: Price----graves sinking, , , curbed
Proctor, Jerry, Bell, 31-May-20, Mar. 21, 1997, IV, 19, O, N, SS, , , , , , curbed
Pruitt, Alta, H., 1864, 1940, I, 17, B, N, DS, Mason Embelm, A.H.P., , , , curbed
Pruitt, Callie, Annis, Sept. 2, 1889, Feb. 8, 1939, II, 18, I, N, DS, They died as they lived peacefully, , , , , curbed
Pruitt, Dollie, M., Feb. 25, 1900, Jan. 20, 1995, I, 16, C, N, DS, , , , , , curbed
Pruitt, Dwain, , Jan. 30, 1925, only date, IV, 36, Q, N, DS, , K.D.P., , , , curbed
Pruitt, Eliza, J., 1866, 1951, II, 15, H, N, DS, , , , , , curbed
Pruitt, Ella, , 15-Jul-04, only date, III, 34, K, N, DS, , (shared) Pruitt, , , , curbed
Pruitt, J., Elliot, June 22, 1881, Feb. 17, 1936, I, 16, C, N, DS, , J.E.P., , , , curbed
Pruitt, James, Edgar, Feb. 2, 1888, Aug. 30, 1958, II, 18, I, N, DS, They died as they lived peacefully, , , , , curbed
Pruitt, Jefferson, D., 1861, 1940, II, 15, H, N, DS, , , , , , curbed
Pruitt, Mary, A., 1896, 1978, I, 17, B, N, SS, , , , , , curbed
Pruitt, Mary, Lou, Sept. 11, 1927, Apr. 23, 1980, IV, 36, Q, N, DS, , M.L.P., , , , curbed
Pruitt, Noah, Sr., Dec. 12, 1901, Feb. 9, 1983, III, 34, K, N, DS, Woodmen of the World Emblem, (shared) Pruitt, , , , curbed
Pruitt, Wint, , 1859, 1943, I, 17, B, N, DS, Mason Embelm, , , , , curbed
Raines, Dolice Ann, Syble, Sept. 29, 1916, Jan. 29, 1995, IV, 13, P, N, SS, Rest in Peace, , , , , none
Ratliff, Edd, , 1879, 1962, III, 25, K, N, SS, , , , , , curbed
Ratliff, Mrs., Ruth, 1893, 1970, III, 25, K, N, SS, , , , , , curbed
Rawlings, A., J., 1866, 1934, II, 1, H, N, DS, , , Family stone has Rawlings; names and dates on foot stones, , , curbed
Rawlings, Albert, N., Feb 20, 1895, 24-Jun-78, II, 2, H, Y, SS, , , , Company B 345 Machine Gun Battalion 90 Division World War I, , curbed
Rawlings, Alice, , Jan. 16, 1869, 15-May-57, II, 12, I, N, SS, , , Family Stone Rawlings, , , curbed
Rawlings, Dovie, N., 1872, 1960, II, 1, H, N, DS, , , Family stone has Rawlings; names and dates on foot stones, , , curbed
Rawlings, E., C., Jan. 13, 1864, 14-May-50, II, 12, I, N, SS, , E.C.R., Family Stone Rawlings, , , curbed
Rawlings, Edward, C., Nov. 12, 1903, Nov. 5, 1981, II, 11, I, N, SS, , , Family Stone Rawlings, , , none
Rawlings, Fay, M., Aug. 21, 1900, Feb. 15, 1992, II, 2, H, N, SS, , , , , , curbed
Rawlings, Joe, Dalton, Nov. 11, 1923, 17-May-94, III, 4, K, Y, DS, Father------Married Feb. 4, 1950, , , U.S. Army World War II , , curbed
Rawlings, Mattie, J., Nov. 30, 1845, Mar. 15, 1944, II, 12, I, N, SS, , M.J.R., Family Stone Rawlings, , , curbed
Rawlings, Minnie, O., Jan. 2, 1862, Mar. 31, 1941, II, 12, I, N, SS, , M.O.R., Family Stone Rawlings, , , curbed
Rawlings, Patricia, Lucile, Feb. 20, 1926, only date, III, 4, K, N, DS, Mother-----Married Feb. 4, 1950, , , , , curbed
Ray, Elton, E., 1915, 19 date not complete, II, 29, G, N, DS, , , , , , curbed
Ray, Helen, , 1917, 1951, II, 29, G, N, DS, , , , , , curbed
Read, Mattie, Bell, 1896, 1955, II, 7, E, N, SS, Eastern Star Emblem, Mattie, , , , curbed
Rees, Bobbie, Ruth, Sept. 11, 1935, Jan. 12, 1937, II, 13, H, N, SS, , , , , , curbed
Rees, Louvenia, K., 1907, only date, II, 14, H, N, DS, Eastern Star Emblem, Louvenia (by hs), , , , curbed
Rees, Richard, W., 1901, 1969, II, 14, H, N, DS, Mason Emblem, Wade (completely sunk in), , , , curbed
Reeves, Myrtle, Bell, Oct. 12, 1905, 8-May-77, I, 30, C, N, SS, , , , , , curbed
Reyes, Aurora , B., Feb. 24, 1935, Dec. 9, 1991, IV, 2, R, N, DS, Married Oct. 12, 1951, , , , , curbed
Reyes, Elvira, , Mar. 11, 1897, 26-Jul-75, IV, 1, O, N, DS, In Loving Memory, , , , , curbed
Reyes, Joe, , 1954, 1980, IV, 6, P, N, SS, Rest in Peace, , Funeralhome Marker, , , curbed
Reyes, Kavin, Lee, 8-Mar-85, only date, IV, 6, R, N, , , , Funeral Home Marker with info. Statue of Angel at head, , , curbed
Reyes, Manuel, G. Sr., Dec. 2, 1919, Oct. 12, 1991, IV, 6, P, N, SS, Rest in Peace, , Funeralhome Marker, , , curbed
Reyes, Melanie, , 1975, 1975, IV, 2, Q, N, SS, In loving Memory, , , , , curbed
Reyes, Pedro, , June 29, 1901, Feb. 1, 1970, IV, 1, O, N, DS, In Loving Memory, , , , , curbed
Reyes, Richard, Sr., Dec. 22, 1924, only date, IV, 2, R, N, DS, Married Oct. 12, 1951, , , , , curbed
Reynolds, J., D., Sept. 29, 1852, Mar. 11, 1926, II, 5, G, N, SS, Even unto death, , , , , none
Reynolds, J., S., Sept. 29, 1899, 11-Jul-86, II, 4, G, N, SS, , , Edwards Funeralhome Marker, , , curbed
Richards, Robert, Hadley, Jan. 3, 1911, only date, III, 10, M, N, DS, Married Nov. 3, 1932, , , , , curbed
Richards, Thelma, Lee, Dec. 23, 1916, Oct. 23, 1991, III, 10, M, N, DS, Married Nov. 3, 1932, , , , , curbed
Richardson, Ione, , Sept. 16, 1909, Aug. 4, 1981, III, 20, L, N, SS, Granny, , , , , curbed
Richman, Otis, M., 9-Jun-26, 26-May-50, II, 29, E, N, SS, At Rest, , , , , curbed
Robbins, Carroll, J., 21-Jul-09, only date, IV, 41, P, N, SS, , , Family Head Stone: Robbins June 3, 1937 (Stone is shared w/another plot; has one family name on one side and the other family name on the other side), , , curbed
Robbins, Lillian, L., 14-Jun-10, only date, IV, 41, P, N, SS, , , Family Head Stone: Robbins June 3, 1937 (Stone is shared w/another plot; has one family name on one side and the other family name on the other side), , , curbed
Roberts, Lena, Coalson , , , I, 17, A, N, SS, Brooks Lena Coalson Roberts, , All 4 names are scratched in the concrete, , , curbed
Rodriguez, Abram, , 14-May-38, Jan. 1, 1998, IV, 7, P, Y, SS, , , , Abram Rodriguez SSG US Army Vietnam May 14, 1938 Jan. 1, 1998, , none
Rogers, A., Larkin, 1900, 1977, III, 5, K, N, DS, , , , , , curbed
Rogers, C., B. Sr., 1884, 1957, II, 8, I, N, SS, , Father, , , , curbed
Rogers, Georgia, Vinson, 24-Jun-23, only date, III, 3, J, N, DS, Married Aug. 31, 1941, , , , , curbed
Rogers, Henry, E., May 20, 1896, Aug. 19, 1984, III, 11, J, N, DS, In Memory of Our Son James Evan Rogers FI/C born Sept. 29, 1925 Missing in Action May 4, 1945 off Coast of Okinawa During World War 11. On back of family head stone: , , , , , curbed
Rogers, Ida, P., Apr. 26, 1890, Jan. 6, 1972, IV, 36, O, N, DS, , , , , , curbed w/red lava rock
Rogers, Iva, May, Sept. 19, 1898, Feb. 24, 1990, III, 4, J, N, DS, , , , , , curbed
Rogers, John, Virgle, May 15, 1895, Apr. 22, 1974, III, 4, J, N, DS, , , , , , curbed
Rogers, Leon, A., Apr. 14, 1918, Dec. 12, 1987, III, 3, J, N, DS, Married Aug 31, 1941, , , , , curbed
Rogers, Lillie, , 1882, 1943, I, 21, D, N, SS, , , , , , curbed
Rogers, Loenard, Cyle, Sept. 13, 1897, Sept. 24, 1972, IV, 36, O, N, DS, , , , , , curbed w/red lava rock
Rogers, Lonnie, Ray, Sept. 27, 1928, only date, III, 6, L, N, DS, Married Sept. 27, 1950 Mason Emblem, , , , , curbed
Rogers, M., Ettie, 1901, 1991, III, 5, K, N, Ds, , , , , , curbed
Rogers, Marlin, Wesley Sr., Sept. 6, 1920, Dec. 6, 1996, IV, 11, N, Y, SS, , , , Marlin Wesley Rogers Sr. US Army World War II Sept. 6, 1920 Dec. 6, 1996, , none
Rogers, Mary, E., 1890, 1940, I, 4, D, N, SS, Mother, , , , , curbed
Rogers, Mary, , 1856, 1943, II, 8, I, N, DS, His wife, , , , , curbed
Rogers, Melissa, Leann, Feb. 20, 1970, only date, III, 6, K, N, SS, Our Baby, , , , , none
Rogers, Ola, Allison, Feb 25, 1898, Aug. 24, 1991, III, 11, J, N, DS, In Memory of Our Son James Evan Rogers FI/C born Sept. 29, 1925 Missing in Action May 4, 1945 off Coast of Okinawa During World War 11. On back of family head stone: , , , , , curbed
Rogers, Samuel, L., 1884, 1966, I, 4, D, N, SS, Father, , , , , curbed
Rogers, Valetta, Earlene, Sept. 27, 1932, 28-Jun-97, III, 6, L, N, DS, Married Sept. 27, 1950, , , , , curbed
Rogers, W., T., 1889, 1928, II, 6, I, N, SS, , , curb broken, , , curbed
Rogers, William, J. H., 1855, 1932, II, 8, I, N, DS, , , , , , curbed
Rogge, Herman, , Oct. 4, 1891, Nov. 28, 1972, III, 25, M, N, DS, , T.H.R. (by hs), , , , curbed
Rogge, Lottie, W., Jan. 3, 1896, Jan. 31, 1980, III, 25, M, N, DS, , L.W.R. (by hs), , , , curbed
Rosser, George, S., 1891, 1967, I, 21, D, N, DS, , , , , , curbed
Rosser, Howard, W., 14-Jan-18, 6-Dec-96, IV, 36, T, Y, DS, , , , Howard W. Rosser TEC 5 US ARMY WORLD WAR II JAN 14, 1918-DEC 6, 1996, , CURBED
Rosser, Lou, Vinnie, 1885, 1925, I, 6, D, N, DS, Eastern Star Emblem, , , , , curbed
Rosser, Nettie, E., 1898, 1975, I, 21, D, N, DS, , , grave sunk in , , , curbed
Rosser, Rebecca, J., May 2, 1856, Dec. 23, 1935, I, 5, D, N, DS, Eastern Star, R.J.R., , , , curbed
Rosser, Rev. W., H., May 29, 1851, 14-May-29, I, 5, D, N, DS, Mason, , , , , curbed
Rosser, Roland, G., 1886, 1952, I, 6, D, N, DS, Mason Embelm, , , , , curbed
Rosser , Annie, R., 13-May-20, only date , IV, 36, T, N, DS, , , , , , CURBED
Rutherford, John, M., 1872, 1948, I, 24, D, N, DS, Father, , , , , curbed
Rutherford, Mary, A., 1873, 1970, I, 24, D, N, DS, Mother, , , , , curbed
Ryan, Charles, A., 1850, 1927, II, 5, G, N, DS, at rest, FATHER, , , , none
Ryan, Laura, W., 1858, 1925, II, 5, G, N, DS, at rest, MOTHER, , , , none
Sabala, Geronima, , Sept. 16, 1916, Aug. 26, 1986, IV, 7, O, N, SS, , , , , , none
Samaniego, Efren, Sr., 25-Jun-21, Feb. 11, 1988, IV, 2, P, N, DS, , , , , , curbed
Samaniego, Mary, Lou, 22-Jul-20, Apr. 20, 1974, IV, 2, P, N, DS, , , , , , curbed
Sanchez, Angelina, , 13-Jul-22, only date, IV, 4, P, N, DS, Rest in Peace, Mother (by hs), , , , none
Sanchez, David, , Aug. 11, 1922, 11-Jul-72, IV, 4, P, N, DS, Rest in Peace., Father, , , , none
Sanchez, Eliseo, D. Little Liseo, Jan. 1, 1958, Apr. 27, 1989, IV, 3, P, N, SS, , , , , , none
Sanchez, Eliseo, T., Jan. 1, 1902, Dec. 27, 1978, IV, 4, P, N, DS, Truly Thine. De parte de sus hijos. Father, Father, , , , none
Sanchez, Eliseo R. Jr., Little Charlie, Apr. 23, 1928, 29-Jul-79, IV, 3, P, N, SS, , , Funeral Home Marker Eliseo Charlie Sanchez Jr. 1928-1979, , , none
Sanchez, Juan, , 12-Jun-43, Nov. 28, 1984, IV, 4, O, N, SS, Truly I tell you today you will be with me in paradise., Shape of Texas, , , , none
Sanchez, Rosa, R., Mar. 23, 1904, only date, IV, 4, P, N, DS, Truly Thine. De parte de sus hijos. Mother, Mother, , , , none
Sandlin, Fred, Otis, Oct. 29, 1911, Nov. 25, 1977, IV, 36, S, N, DS, Alive in Christ, , Elliot Hamil Funeral Marker, , , curbed
Sandlin, Mildred, C., Nov. 8, 1916, only date, IV, 36, S, N, DS, Alive in Christ, , , , , curbed
Sandusky, Austin, , Jan. 26, 1905, Sept. 2, 1964, III, 12, J, N, DS, Married Feb. 18, 1925, DADDY, , , , curbed
Sandusky, Elnora, , 1876, 1921, II, 30, I, N, DS, , , , , , curbed
Sandusky, Joseph, , 1845, 1915, II, 30, I, N, DS, , , , , , curbed
Sandusky, Ruth, , Jan. 24, 1909, Mar. 3, 2000, III, 12, J, N, DS, Married Feb. 18, 1925, MOM, , , , curbed
Sayner, Darwin, E., Jan. 15, 1875, Mar. 24, 1932, I, 12, D, N, , , D.E.S., Family Stone: Sayner, , , curbed
Sayner, Katie, L., Feb. 16, 1879, Sept. 28, 1949, I, 12, D, N, , , K.L.S., Family Stone: Sayner, , , curbed
Sayner, Maggie, H., Jun. 14, 1903, Apr. 9, 1998, I, 11, D, N, , , , , , , curbed
Sayner, Mynara, , Aug. 16, 1856, Mar. 2, 1938, I, 12, D, N, , , M.S., Family Stone: Sayner, , , curbed
Sayner, S., Collins, Nov. 21, 1899, Jun. 11, 1999, I, 11, D, N, , , , , , , curbed
Sayner, Samuel, , Nov. 9, 1842, Nov. 15, 1933, I, 12, D, N, , , S.S., Family Stone: Sayner, , , curbed
Schoenfield, Betty Marie, Landbeck, Mar. 7, 1938, only date, IV, 8, N, N, DS, Wed: June 8, 1957 39 yrs. Gonzales, TX, Love lives forever, , Insignia of music, , , none
Schoenfield, Karl, James, Mar. 12, 1936, Sept. 4, 1996, IV, 8, N, N, DS, Wed: June 8, 1957 39 yrs. Gonzales, TX, Love lives forever, , Insignia of UT (University of Texas), , , none
Scott, Ara, Anna, 1901, 1983, I, 26, D, N, SS, Mother, A.A.S., Family Stone: Scott, , , curbed
Scott, Ava, , Apr. 6, 1880, Jan. 23, 1959, II, 7, G, N, SS, Mother, , , , , curbed
Scott, Bobby, Clinton, Oct. 14, 1929, Feb. 6, 1978, I, 26, D, Y, SS, , , Family Stone: Scott, PFC US Army Korea Oct. 14, 1929-Feb. 6, 1978, , curbed
Scott, Danny, Ray, Jan. 6, 1943, Mar. 4, 1995, II, 4, F, Y, SS, , , , U.S. Navy, , curbed
Scott, Darwin, Hadden, Apr. 10, 1972, Nov. 6, 1987, I, 27, D, N, SS, , , Family Stone: Scott, , , curbed
Scott, Deanna, Dell, 20-Jul-84, 20-Jul-84, IV, 18, O, N, SS, Budded on earth to bloom in Heaven, , , , , none
Scott, Fairy, Odessa, 1913, 1994, III, 13, J, N, DS, Precious Memories; In God We Trust--Wed Dec. 24, 1932, , , , , curbed
Scott, Faye, I., 1910, 1996, II, 4, F, N, DS, Blessed are the pure in heart for they shall see God Married Feb. 28, 1925, F.I.S., , , , curbed
Scott, J., Walter, 1902, 1956, II, 4, F, N, DS, Blessed are the pure in heart for they shall see God Married Feb. 28, 1925, J.W.S., , , , curbed
Scott, Jesse, H., 1900, 1946, I, 26, D, N, SS, Father, J.H.S., Family Stone: Scott, , , curbed
Scott, Joe, Edward, Nov. 7, 1918, only date, III, 11, L, N, DS, (married) Nov. 15, 1947 CCC's, , , , , curbed
Scott, Joe, L., 1929, 1968, III, 31, L, N, DS, Whither Thou Goest, I Will Go, , , , , curbed
Scott, Joseph, L., 1870, 1924, II, 3, F, N, DS, In thee O Lord I have put my trust Mason Emblem, J.L.S., , , , curbed
Scott, Lee, Roy, 1909, 1985, III, 13, J, N, DS, Precious Memories; In God We Trust--Wed Dec. 24, 1932------Mason emblem, , , , , curbed
Scott, Maggie, A., 1880, 1962, II, 3, F, N, DS, In thee O Lord I have put my trust Eastern Star Emblem, M.A.S., , , , curbed
Scott, Quida, F., , , III, 31, L, N, DS, Whither Thou Goest, I Will Go, , , , , curbed
Scott, Roy, Doyle, Sept. 1, 1934, Apr. 4, 1974, III, 13, J, N, SS, Dept. of Public Safety Texas Ranger Co. B Proudly he served., , , , , curbed
Scott, William, Daniel, Feb. 22, 1913, Feb. 24, 1972, III, 12, K, Y, , , , , William Daniel Scott CPL ARMY AIR FORCES WORLD WAR 11 Feb. 22, 1913--Feb. 24, 1972, , curbed
Scott, Wilma, Roberts, Nov. 26, 1923, only date, III, 11, L, N, DS, (married) Nov. 15, 1947 Loving Wife, , , , , curbed
Seay, Alice, , 1859, 1942, I, 10, D, N, SS, , A. S., Family Stone: Seay, , , curbed
Seay, Alva, M., 1892, 1980, I, 10, D, N, DS, Eastern Star emblem, , Family Stone: Seay, , , curbed
Seay III, Sam'l, M., 1857, 1933, I, 10, D, N, SS, , S.M.S., Family Stone: Seay, , , curbed
Seay IV, Sam'l, M. , 1894, 1963, I, 10, D, N, DS, Mason emblem, S.M.S., Family Stone: Seay, , , curbed
Seipp, Dorette, , Mar. 23, 1850, Jan. 29, 1926, II, 3, H, N, DS, Thy righteous shall be in everlasting remembrance, MOTHER---badly sunk, , , , curbed
Seipp, Henry, , Dec. 6, 1848, Apr. 16, 1924, II, 3, H, N, DS, Thy righteous shall be in everlasting remembrance, FATHER----badly sunk, , , , curbed
Seltz, Francis, G., May 13, 1898, Aug. 28, 1985, IV, 37, N, N, DS, , Daddy, , , , curbed
Seltz, Winnie, D., Feb. 26, 1906, 26-Jun-75, IV, 37, N, N, DS, , Mother, , , , curbed
Sharp, Darrel, L., Sept. 17, 1977, Dec. 6, 1996, IV, 7, P, N, SS, Amazing Grace how sweet the sound; that saved a wretch like me, Football with #78 in the middle, Shaffer Funeral Home Marker Darrel Lee Sharp, , , none
Sharp, J., W., 1943, 1981, IV, 19, T, N, SS, Photo on stone, , , , , None
Shelton, Lonnie, B., July 16, 1902, only date, IV, 26, T, N, DS, , , , , , cement slab/open over graves
Shelton, Z., Taylor, Jan. 10, 1898, 22-Jun-81, IV, 26, T, N, DS, , , , , , cement slab/open over graves
Sherrod, Allen , D., Jan. 5, 1914, Jan. 16, 1986, IV, 22, R, N, DS, Wed Aug 5, 1937, , , , , curbed
Sherrod, Lois, L., Jan. 20, 1914, Mar. 20, 2000, IV, 22, R, N, DS, Wed Aug 5, 1937, , Johnson's Funeral Home Marker , , , curbed
Shields, Bobby, Jack Bob, Sept. 1, 1935, only date, IV, 11, T, N, DS, Married May 27, 1961, , , , , curbed
Shields, Gary, Lawrence, Dec. 19, 1965, 20-Dec-65, IV, 11, T, N, DS, , , , , , curbed
Shields, Joanne, Elizabeth Jo Beth, Nov. 12, 1940, only date, IV, 11, T, N, DS, Married May 27, 1961, , , , , curbed
Shields, Robert, Scott, Mar. 9, 1964, Mar. 10, 1964, IV, 11, T, N, DS, , , , , , curbed
Shields, Thomas , Jack T. J., Dec. 17, 1965, Sept. 20, 1999, IV, 11, T, N, SS, A Freind to All, , Shaffer Funeral Home Marker: T.J.Tom Sheilds, Bronte-Robert Lee, TX , , , curbed
Simpson, Corrine, , 1914, 1930, II, 15, E, N, SS, , Daughter, , , , curbed
Simpson, Eula, Jean, 1888, 1958, II, 16, E, N, DS, , Mother, North edge of plot has abt. 3 ft. long Iron Rail, , , curbed
Simpson, Jim, R., 1888, 1951, II, 16, E, N, DS, , Father, North edge of plot has abt. 3 ft. long Iron Rail, , , curbed
Simpson, Ted, , 1932, 1960, II, 16, E, N, SS, In Loving Memory, , North edge of plot has abt. 3 ft. long Iron Rail, , , curbed
Sims, Augustus, G., Aug. 18, 1858, 11-Jun-22, II, 1, E, N, DS, , FATHER, , , , curbed
Sims, Charles, Charlie, Jan. 23, 1919, only date, III, 7, J, N, DS, , , , , , curbed
Sims, Daisy, Dell, 15-May-15, only date, IV, 38, T, N, DS, Married May 20, 1939, , , , , none
Sims, E., Linda, Nov. 16, 1965, Dec. 26, 1967, II, 8, H, N, SS, , , , , , curbed
Sims, Ellis, Harmon, Nov. 1, 1909, Oct. 31, 1979, II, 8, H, N, SS, , , , , , curbed
Sims, Emma, Jean (Jones), Oct. 21, 1892, 5-May-72, II, 2, E, N, SS, , , , , , curbed
Sims, Ethel, , Aug. 9, 1893, 20-May-50, II, 26, F, N, SS, , , Family Stone: Sims--footstone by family stone: Mama, , , curbed
Sims, Fewell, , Aug 26, 1887, Sept. 23, 1958, II, 2, E, N, SS, , , , , , curbed
Sims, Gladys, Maye Ash, Sept. 1, 1917, only date, II, 23, F, N, DS, Mother, , , , , curbed
Sims, Harold, T., 1897, 1968, II, 27, F, N, DS, Husband In loving memory, , Family Stone: Sims------footstone by family stone: Mama, , , curbed
Sims, J., Marshall, Nov. 28, 1881, Dec. 6, 1955, II, 7, H, N, DS, , , , , , curbed
Sims, Josie, C., 1896, 1997, II, 27, F, N, DS, Wife In lovig memory, , Family Stone: Sims------footstone by family stone: Mama, , , curbed
Sims, Lawrence, , 1904, 1972, II, 1, E, N, SS, , , , , , curbed
Sims, Lewis, S., Apr. 14, 1892, Jan. 22, 1975, II, 26, F, N, SS, , , Family Stone: Sims--footstone by family stone: Mama, , , curbed
Sims, Minnie, Ethel, Aug. 2, 1891, 6-Jun-29, II, 7, H, N, DS, , M.E.S., , , , curbed
Sims, Nannie, R., May 24, 1867, 23-Apr-37, II, 1, E, N, DS, , MOTHER, , , , curbed
Sims, Olene, NeNe, 4-Jun-23, only date, III, 7, J, N, DS, , , , , , curbed
Sims, Pauline, Glenn, Sept. 20, 1912, only date, IV, 17, Q, N, DS, Married 12/14/35 The Lord is my Refuge, , , , , curbed
Sims, R.W., Dub, Aug. 25, 1912, Mar. 30, 1985, IV, 38, T, N, DS, Married May 20, 1939, , , , , none
Sims, Robert, Hugh, Jan. 30, 1920, 15-Jul-77, II, 23, F, N, DS, Mason Emblem----Daddy, , , , , curbed
Sims, Steven, Paul, Oct. 11, 1956, Apr. 9, 1998, II, 23, F, N, SS, , , Shaffer Funeral Home Marker: Bronte-RobertLee, TX, , , curbed
Sims, Thomas, F. Tuffy, Jan. 21, 1912, Dec. 30, 1991, IV, 17, Q, N, DS, Married 12/14/35 The Lord is my Refuge, , , , , curbed
Smith, C., C., 1881, 1946, I, 23, B, N, FLS, , , , , , curbed
Smith, Carlene, , Dec. 28, 1933, Sept. 5, 1998, II, 29, E, N, DS, Married Oct. 25, 1952, , , , , curbed
Smith, Clytus, R., 1904, 1978, I, 22, B, N, SS, , , Family Stone: Smith, , , curbed
Smith, Cora, Elizabeth, Sept. 11, 1883, Nov. 24, 1967, I, 6, C, N, DS, , , , , , curbed
Smith, Dail, Nate, 9-Jul-14, Sept. 2, 1987, IV, 38, Q, Y, DS, To know him is to love him., , , Dail Smith CHMACH US Navy World War II Jul. 9, 1914 Sep. 2, 1987, , curbed
Smith, Euel, J., 1928, 1960, I, 33, D, N, FS, , , Family Stone reads Smith, , , none
Smith, Eula, Ernest, 1889, 1991, III, 33, L, N, DS, Book of Life, , , , , curbed
Smith, Flora, E., 10-Jun-12, , I, 22, B, N, DS, Married Jan. 4, 1930, , Family Stone: Smith, , , curbed
Smith, Jewell, Brock, Nov. 6, 1915, only date, IV, 38, Q, N, DS, Psalm 23, , , , , curbed
Smith, L., E. Larry, 3-Jun-27, only date, II, 29, E, N, DS, Married Oct. 25, 1952, , , , , curbed
Smith, Lake, Eiland, 1889, 1967, III, 33, L, N, DS, Mason Emblem---Book of Life, , , , , curbed
Smith, Maggie, E., 1878, 1970, I, 23, B, N, FLS, , , , , , curbed
Smith, Mozelle, C., 1908, only date, I, 22, B, N, SS, , , Family Stone: Smith, , , curbed
Smith, Otis, D., Mar. 1, 1906, Apr. 15, 1999, I, 22, B, N, DS, Married Jan. 4, 1930, , Family Stone: Smith, , , curbed
Smith, William, Fay, Aug. 28, 1906, Jan. 25, 1970, I, 6, C, N, SS, Our beloved father, , , , , curbed
Smith, Wm, Beri, Feb. 11, 1884, Feb. 16, 1938, I, 6, C, N, DS, , , , , , curbed
Sneed, Douglas, , Dec. 2, 1904, only date, IV, 10, N, N, DS, Married Aug. 19, 1930 Father, , , , , none
Sneed, Virginia, , Apr. 15, 1914, Oct. 23, 1995, IV, 10, N, N, DS, Married Aug. 19, 1930 Mother, , , , , none
Snyder, Leanora, Terry, Sept. 29, 1903, Feb. 17, 1971, I, 14, A, N, SS, , , , , , curbed
Sparks, Ruby, Sims, 17-Mar-24, 17-Mar-69, III, 8, J, N, SS, , , FuneralHome Marker: McNeil Funeral P.O. Box 89 ?Joseph Mo.?, , , curbed
Spencer, Andrew, D., Apr. 3, 1867, Jun. 14, 1936, I, 2, C, N, DS, , A.D.S., , , , curbed
Spencer, Ruth, A., Nov. 2, 1877, Apr. 12, 1971, I, 2, C, N, DS, , R.A.S., , , , curbed
Spiller, Ivy, Lou, Apr. 4, 1915, only date, IV, 24, R, N, DS, , , , , , curbed
Spiller, Travis, O., Oct. 3, 1905, Feb. 19, 1979, IV, 24, R, N, DS, , , , , , curbed
Spivey, Leona, A., Jan. 13, 1915, only date, III, 4, L, N, DS, Married Dec. 31, 1937-------MOM, , , , , curbed
Spivey, Vernon, I. Slim, Nov. 7, 1911, 19-Jul-86, III, 4, L, N, DS, Married Dec. 31, 1937-------DAD, , , , , curbed
Spruell, Family Stone, , , , II, 36, E, , , , , Headstone reads Spruell and has place for two names and dates; there is a vase of flowers, but no name or dates, , , curbed
Spruell, Family Stone, , , , II, 36, E, , , , , Headstone reads Spruell and has place for two names and dates; there is a vase of flowers, but no name or dates, , , curbed
Spruell, Family Stone, , , , II, 36, E, , , , , Headstone reads Spruell and has place for two names and dates; there is a vase of flowers, but no name or dates, , , curbed
Spruell, Family Stone, , , , II, 36, E, , , , , Headstone reads Spruell and has place for two names and dates; there is a vase of flowers, but no name or dates, , , curbed
Stallworth, Rachel, Montez, Apr. 20, 1960, 26-May-00, IV, 8, S, N, SS, Beloved Mother, Rock with date and name painted on, , , , none
Stengel, Allie, D. (Fowler), 1914, 1969, III, 33, K, N, SS, A.F.S., , , , , none
Stephenson, 1st Lt., Elbert O., Aug. 9, 1920, Jan. 29, 1944, I, 7, D, Y, SS, In memory of...Missing in Action-----Mason emblem, , , In memory of...Missing in Action, , curbed
Stephenson, Altha, E., Oct. 3, 1891, 5-May-87, II, 17, H, N, DS, Resting till the Resurection Morn, Mother, , , , curbed
Stephenson, Buel, , Dec. 16, 1914, Dec. 9, 1944, I, 6, A, Y, SS, , , , Texas PFC 358 INF 90 INF DIV World War II, , none
Stephenson, Essie, E., 1887, 1966, III, 27, K, N, DS, Mason Emblem, Mom, , , , cement slab
Stephenson, J., W., Aug. 28, 1913, Nov. 10, 1938, II, 17, H, N, SS, Asleep in Jesus peacful rest; Whose waking is supremely blest, J.W.S., , , , curbed
Stephenson, Jasper, A., Oct. 26, 1892, Dec. 8, 1962, I, 8, D, N, SS, Mason emblem, , Family Stone: Stephenson, , , curbed
Stephenson, Jasper, A. Jr., 18-May-24, Dec. 27, 1928, I, 8, D, N, SS, , , Family Stone: Stephenson, , , curbed
Stephenson, Jessie, L., 1885, 1965, III, 27, K, N, DS, Mason Emblem, Dad, , , , cement slab
Stephenson, Lotus, , Dec. 15, 1874, Jul. 1949, I, 6, A, N, SS, Mason, , , , , none
Stephenson, M., J., Nov. 16, 1853, Feb. 5, 1936, I, 8, D, N, SS, , , Family Stone: Stephenson, , , curbed
Stephenson, Margaret, , Sept. 15, 1907, Aug. 30, 1998, III, 35, K, N, DS, , M.S., , , , curbed
Stephenson, Marshall, , Apr. 22, 1887, Sept. 3, 1976, III, 35, K, N, DS, , M.S., , , , curbed
Stephenson, Marvin, D., 20-Jul-11, only date, II, 26, H, N, DS, , , , , , curbed
Stephenson, Mollie, Lee, Jul. 7, 1919, 27-Apr-01, II, 26, H, N, DS, Headstone--new, noted on July 27, 200l that it was placed on unmarked grave, no footstone, Johnson Funeral Home Marker, , , curbed
Stephenson, Ora, Mills, Jun. 9, 1897, Aug. 21, 1981, I, 8, D, N, SS, , , Family Stone: Stephenson, , , curbed
Stephenson, Ulah, , Dec. 20, 1879, Mar. 26, 1936, I, 1, D, N, SS, , , Family stone: Pairish, , , cement slab
Stephenson, Willie, B., Sept. 11, 1888, Nov. 26, 1957, II, 17, H, N, DS, Resting till the Resurection Morn, Father, , , , curbed
Stevens, Dannie, , 1900, 1976, III, 16, J, N, DS, , MOM, , , , cement slab w/curb
Stevens, Ed, , 1888, 1962, III, 16, J, N, DS, , DAD, , , , cement slab w/curb
Stevens, Grover, C., 1892, 1970, III, 15, K, Y, DS, , , , Texas SGT 325 SVC Park Unit MTC World War I April 18, 1892 Jan. 7, 1970, , curbed
Stevens, Hollis, E., 1925, 1956, II, 14, I, Y, SS, , , , Texas SGT 409 Medical Coll Co. World War II June 18, 1925 July 25, 1956, , curbed
Stevens, Sadie, B., 1901, 1986, III, 15, K, N, DS, , , , , , curbed
Stevens, Wanda, J., 8-May-31, only date, III, 16, K, N, DS, Married Oct. 3, 1952, , , , , curbed
Stevens , Douglas, R., 1-Jul-31, Feb. 12, 1999, III, 16, K, Y, DS, Married Oct. 3, 1952, , , Douglas Ray Stevens CPL US Army Korea July 1, 1931 Feb. 12, 1999, , curbed
Stewart, Bessie, , Nov. 14 1897, Mar. 23 1982, I, 27, A, N, SS, , , , , , curbed
Stewart, Emma, Lou, Dec. 6, 1910, only date, I, 27, B, N, DS, , Mother, , , , curbed
Stewart, Eugene, Allen, 1902, 1976, I, 27, A, Y, SS, , , , PVT US Army WWII 1902-1976, , curbed
Stewart, H., L. (Buddy), Apr. 22, 1909, 6-May-87, I, 27, B, N, DS, , Daddy, , , , curbed
Stewart, Josh, Monroe, 1876, 1968, I, 27, A, N, DS, Asleep in Jesus, J.M.S, , , , curbed
Stewart, Lee, Allen, Dec. 5, 1930, Dec. 30, 1996, I, 27, B, N, DS, Married July 23, 1930 Children:Kevin Stewart and Karen Grantham, , , , , curbed
Stewart, Nancy, Ann, 1880, 1957, I, 27, A, N, DS, Asleep in Jesus, N.A.S., , , , curbed
Stewart, Patsy, Hasty, Mar. 31, 1933, only date, I, 27, B, N, DS, Married July 23, 1960 Children:Kevin Stewart and Karen Grantham, , , , , curbed
Stinebaugh, Olivia, M., 1878, 1968, III, 40, J, N, DS, In loving memory----Mother, O.M.S, , , , curbed
Stinebaugh, Tyra, G., 1880, 1965, III, 40, J, N, DS, In loving memory----Father, T.G.S., White stone bench in plot, , , curbed
Stout, Roy, Wayne, Sept. 27, 1944, 28-Apr-83, IV, 36, R, N, DS, , , , , , curbed
Strickland, Guy, Neal, Nov. 21, 1907, Nov. 16, 1990, IV, 30, P, N, DS, , , , , , curbed
Strickland, Marie I., Davis, 31-Jul-15, only date, IV, 30, P, N, DS, , , , , , curbed
Stubblefield, Fender, , Sept. 22, 1910, Jan. 4, 1963, III, 38, J, N, DS, , Daddy, , , , curbed
Stubblefield, Louise, , Aug. 18, 1916, Dec. 29, 1987, III, 38, J, N, DS, , Mother, , , , curbed
Stuckey, Rev. Lee, Roy, 1907, 1999, IV, 31, S, N, , , , Bell Cypert Seale Funeral Home Marker only w/info Snyder, TX, , , curbed
Suggs, Florence, F., Sept. 17, 1908, Nov. 6, 1983, IV, 31, R, N, DS, Whither thou goest, I will go, , , , , cement slab
Suggs, John, G., Aug. 18, 1905, Jan. 6, 1984, IV, 31, R, N, DS, Whither thou goest, I will go, , , , , cement slab
Tannehill, J., B., 13-Nov-18, 9-Feb-98, II, 19, H, N, SS, Papa T---guitar & music notes, , Narrow cement walk between rows 19&20, marked with Tannehill at each end, , , curbed
Tannehill, J., Newt, Dec. 9, 1880, 1-May-42, II, 19, H, N, SS, , , Narrow cement walk between rows 19&20, marked with Tannehill at each end, , , curbed
Tannehill, Laura, J., Jan. 6, 1888, 1-May-42, II, 19, H, N, SS, , , Narrow cement walk between rows 19&20, marked with Tannehill at each end, , , curbed
Tannehill, Virgil, B., 5-Jul-04, Sept. 25, 1935, II, 20, H, N, SS, , , , , , curbed
Taylor, Bonnie, Johnson, Nov. 5, 1917, only date, IV, 42, R, N, DS, Married May 1, 1935, , Family Head Stone: Taylor, , , curbed
Taylor, Charlie, A., 1884, 1969, III, 27, J, N, SS, , C.A.T., , , , curbed
Taylor, Family, headstone, no names or dates, , IV, 41, R, , , , , Family Head Stone: Taylor, , , curbed
Taylor, Family, headstone, no names or dates, , IV, 41, R, , , , , Family Head Stone: Taylor, , , curbed
Taylor, Family, headstone, no names or dates, , IV, 41, R, , , , , Family Head Stone: Taylor, , , curbed
Taylor, Family, headstone, no names or dates, , IV, 41, R, , , , , Family Head Stone: Taylor, , , curbed
Taylor, Hollis, , Jan. 24, 1909, 22-May-28, II, 10, F, N, SS, Daughter of Mr. and Mrs. John Taylor, H.T., , , , curbed
Taylor, Horace, , Feb. 5, 1914, 12-Jun-78, IV, 42, R, N, DS, Married May 1, 1935, , Family Head Stone: Taylor, , , curbed
Taylor, John, R., Nov. 26, 1877, 28-May-60, II, 10, F, N, DS, , J.R.T., , , , curbed
Taylor, Leona, G., Sept. 16, 1882, Apr. 29, 1971, II, 10, F, N, DS, , L.G.T, , , , curbed
Taylor, Lois, Joe, 9-Mar-06, 23-Nov-34, II, 10, F, N, SS, Son of Mr. and Mrs. John Taylor, J.L.T., , , , curbed
Taylor, Mary, V., 1893, 1971, II, 35, I, N, SS, , , Family Stone: Larkin, , , curbed
Taylor, Willie, E., July 30, 1885, Dec. 23, 1961, III, 27, J, N, SS, , , , , , curbed
Terry, A., B. (Jack), May 17, 1887, Nov. 8, 1944, I, 14, A, N, SS, , A.B.J., fs by hs, , , curbed
Terry, Edna, Belle, Jan. 10, 1911, Dec. 3, 1993, IV, 27, S, N, SS, , , , , , none
Terry, James, Milton, Sept. 21, 1925, 20-Apr-69, I, 14, A, Y, SS, , , , Texas PVT US Army World War II, , curbed
Terry, John, E., Dec. 25, 1893, Apr. 24, 1970, IV, 27, N, N, DS, At Rest, , , , , curbed
Terry, Ruth, Edith, Apr. 28, 1900, Feb. 16, 1995, IV, 27, N, N, DS, At Rest, , , , , curbed
Teschendorf, Robert, Louis, Jan. 30, 1934, Feb. 29, 2000, III, 11, K, N, , , , Johnson Funeral Home Marker only (no stone), , , none
Thomas, Anita, E., 1911, only date on stone, I, 9, B, N, SS, , , Family Stone: Thomas, , , curbed
Thomas, George, R., 1904, 1956, I, 9, B, N, SS, , , Family Stone: Thomas, , , curbed
Thomas, Gussie, Lee, 30-Apr-41, Feb. 27, 1960, I, 30, B, N, SS, , Son, , , , curbed
Thomas, John, Franklin, Apr. 6, 1899, Dec. 11, 1984, IV, 17, R, N, DS, I am the Way, the Truth, and the Life, , , , , curbed
Thomas, Lenda, Lucile, 10-Feb-46, only date, I, 30, B, N, SS, Infant Daughter of Mr. and Mrs. W. H. Thomas, L.L.T., , , , curbed
Thomas, Maggie, , Dec. 17, 1872, Oct. 10, 1942, II, 21, F, N, SS, May your rest be as sweet as your memory, , , , , Cement Slab
Thomas, Margrett, Ella, Nov. 30, 1898, Mar. 5, 1986, IV, 17, R, N, DS, I am the Way, the Truth, and the Life, , , , , curbed
Thomas, Myrtle, , 1903, 1984, I, 30, B, N, DS, , Mother, , , , curbed
Thomas, Vera, B., no date, , I, 9, B, N, SS, , , Family Stone: Thomas, , , curbed
Thomas, William, H., 1901, 1996, I, 30, B, N, DS, , Father, , , , curbed
Thomas , William, G., 1910, 1963, I, 9, B, N, SS, , , Family Stone: Thomas, , , curbed
Thomason, Carol, Lynn, 1938, 1975, IV, 33, P, N, SS, , , , , , curbed
Thomason, Will, G., 1911, 1988, IV, 33, P, N, SS, , , Funeral Home Marker: Johnsons Funeral Home San Angelo, TX, , , curbed
Thompson, Christopher, Shane Kipper, 14-Jan-74, 4-Jun-77, III, 10, L, N, SS, Our Son, , , , , curbed
Tidmore, Freddie, A., 13-Jul-15, Apr. 28, 1989, IV, 39, Q, N, DS, Married Dec. 18, 1937, , , , , curbed
Tidmore, Ruth, E., Mar. 2, 1914, Mar. 25, 1985, IV, 39, Q, N, DS, Married Dec. 18, 1937, , , , , curbed
Tidwell, Theron, E., May 1, 1903, Sept. 5, 1962, III, 14, J, N, DS, , T.I.D, , , , curbed
Tidwell, Winnie, E., 30-May-07, 21-Jul-77, III, 14, J, N, DS, , , , , , curbed
Timmons, B., G., Oct. 6, 1897, Jan. 13, 1962, II, 7, G, N, DS, On Family Stone: Timmons Dec. 23, 1930, Daddy (by hs), , , , curbed
Timmons, Twala, , Oct. 10, 1910, only date, II, 7, G, N, DS, On Family Stone: Timmons Dec. 23, 1930, Mother (by hs), , , , curbed
Tomlinson, Sara, , Jan. 13, 1982, Oct. 1, 2000, III, 14, K, N, SS, Always Loved, , Johnson Funeral Home Marker-San Angelo, TX, , , curbed
Tomlinson, Warren, B., Aug. 5, 1905, 30-May-67, III, 14, K, N, DS, Book of Life, BEAL, , , , curbed
Treat, Jean, Warner, Nov. 17, 1931, Dec. 19, 1997, IV, 29, O, N, SS, , , , , , curbed
Tubb, Arthur, Milton, Nov. 15, 1894, 1-Apr-70, I, 13, B, Y, DS, Married May 13, 1922 Together Forever, , Family Stone: Hanna-----Tubb, Arthur Milton Tubb Texas PFC US Army World War I, , curbed
Tubb, Jack, Deen, Apr. 26, 1925, Dec. 5, 1941, I, 12, C, N, , , , hs sinking, , , curbed
Tubb, Mary, M. Mack, May 5, 1899, Mar. 21, 1991, I, 13, B, N, DS, Married May 13, 1922 Together Forever, , Family Stone: Hanna-----Tubb, , , curbed
Turner, J., H., Dec. 26, 1891, 6-May-49, II, 24, I, N, DS, , , , , , curbed
Turner, Johnnie, L., Dec. 14, 1902, Apr. 7, 1997, III, 37, L, N, , , , Marvin M. Turner Family on Family Stone, , , Curbed
Turner, Martha, , Aug. 4, 1885, Oct. 26, 1971, II, 24, I, N, DS, , Mama, , , , curbed
Turner, Marvin, M, Nov. 26, 1900, Sept. 29, 1974, III, 37, L, N, , , , Marvin M. Turner Family on Family Stone, , , Curbed
Unknown See notes, , , , , IV, 39, N, , , , , Flowers with Dad in center---very recent burial---no marker of any kind. Next to Littlefield stone that has flowers that say mom noted on July 27, 2001, , , none
unmarked, mound with, flowers, *see note, , IV, 17, T, , , , , Unmarked grave no headstone; no funeral home marker; died in May 2001, , , curbed
Vann, Lou, Wilkins, 1872, 1945, II, 1, I, N, SS, Faithful to her trust; Even unto death, , , , , curbed
VanZandt, Ernestine, B., 27-Aug-22, only date, IV, 30, S, N, DS, , , , , , curbed
VanZandt, J., W. Jake, 1-Aug-20, 20-Jun-83, IV, 30, S, N, DS, , , , , , curbed
Vaughn, Bobby, Joe, 29-Jun-30, only date, III, 21, L, N, SS, PeePaw, , Family Stone: Vaughn, , , curbed
Vaughn, Doris, Jean, Feb. 6, 1928, Mar. 5, 1929, I, 2, C, N, SS, , D.J.V., , , , curbed
Vaughn, Edith, , 1903, 1972, III, 22, K, N, DS, , , , , , curbed
Vaughn, Homer, , 1901, 1977, III, 22, K, N, DS, , , , , , curbed
Vaughn, Jack, Neal, Mar. 5, 1932, 12-Jan-80, III, 21, L, N, SS, , , Family Stone: Vaughn, , , curbed
Vaughn, Kay, , Jan. 4, 1937, only date, III, 21, L, N, SS, , , Family Stone: Vaughn, , , curbed
Vaughn, Kim, Grubb, 8-Mar-61, 23-Jul-81, IV, 39, R, N, SS, Married July 19, 1980, , , , , curbed
Wade, Inez, T., Oct. 7, 1891, 6-Jun-70, III, 11, K, N, , Mother, , , , , none
Walker, Elbert, Leslie, 12-Jun-06, Mar. 14, 1995, III, 34, L, N, DS, , , , , , curbed
Walker, Mary, Lee, Nov. 9, 1904, Nov. 12, 1986, III, 34, L, N, DS, Mother, , , , , curbed
Walton, Annie, Una, Jan. 9, 1904, Apr. 12, 1996, IV, 29, T, N, SS, , , Flat cement squares placed around headstones, , , curbed
Walton, Ronald, S., Mar. 7, 1897, Feb. 29, 1984, IV, 29, T, N, SS, , , Flat cement squares placed around headstones, , , curbed
Ward, Rose, , 1882, 1937, II, 6, H, N, SS, sister, , curb overgrown and covered w/dirt, , , curbed
Warner, Ida, I., 1883, 1968, I, 21, C, N, DS, Till shadows vanish in the Light of light, , , , , curbed
Warner, John, G., 1875, 1944, I, 21, C, N, DS, Till shadows vanish in the Light of light, DADDY, , , , curbed
Warner, Joseph, W. C., 1868, 1952, I, 22, C, N, DS, In Memory, FATHER, , , , curbed
Warner, Lennie, E., 1875, 1967, I, 22, C, N, DS, In Memory, MOTHER, , , , curbed
Warren, Callie Mae, Hickman, March 24, 1900, 9-Apr-95, II, 34, H, N, DS, Eastern Star Emblem, , Robert Massie Funeral Home Marker, , , curbed
Warren, Richard, James, January 27, 1891, 5-Nov-76, II, 34, H, N, DS, Mason Emblem, , , , , curbed
Waters, Willie, Homer, March 4, 1901, 22-Nov-74, III, 24, L, N, SS, , W.H.W., , , , cement slab
Webb, Alice, L., Aug. 2, 1906, 5-May-90, IV, 22, N, N, DS, Married Sept. 2, 1940, , , , , cement slab
Webb, Clayburn, , 1902, 1973, IV, 31, O, N, DS, , , , , , curbed
Webb, Columbus, H., 1875, 1953, II, 26, I, N, DS, , , , , , curbed
Webb, Deane, , Sept. 16, 1900, 9-Jul-93, IV, 22, N, N, DS, Married Sept. 2, 1940, , , , , cement slab
Webb, Josie, , 1878, 1956, II, 26, I, N, DS, , , , , , curbed
Webb, Leon, Ray, 7-Mar-29, 14-Feb-82, IV, 20, Q, N, SS, In Loving Memory, , , , , curbed
Webb, Lester, L, Mar. 12, 1906, Aug. 29, 1988, IV, 20, Q, N, DS, Married Dec. 14, 1926, , , , , curbed
Webb, Lois, M., Mar. 26, 1909, OCt. 3, 1998, IV, 20, Q, N, DS, Married Dec. 14, 1926, , , , , curbed
Webb, Nadine, , 1911, 1988, IV, 31, O, N, DS, , , , , , curbed
Webb, Otho, , Sept. 4, 1901, Mar. 23, 1958, II, 26, I, N, SS, , , , , , curbed
West, Minnie, B., Feb. 10, 1888, 1-Jun-78, II, 12, F, N, DS, Mother, , , , , curbed
West, Minnie, Blanche, 11-Mar-24, 23-Jan-33, II, 12, F, N, SS, Daughter of Rev. and Mrs. D. M. West , , , , , curbed
West, Rev. David, M., May 9, 1874, Dec. 15, 1947, II, 12, F, N, DS, Father, , , , , curbed
Whalen, Joe, B., 26-Jul-32, Oct. 8, 1986, III, 32, J, Y, SS, , , , Joe B. Whalen PFC US Army Korea Jul. 26, 1932 Oct. 8, 1986, , curbed
Whalen, Olga, C., 1907, 2001, III, 32, J, N, DS, , Mother (by hs), , , , curbed
Whalen, Walter, W., 1906, 1962, III, 32, J, N, DS, , Daddy (by hs), , , , curbed
White, A., O., Apr. 30, 1918, Jan. 6, 1991, I, 13, A, Y, SS, , , , PVT US Army World War II, , curbed
White, Eunice, Diane, Feb. 18, 1920, Dec. 24, 1984, IV, 38, P, N, SS, , , , , , curbed
White, Hugh, Ella, Apr. 28, 1894, Mar. 18, 1973, IV, 38, P, N, SS, , , , , , curbed
White, Lena, Ethel, Aug. 26, 1921, Apr. 18, 1988, I, 13, A, N, SS, Wife of A.O.White, , , , , curbed
White, Owen, , 1919, 2000, IV, 37, P, N, none, , , Shaffer Funeral Home marker only w/info, , , curbed
White, Rosalie, Ivey, June 24, 1895, only date, II, 5, H, N, SS, , , , , , curbed
Whittenton, J., Earl, Sept. 10, 1900, Aug. 13, 1991, IV, 33, R, N, DS, , , , , , curbed
Whittenton, Lola, , Sept. 22, 1899, , IV, 33, R, N, DS, , , , , , curbed
Whittington, Evelyn, J., 21-Jul-36, Dec. 1, 1964, II, 23, G, N, SS, , , , , , curbed
Wilkins, Homer, R., 1876, 1933, II, 1, I, N, DS, , H.R.W., , , , curbed
Wilkins, Howard, T., Jan. 24, 1879, 30-Jul-30, II, 2, I, N, SS, He kept the faith, fought bravely, fell nobly, and reaped his reward, H.T.W., , , , curbed
Wilkins, Joe, George, 20-Sep-12, 13-Mar-83, IV, 42, Q, N, DS, Married Dec. 27, 1930, , , , , curbed
Wilkins, Joseph, H., Mar. 28, 1881, Nov. 6, 1934, II, 2, I, N, SS, , J.H.W., , , , curbed
Wilkins, Joy, L., 1937, 1975, IV, 29, R, N, SS, , , Funeral Home Marker: Joy Lynn Wilkins, , , curbed
Wilkins, Leslie, L., 1906, 1976, IV, 29, R, N, DS, Mason Emblem, , , , , curbed
Wilkins, May, , 1883, 1954, II, 1, I, N, DS, his wife, , , , , curbed
Wilkins, Mrs., Georgia A., Dec. 20, 1848, Dec. 30, 1921, II, 1, I, N, SS, Mother, She believed and sleeps in Jesus, G.A.W., , , , curbed
Wilkins, Ola Belle, E., 1913, only date, IV, 29, R, N, DS, , , , , , curbed
Wilkins, Ozella, Ault, 22-Feb-16, 24-Dec-89, IV, 42, Q, N, DS, Married Dec. 27, 1930, , , , , Curbed
Williams, B., P., 1894, 1933, I, 16, D, N, SS, Williams, , American US Legion metal marker, , , curbed
Williams, Callie, N., Aug. 10, 1882, 17-May-26, II, 8, G, N, DS, , , , , , curbed
Williams, Carrie, G., June 25, 1891, Apr. 22, 1982, I, 16, D, N, SS, Aunt Carrie, , , , , curbed
Williams, Garland, J., Mar. 23, 1918, Mar. 2, 1959, I, 7, B, Y, SS, , , , Texas S SGT Army Air Forces World War II , , curbed
Williams, James, Monroe, Nov. 10, 1898, Sept. 3, 1970, IV, 26, O, N, DS, , , , , , curbed
Williams, John, James, Feb. 14, 1854, Nov. 17, 1948, II, 19, E, N, DS, Papa, J.J.W., , , , curbed
Williams, Lena, Mae, Jan. 8, 1901, Dec. 29, 1986, IV, 26, O, N, DS, , Mae (by hs), , , , curbed
Williams, Margaret, Ella, July 26, 1850, Dec. 2, 1935, II, 19, E, N, DS, Mama, M.E.W., , , , curbed
Williams, Martin, , June 30, 1882, Oct. 16, 1947, I, 23, C, N, DS, , Mother, , , , curbed
Williams, Mattie, , 1899, 1975, I, 7, B, N, SS, Loving Wife, Mother, and Grandmother, , , , , curbed
Williams, Ruby, E., Dec. 25, 1925, only date, IV, 22, O, N, DS, , , , , , curbed
Williams, Thomas, B., 1897, 1977, I, 7, B, N, SS, Loving Husband, Father, and Grandfather, , , , , curbed
Williams, Thomas, Edward, Oct. 31, 1923, Oct. 31, 1980, IV, 22, O, N, DS, , , , , , curbed
Williams, Walter, R., Jan. 21, 1880, Jan. 10, 1959, II, 8, G, N, DS, , , , , , curbed
Williams, Willie, E., Dec. 19, 1888, Sept. 3, 1978, I, 23, C, N, DS, , Dad, , , , curbed
Williamson, Marvin, Clay *see notes, 14-Jul-41, Nov. 9, 1999, III, 23, L, N, SS, Buster on headstone, , Shaffer Funeral Home Marker has Marvin Clay Williamson 1941-1999, , , curbed
Williamson, Modena, , Mar. 23, 1909, 4-Jul-89, III, 23, L, N, DS, , , , , , curbed
Williamson, W., Clay, Apr. 7, 1907, Nov. 14, 1987, III, 23, L, N, DS, , , , , , curbed
Wilson, Chester, L., Dec. 10, 1929, only date, IV, 18, P, N, DS, Married July 10, 1954, , , , , curbed w/gravel
Wilson, Mildred, , 10-Jan-29, Feb. 28, 1981, III, 20, L, N, SS, Loving Memory, , , , , curbed
Wilson, Patsy, Taylor, Apr. 25, 1931, Aug. 13, 1987, IV, 18, P, N, DS, Married July 10, 1954, , , , , curbed w/gravel
Wisley, Leo, , 1913, 1987, II, 31, H, N, DS, Married Sept. 20, 1958, , , Leo L. Wisley TEC 4. US Army World War II Feb. 23, 1913 Jun. 27, 1987, , none
Wisley, Mattie, B. (Jackie), 1926, only date, II, 31, H, N, DS, Married Sept. 20, 1958, , , , , none
Wojtek, Frank, C. Jr., 2-Mar-13, 2-May-97, III, 32, L, Y, DS, , , , Frank Charles Wojtek, Jr. Sgt. US Army World War II 1913 1997, , none
Wojtek, Zelma, Jean, Septmeber 21, 1927, onlydate, III, 32, L, N, DS, , , , , , none
Wood, Alice, L., 12-May-19, only date, III, 20, M, N, DS, , , , , , curbed
Wood, Dola, T., June 23, 1902, 26-Jun-84, III, 20, M, N, DS, , , , , , curbed
Wooten, C., O. (Sid), 9-Apr-17, Feb. 6, 1971, III, 19, L, N, SS, in loving memory, , , , , none
Workman, Billy, Joe, Nov. 16, 1926, , I, 15, D, N, DS, , , , , , curbed
Workman, Peggy, Joyce, 6-May-30, Mar. 15, 1997, I, 15, D, N, DS, , , , , , curbed
Woullard, Ada, , Jan. 10, 1881, 16-Jul-68, II, 20, E, N, SS, Dady (spelled as on stone), A.W., , , , curbed
Woullard, George, W., Feb. 16, 1851, 19-May-33, II, 20, E, N, DS, , C.W.W., , , , curbed
Woullard, Leslie, , 1906, 1995, II, 20, E, N, SS, , , , , , curbed
Woullard, Sarah, E., Mar. 10, 1848, Dec. 17, 1942, II, 20, E, N, DS, , S.E.W., , , , curbed
Wright, John, A., Sept. 25, 1891, Jan. 16, 1980, II, 25, I, N, DS, In loving memory, J.A.W., , , , curbed
Wright, Viola, D., Sept. 14, 1896, Feb. 21, 1952, II, 25, I, N, DS, In loving memory, V.D.W., , , , curbed
Wrinkle, Arthur, Lee, Dec. 15. 1901, Mar. 18, 1981, IV, 34, Q, N, DS, Married Nov. 4, 1922, , , , , curbed
Wrinkle, Bobby, Edwin Bob, Sept. 18, 1941, Feb. 27, 2000, III, 7, J, N, SS, , , FuneralHome Marker: Shaffer Fun. Home Robert Lee-Bronte, TX, , , curbed
Wrinkle, Chas., Gene, 1935, only date on stone, I, 4, D, N, SS, , no inscription, , , , curbed
Wrinkle, D., Tipton, Nov. 24, 1896, Dec. 15, 1976, IV, 34, N, N, DS, , , , , , curbed
Wrinkle, Evaline, , Dec. 31, 1910, Dec. 18, 2000, II, 7, H, N, DS, , MOM, , , , curbed
Wrinkle, George, R., 1903, 1971, IV, 33, N, N, DS, , , , , , curbed
Wrinkle, Henry, , Apr. 19, 1873, Jan. 31, 1960, II, 34, F, N, DS, , , , , , curbed
Wrinkle, Joseph, D., Apr. 23, 1871, Nov. 30, 1937, II, 17, G, N, DS, Blessed are the pure in heart for they shall see God, Father, , , , curbed
Wrinkle, Leotha, , Nov. 22, 1907, Apr. 4, 1992, IV, 34, Q, N, DS, Married Nov. 4, 1922, , , , , curbed
Wrinkle, Lillie, B., Mar. 12, 1872, Sept. 13, 1956, II, 17, G, N, DS, Blessed are the pure in heart for they shall see God, Mother, , , , curbed
Wrinkle, Loy, , 3/1/28, 2/27/56, IV, 32, N, Y, SS, Fear only God Roy Lee Ko. Vet, , Dates, Name, and Inscription painted on a chunk of granite, Has no military stone, , curbed
Wrinkle, Macie, T., 1/27/26, 9/7/86, IV, 32, N, N, SS, R.N. Mom, , Dates, Name, and Inscription painted on a chunk of granite, , , curbed
Wrinkle, Maggie, , May 24, 1873, Nov. 27, 1954, II, 34, F, N, DS, , , , , , curbed
Wrinkle, Mary, C., 1868, 1941, II, 9, I, N, DS, , M.C.W., , , , curbed
Wrinkle, Micheal, Dwain, Jan. 2, 1955, Mar. 29, 1970, IV, 32, N, N, SS, , Mike, , , , curbed
Wrinkle, Minnie, O., Aug. 27, 1897, Feb. 25, 1993, IV, 34, N, N, DS, , , , , , curbed
Wrinkle, Odella, E., 1909, only date, IV, 33, N, N, DS, , Granny (by hs), , , , curbed
Wrinkle, Robert, L., 1875, 1960, II, 9, I, N, DS, , R.L.W., , , , curbed
Wrinkle, Shirley, Jean, 1935, 1937, II, 7, F, N, SS, Baby, , , , , curbed
Wrinkle, Willie, Ray, Sept. 28, 1928, Sept. 1, 1930, II, 8, H, N, SS, Son of Mr. and Mrs. Wrinkle, , , , , curbed
Wrinkle, Willie, , Dec. 24, 1906, 31-May-78, II, 7, H, N, DS, , DAD, , , , curbed
Wrinkle, Wylie, Elbert, 1900, 1973, II, 9, I, N, , , , No Stone, on funeral home marker, , , curbed
Wylie, Geneva, B., 1891, 1949, II, 26, E, N, SS, Mother Wife of T.M. Wylie, G.B.W., Family Stone: Wylie, , , curbed
Wylie, Jo , Marie Boyd, Sept. 11, 1927, only date, II, 27, E, N, SS, , , Small stone between headstones: Married July 2, 1948 Family Stone: Wylie, , , curbed
Wylie, Richard, H. Dick, Sept. 20, 1925, only date, II, 27, E, N, SS, , , Small stone between headstones: Married July 2, 1948 Family Stone: Wylie, , , curbed
Wylie, T., M., 1890, 1971, II, 26, E, N, SS, DA At Rest, Brand T.L. , Family Stone: Wylie, , , curbed
Wylie, T., M. Jr., 1913, 1986, II, 27, E, N, SS, Bud, Daddy, Papaw Has a symbol that looks like a brand a T that has a curve on the bottom to make a J, Honey, Family Stone: Wylie, , , curbed
Wynne, Albert, L., 1914, 1927, I, 3, C, N, SS, , , , , , curbed
Wynne, Albert, M., Dec. 4, 1887, 20-May-66, I, 3, C, N, DS, In Loving Memory, , , , , curbed
Wynne, Ruby, G., Jul. 5, 1888, Oct. 31, 1960, I, 3, C, N, DS, In Loving Memory, , , , , curbed
Yocham, H., E., 1885, 1962, I, 2, B, N, DS, Mason, , , , , curbed
Yocham, S., A., 1888, 1975, I, 2, B, N, DS, Eastern Star, S.A., , , , curbed
Youngblood, Alma, V., Nov. 13, 1892, Oct. 2, 1974, II, 22, E, N, DS, , , , , , curbed
Youngblood, L., T., Nov. 18, 1886, Mar. 31, 1971, II, 22, E, N, DS , , , , , , curbed
, Artis, L., Sept. 3, 1922, Mar. 7, 1988, IV, 37, R, N, DS, , , , , , curbed
, J., B., Jan. 9, 1910, 2-Jul-97, IV, 20, S, , , , , , , , curbed
, Willard, O., Sept. 20, 1919, Mar. 14, 1994, IV, 37, R, N, DS, , , , , , curbed
---