Burnam-Smithart Cemetery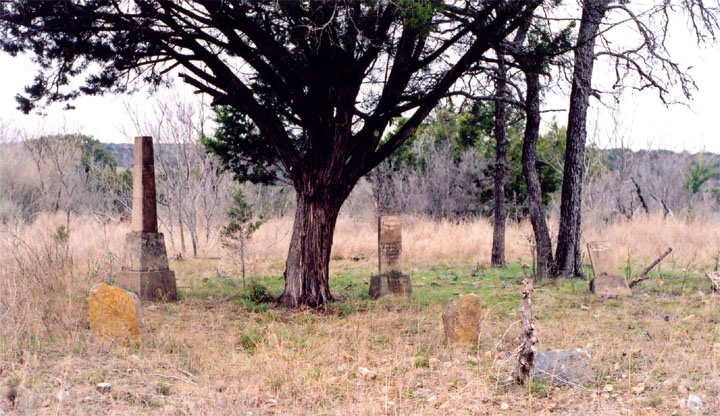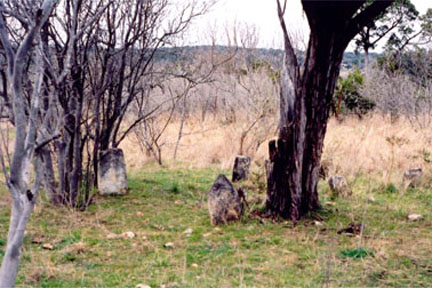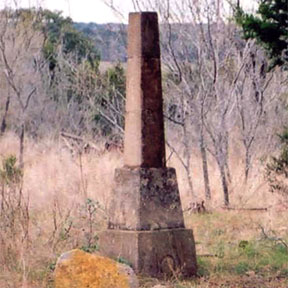 Photos by Carol Martin

Location: In a pasture on the Murry Burnam Ranch about 8 mi. S.E. of Marble Falls, Burnet Co., TX - off Spicewood Rd.
NOTES - This cemetery is small, on top of a low rocky hill, no evidence it was ever fenced. There is what appears to be an empty space only a few yards between where the Burnams are buried (North 'section') and where the Smitharts are buried (South 'section'). Maybe 2 yards from foot of the graves of Miles, and of Elizabeth, there are 2 large flat rocks which appear to mark otherwise unmarked graves. It is said there used to be a granite slab over the Burnams graves, with some history printed on it - the slab disappeared. This was a family cemetery and is no longer in use. At this time, I know of no plat or record for this cemetery. In parenthesis is data I used from other sources such as family bible, birth, death, marriage records, etc. when it was illegible on a marker.
Inscriptions by Carol Martin, March 2, 2002

| | | | | | |
| --- | --- | --- | --- | --- | --- |
| | Last Name | First Name | Birth | Death | Notes |
| 1 | Burnam | | 9/15/1792 | 4/30/1883 | 4-sided monument, 1 side says 'OUR PARENTS' & below that 'BURNAM'. Under Jesse's death date is - "PARTICIPATED IN THE BATTLE OF NEW ORLEANS UNDER GEN. JACKSON JAN. 8, 1815. ONE OF THE FIRST 13 OF AUSTIN'S COLONY TO TEXAS 1821. HE WHOSE MERIT DESERVES A TEMPLE HAS SCARECLY FOUND A GRAVE IN THE ANNALS OF TEXAS HISTORY." |
| 2 | Burnam | Nancy (Cummings Ross) | 6/15/1811 | 2/02/1863 | "OUR MOTHER" Her name is on 1 side of this monument & his on opposite side. There is verse printed under her death date, but too much is illegible. |
| 3 | Unknown | | | | There are several graves with markers, illegible (or just nothing on them), beyond the cedar tree that is behind Jesse & Nancy Burnam graves. I counted 7 of these, on this day. |
| 4 | Unknown | | | | There may be more graves there not marked. |
| 5 | Unknown | | | | It is believed some of these were slaves. |
| 6 | Unknown | | | | Beyond cedar tree which is behind Jesse & Nancy Burnam graves. |
| 7 | Unknown | | | | Beyond cedar tree which is behind Jesse & Nancy Burnam graves. |
| 8 | Unknown | | | | Beyond cedar tree which is behind Jesse & Nancy Burnam graves. |
| 9 | Unknown | | | | Beyond cedar tree which is behind Jesse & Nancy Burnam graves. |
| 10 | Smithart | M.A. (Miles Armstrong,Sr) | 2/ /1827 | 10/14/1901 | "THY STAFF AND THY ROD WILL COMFORT ME I FEAR NO EVIL FOR THOU ART WITH ME" Has one hand, with index finger pointing up, on all 4 sides, at top of marker. This monument is broken in 4 pieces which we stacked for the photo. There is also text on south side of this marker that is mostly illegible, (? Smithart born ___1837.) I believe this was supposed to be the burial place of Miles' wife, Nancy A. (Townsend) Smithart. However, she evidently went to live with a daughter and is buried in the Robert Lee Cemetery, Coke Co., with other family members. Nancy (Townsend) Smithhart was born March 2, 1837 near Columbus, TX |
| 11 | Smithart | | 5/27/1867 | 10/24/1884 | (Dtr. of Miles) There is more text which is illegible. Marker is R. of the cedar tree in photo. Clasped hands at top of marker. |
| 12 | Smithart | Malinda L. | 1014/1854 | 1/07/1865 | (Dtr. of Miles)Marker to R. of Elizabeth & is leaning badly. More text is illegible. Clasped hands at top of marker |
| 13 | Smithart | | 12/23/1878 | 12/(28)/1878 | (Son of Miles) Marker broken & leaning against base. More text is illegible. Between Malinda and Silas. Resting lamb at top of marker. |
| 14 | Smithart | James | (?)/22/1863 | 5/10/1863 | (Son of Miles) Marker is farther to R. of Silas. Resting lamb at top of marker. |
| 15 | Smithart | | 11/26/1864 | 1/25/1867 | (Son of Miles) Resting lamb at top of marker. "Rest in Peace" |