Halsmith Cemetery, Harmon Co., Hollis, OK.
For inscriptions see: * Halsmith Cemetery.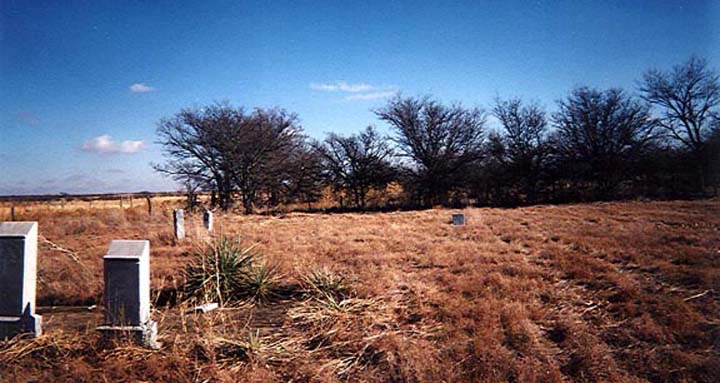 Photo by Jeanette Coaly
Location: Two miles west of Hwy 30 and 5 miles south of Hollis, past Fairmount Cemetery.
History: David I. Creamer dedicated one acre of land before 1903 for a cemetery, owned by Orville McQueen in Nov. of 1980. The first burials were Mr. Horn, Mr. Looney and Grandma Worrell.
This cemetery was listed by Mrs. Lucille Campbell and Mrs. H. R. Bartlett, and compiled and indexed by Mrs. B. B. Martin of the One Hundredth Meridian Chapter of the NSDAR, in November of 1980. There were three unmarked graves outlined with rocks in the North-East corner and other unmarked graves not recorded here.
Last Name, First Name, Birth Date, Death Date, Ephitat
BARTLETT, Ovetta, Mar. 23, 1919, Jan. 24, 1920, Daughter of H. R. & Leta Bartlett
CREAMER, David I., no date, no date, marker broken
CREAMER, William, no date, no date, marker broken
CRUMP, Ed, baby, no marker
DAVIS, Grandpa, no marker
DAVIS, Infant, Sep. 28, 1905, Oct. 6, 1905, nfant of R. D. & wife
DAVIS, Thomas H., Aug. 4, 1854, Sep. 9, 1936
DAVIS, Calvin, child, no marker
HORN, ?, no date, 1903, no marker - rocks only
LEAKEY, S. H., Mar. 9, 1881, Nov. 1, 1944, father
LEAKEY, G. H., no date, Feb. 11, 1969, mother, 85 yrs 6 mos 21 days
LEAKEY, Unice Verne, Jul. 14, 1925, Aug. 18, 1925
LEAKEY, Roscoe, Jan. 1, 1903, Aug. 13, 1925
LEAKEY, Hubert, no marker, brother ot Frank
LOONEY, Rosa, ?, 1905, no marker, sister to Sallie, small daughters
LOONEY, Sallie, ?, 1905, no marker, sister to Rosa, small daughters
LOONEY, Mr., ?, 1903, no marker
MCMURRAY, Lena, Dec. 4, 1902, Mar. 16, 1904, Daughter of J. E. & Fannie
McMURRAY, Walter, no date, no date, 34 years old, son of J. E.
MULLINS, ?, no date, no date, Twin Infants, no marker
TEAGUE, Elva L., Jan. 15, 1901, Apr. 4, 1907
TEAGUE, Jim, ?, 1903, broken marker
TEAGUE, Thelma J., Jul. 14, 1902, Apr. 25, 1904, daughter of Jim
TEAGUE, Durant, no marker, son fo Jim
WILLIAMS, Laura L., ?, Oct. 15, 1935
WILLIAMS, Nelda R., ?, Jul. 25, 1940
WILLIAMS, William Charles, Nov. 3, 1842, Jan. 12, 1914
WILLIAMS, Mr.s W. C., Feb. 23, 1868, Aug. 24, 1924, parents of Lottie Motley
WILLIAMS, Infant, Mar. 15, 1908, Mar. 15, 1908, infant of W. C. & wife
WORRELL, Grandpa, no marker
---
---