Greenwood Cemetery, Weatherford, Custer Co., OK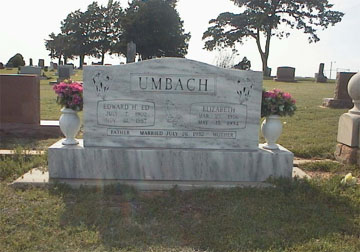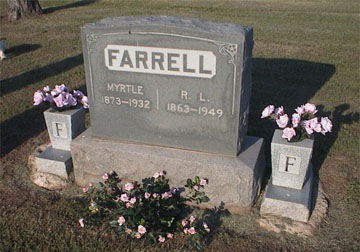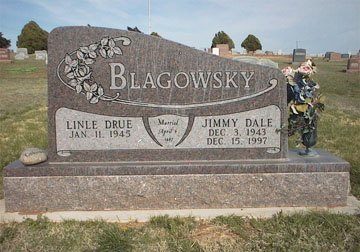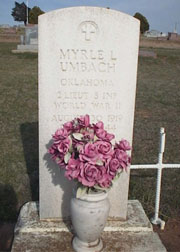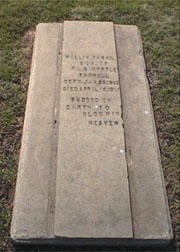 Photos and partial inscriptions by R. Clayton Hooper
Location: On Highway 54 just North of Weatherford going towards Thomas, Oklahoma. The main portion of the cemetery is located on the East side of the road and a newer portion is located on the West side of the highway.
About the cemetery: This is a very old cemetery with most persons buried here having resided in the City of Weatherford. In recent years indexes of grave sites have been erected throughout the cemetery for visitors. The cemetery is surrounded by fence and the gates are closed at sundown.
Last, First, Birth, Death, Comments
Blagowsky, Jimmy Dale, Dec. 3, 1943, Dec. 15, 1997, Married April 6, 1962
Blagowsky, Linle Drue, Jan. 11, 1945, (no date)
Farrell, Lillian, 1898, 1980
Farrell, Myrtle, 1873, 1932
Farrell, R.L., 1863, 1949
Farrell, Russell, 1894, 1948
Farrell, Thelma "Ted", July 19, 1905, Apr. 19, 1989
Farrell, Willie, Jan. 29, 1892, April 16, 1901, Son of R.L. & Myrtle, Budded on Earth to Bloom in Heaven
Potter, Bessie L., 1891, 1981
Potter, Gabriel W., 1877, 1960
Rymer, Donald E., July 19, 1925, Oct. 13, 1993
Rymer, Ike, Feb. 20, 1890, Feb. 19, 1941
Rymer, Viola, Apr. 21, 1881, Apr. 9, 1963
Smith, Marie, Feb. 16, 1919, (no date), (Mother), (She was a FARRELL)
Smith, Virgil, Jun 1, 1921, Aug 24, 1986, S1 US NAVY World War II
Umbach, Della M., 1899, 1963, (She was a FARRELL)
Umbach, Edward H. Ed, July 7, 1902, Nov. 21, 1957, Father, Married July 26, 1932
Umbach, Elizabeth, Mar. 23, 1906, May 15, 1994, Mother, Married July 26, 1932
Umbach, Henry, Nov. 2, 1857, Oct. 29, 1927, __?__ by Angels Wings Away to a Home of Peace and Love
Umbach, Henry H., 1896, 1979
Umbach, Myrle L., August 30, 1919, July 27, 1944, OKLAHOMA, 2 LIEUT B INF World War II, (He was shot by a Sniper shortly after the Normandy Invasion @ St. Lo, France.)
Umbach, ?, Apr 6, 1862, Apr 5, 1918, Wife of Henry Umbach, (unable to read first name)
Zwirtz, Gerald D., Feb. 21, 1921, Dec. 18, 1990, TEC 5 US ARMY, World War II
Zwirtz, Herman E., July 26, 1892, Jan. 26, 1952, OKLAHOMA, Pvt 142 Infantry 36 Div World War I
Zwirtz, Jewell E., Sept. 1, 1902, Dec. 21, 1991, (She was a FARRELL)
---
Cemeteries of Oklahoma is a non-profit Independent Genealogy Resource organization dedicated to preserving and protecting the natural cemetery history of the great state of
Oklahoma. No claim is made to the copyrights of individual submitters. All work is published with permission, and is intended for independent genealogy research only. No part of this Web site is to be sold to others, or distributed to others for profit. Help us by submitting your transcriptions and photos to: Gloria B. Mayfield - Oklahoma Mgr.
If you would like to inform us of other information about cemeteries, whether this cemetery or another, please do so. Specific questions to the general viewing audience should be posted to the query boards you can find at Cemeteries of Texas.