North Elm Cemetery
Beckham Co., Cemeteries of OK.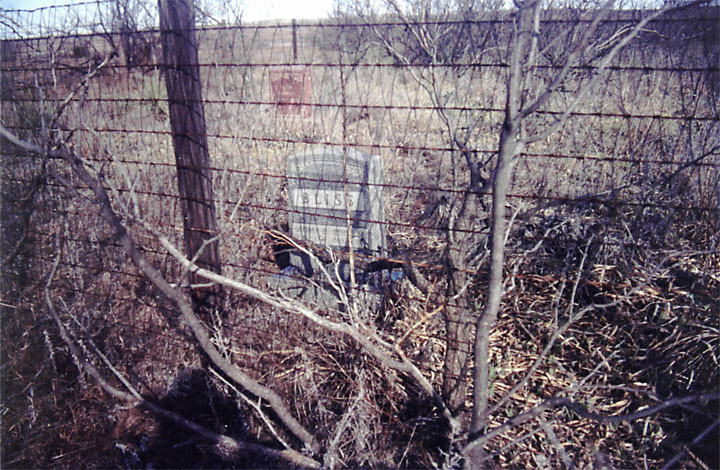 Photos by Don Francis
Location: about 16 miles SW of Erick, Oklahoma. (Salton Cemetery & the Windy Hill Cemetery)

Inscriptions courtesy of Mike and Jo Ann Moffat <moffatplace_1999@yahoo.com)


Last, First, Birth, Death, Comments
Bliss, Ethyl M, 1889, 1918
Bliss, George E., 1890, 1956
Bliss, Oliver J., 1909, 1953
Francis, Della, 1874, 1910
Goff, George, 1870, 1953
Lee, J. F., Apr. 24, 1865, Apr. 12, 1928
And for the plot map. My Dad had the orginal from my Aunt.
List of Burials by plot number

W
S+N
E

1
2
3
4
5
6
7
A
Epps, Grandma
Epps, W. T., (left side)
Epps, Lucy, (right side)
Bliss, Ethyl M,
Bliss, George E.,
Bliss, Estelle, Baby
-
-
B
Goff, George Bethel, (left side)
Goff, Mary "Bell" , (right side)
Goff, B., Baby
Mefford, Pearl
Spencer, Lina
Francis, Della
-
-
C
Epps, Jesse, Baby
Francis, Ben, Baby
Epps, Jesse, Baby
Lee, Mary
-
-
D
-
Hulin, Tom
Bliss, Dutch
Pruitt, Ben, Baby
-
-
E
-
Clifford, Mr.
-
-
-
-
-
F
-
Francis, Baby of Charley and Haltie Francis
-
-
-
-
-
G
-
Lee, J. F.,
-
-
-
-
-
---