Ebenezer Cemetery
Florien , Sabine Parish, Cemeteries of Louisiana
Photos by Lewis Westfall and Jerry Watson.
Submitted by Lewis Westfall
Cemeteries of TX Coordinator: Dee Bishop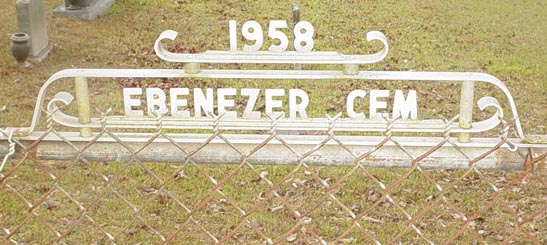 ---
Turn west at the red light in Florien and go about a quarter-mile to Ebenezer Road and turn right. A green sign points toward the cemetery.
The cemetery is one mile from the turn.
Arrington, Annie Taylor b 3 Jul 1886 d 23 Dec 1974
Arrington, CB b 23 Mar 1882 d 26 Sep 1950
Arrington, Doris Maxine b 21 Jul 1932 d 9 Mar 1945
Arrington, John F b 27 Mar 1903 d 2 Feb 1957
Braud, Davis Joseph b 20 Jan 1919 d 17 Dec 1998
Braud, Davis
Braud, Mavis Hopkins b 3 Aug 1924
Brown, Earlis T b 2 Apr 1911 d 13 Oct 1974
Brown, Opal F b 3 Nov 1910
Brown, Ida V Hopkins b 7 May 1917 d 29 Jul 1967
Brown, Jesse J b 1 Jan 1880 d 15 Jun 1958 b/w Lutitia
Brown, Lutitia C b 5 Feb 1892 d 12 Dec 1984 b/w Jesse
Brown, Wayne Nicholas b 16 May 1913 d 8 Aug 1988
Bush, Allen R b 20 Jan 1882 d 31 Oct 1943
Bush, Bernice b 7 Feb 1916 d 25 Mar 1986
Bush, Clarence b 1 Oct 1903 d 22 Aug 1982 b/w Lovie
Bush, Lovie b 18 Jan 1912 d 1 Jan 1999 b/w Clarence
Bush, Edna Stringer
Bush, Ella Sandel b 20 Apr 1893 d 28 Aug 1971
Bush, Ernest A b 19 Nov 1918 d 27 Sep 1993 b/w Syble
Bush, Syble S b 15 Oct 1927 d 14 May 1987 b/w Ernest
Bush, Estes A B 9 Sep 1879 d 4 Feb 1942 b/w Lacy
Bush, Lacy Miller b 26 Nov 1888 d 10 Mar 1975 b/w Estes
Bush, HA b 22 May 1856 d 8 Dec 1925
Bush, Mary A (Mrs) b 3 Dec 1852 d 2 Mar 1924
Bush, MJ Shows b 19 Nov 1858 d 9 Apr 1921
Bush, Olan A b 20 Apr 1913 d 28 Feb 1925
Bush, Owens b 18 Nov 1883 d 3 Mar 1936
Bush, Pearl b 26 Jun 1891 d 27 Aug 1908
Bush, PM b 25 Sep 1888 d 24 Sep 1915
Bush, Preston W (Chuffy) B 24 Sep 1917 d 23 Apr 2000
Bush, William E b 4 Jan 1893 d 3 Dec 1965
Bush, WM (Rev) b 23 Apr 1852 d 11 Oct 1917
Carroll, Sidney b 10 Dec 1900 d 31 May 1901
Charman, Leola Fuller
Clutts, William b 1867 d 1913 b/w Ada
Clutts, Ada b 1875 d 1919
Coburn, infant son (2 identical markers)
Coburn, Newman b 31Jan 1901 d 30 Jul 1969 b/w Pauline
Coburn, Pauline b 13 May 1905 d 13 Jan 1971 b/w Newman
Corley, Johnnie William b 22 Dec 1917 d 12 Jan 1993 b/w Alice
Corley, Johnnie
Corley, Alice Bass b 4 Jul 1920 d 23 Jan 2006 b/w Johnnie
Corley, Maudie M b 2 Dec 1902 d 17 Dec 1934 b/w son Charles
Corley, Charles M b 11 Dec 1934 d 16 Dec 1934 b/w mother
Curtis, Lewis D b ca 1899 d 17 Oct 1975
Curtis, Nancy Emmerline Jett b 23 Apr 1901 d 30 May 1964
Duggan, Eva b 1897 d 1920
Duggan, Harvey Cade b 4 Aug 1899 d 13 Apr 1956 b/w Leona
Duggan, Harvey USN – WWI
Duggan, Leona Coburn b 30 Mar 1903 d 22 Mar 1984 b/w Harvey
Duggan, June Alaine b 18 Jun 1917 d 1 Aug 1917
Duggan, Marshall Edd b 19 Oct 1877 d 22 Dec 1936
Duggan, Nelson James b 30 May 1919 d 3 Mar 1938
Folden, George b 6 May 1883 d 17 May 1912
Funderburk, Jefferson J (Minister) b 4 Jul 1919 d 9 Oct 1986 b/w Maybee
Funderburk, Maybee Brown b 21 Jun 1921 d 6 Apr 1995 b/w Jefferson
Gentry, Allen Rufus b 13 Mar 1867 d 25 Aug 1949 b/w Nancy
Gentry, Nancy Catherine b 4 May 1876 d 19 Jun 1944 b/w Allen
Gentry, Amanda Elizabeth b 26 Jul 1911 d 29 Jul 1911
Gentry, infant babe (3 identical stones)
Gentry, Nellie Virginia b 19 Dec 1908 d 27 Jun 1963
Hollie, Judy Nevon b 5 Dec 1956 d 29 Dec 2006 funeral marker
Holt, Cornelia Nelson b 23 Aug 1870 d 4 Sep 1940
Hopkins, John Ross b 19 Jan 1896 d 21 Feb 1967 b/w Vera
Hopkins, Vera T b 16 Jun 1902 d 30 Aug 1972 b/w John
House, Evert Jackson b 10 Dec 1907 d 17 Oct 1908
House, Ezekeil Jackson b 14 Nov 1881 d 27 Dec 1957 b/w Delia
House, Delia Leach b 4 Sep 1888 d 24 Sep 1961
House, Jack
House, Little Rutholee b 14 Apr 1910 d 17 Jan 1912
House, Louis b 14 Jun 1920 d 4 May 1977
Jett, Addie Lee Taylor b 17 May 1878 d 8 Mar 1926
Jett, Brown N b 1 Nov 1907 d 8 Jan 1908
Jett, Clifton b 10 Jul 1913 d 29 Jul 1914
Jett, James Edward b 18 Jul 1873 d 30 Jul 1937
Jett, Joseph J b 20 Dec 1910 d 16 Apr 1974
Jett, Yvonne b 30 Nov 1934
Leach, Amanda J b 1 Apr 1860 d 30 Nov 1937
Leach, Florien b 3 Mar 1897 d 25 Jul 1917
Leach, John M b 6 Nov 1856 d 13 Mar 1932
Leach, William G b 1876 d 1948
Mahaffey, Amey E b 15 Dec 1844 d 3 Jan 1932
Mahaffey, Billy C b 4 Mar 1939 d 17 Oct 1959
Mahaffey, Clem b 1928 d 1929
Mahaffey, Daniel Poley b 7 Jun 1879 d 12 Dec 1977
Mahaffey, Dewey b 25 Mar 1904 d 1 Jul 1928 b/w Ester
Mahaffey, Ester Lee b 11 Apr 1903 d 2 Feb 1907 b/w Dewey
Mahaffey, Ella Gilcrease b 8 Jul 1884 d 1 Aug 1971
Mahaffey, Emma b 15 Aug 1889 d 10 Feb 1962
Mahaffey, Eva C b 25 Feb 1888 d 25 Nov 1952
Mahaffey, John B b 28 Nov 1841 d 2 Mar 1933
Mahaffey, John L b 1928 d 1941
Mahaffey, Little Laney b 16 Sep 1907 d 15 Oct 1907
Mahaffey, Martin Monroe b 10 Apr 1883 d 11 Feb 1971
Mahaffey, WJ (Bill) b 9 Feb 1915 d 26 Apr 1992 b/w Celeste
Mahaffey, Celeste L b 22 Feb 1923 d 24 Apr 2001 b/w Bill
Mahaffey, Ziller b 12 Jun 1905 d 12 Sep 1928
Maines, Huey E b 20 Jan 1930 d 7 Apr 1932
Maines, Mark M b 22 Nov 1902 d 5 Jun 1978 b/w Estell
Maines, Estell M b 30 Aug 1908 d 28 Dec 1996 b/w Mark
McConathy, Herman Lee b 26 Jan 1919 d 26 Aug 2002 b/w Etta
McConathy, Herman
McConathy, Etta Marie b 20 Apr 1927 D 3 DEC 2005 b/w Herman
McConathy, Marilyn Marie b 20 Oct 1957 d 28 Oct 1957
McConathy, WY b 20 Jan 1876 d 14 Nov 1950
McCormick, George W b 11 Oct 1893 d 3 Sep 1938 b/w Claudia
McCormick, Claudia M Tompkins b 30 Apr 1897 d 6 Jan 1969
McNeece, Ester Lee b 16 Apr 1928 d 6 Sep 1928
Mahan, Clee D b 13 Dec 1891 d 14 Dec 1968 b/w Fern
Mahan, Clee
Mahan, Fern H b 7 Apr 1904 d 1 Apr 1982 b/w Clee
Miller, Ben F b 13 Jun 1884 d 25 Oct 1973 b/w Hattie
Miller, Hattie L b 1 Sep 1888 d 30 Aug 1975 b/w Ben
Miller, Benjamin W b 12 May 1847 d 11 Jan 1904 b/w Mary
Miller, Mary S b 26 Jul 1855 d 5 Feb 1917 b/w Benjamin
Miller, BF b 5 Sep 1921 d 17 Feb 2003
Miller, BF
Miller, Gladys b 19 Nov 1923
Miller, Clayton James b 6 May 1914 d 23 Jul 1977 b/w Velma
Miller, Velma Funderburk b 21 Dec 1914 d 22 Sep 2000 b/w Clayton
Miller, Earl Stoker b 21 Jun 1916 d 11 Dec 1944
Miller, Edna M b 7 Jun 1921
Miller, Earlene b 16 Jan 1945 d 28 Dec 1997
Miller, Eathel J b 10 Sep 1910 d 9 Feb 1941
Miller, Grady Lance b 2 Dec 1966
Miller, Lisa Herpin b 16 Jul 1964
Miller, James Eli b 9 Jan 1850 d 1 Jan 1911 b/w Rachel
Miller, Rachel B b 11 Feb 1869 d 7 Jun 1965 b/w James
Miller, Jasper Isaac b 27 Jul 1887 d 7 Jan 1928 b/w Etta
Miller, Etta Leach b 9 May 1886 d 26 May 1975 b/w Jasper
Miller, John Z b 16 Sep 1873 d 23 may 1952 b/w Alice
Miller, Alice V b 14 Sep 1879 d 23 Dec 1961 b/w John
Miller, Julia Ann b 24 Jan 1881 d 18 Sep 1964
Miller, Leon B b 13 May 1900 d 28 Mar 1958
Miller, Wiley G b 1868 d 1945 b/w Mary
Miller, Mary J b 1874 d 1915 b/w Wiley
Murphy, Ernest A b 5 Feb 1892 d 6 Feb 1966
Murphy, Martha L. b 8 Aug 1899 d 17 Mar 1995
Mitchell, Ada Z b 26 Nov 1878 d 16 Dec 1901
Nash, Leonora Koonce b ca 1850 d 4 Jan 1911
Nash, LJ b 22 Apr 1832 d 16 Feb 1918
Nash, Nora d 4 Jan 1911
Patton, Fannie Bell b 29 Aug 1869 d 1 Jul 1911
Perry, C Joann Arrington b 6 Jan 1932 d 14 Sep 2006
Peterson, infant son b/d 6 Jan 1964
Peterson, SD b 31 Dec 1911 d 18 Oct 1987 b/w Dollie
Peterson, Dollie Miller b 22 Nov 1914 d 23 Mar 1998 b/w SD
Rhame, Allen Gerald b 1 Jan 1926 d 9 Sep 1982
Rhame, Allen Gerald
Rhame, Evelyn Rae Youngblood b 5 May 1931
Rhame, Charles A b 9 Oct 1950 d 19 Mar 2000
Rhame, Jackie D b 23 Oct 1955
Rhame, Michael Dewayne b 26 Jul 1972 d 30 Jul 1972
Rice, Ivan J b 11 Jan 1883 d 5 Jan 1972 b/w Mary
Rice, Mary L b 9 Jan 1884 d 14 Nov 1959 b/w Ivan
Rice, Little Lena b 19 Oct 1906 d 23 Dec 1910
Rice, Odimae Salter b 2 Apr 1914 d 18 Oct 1938
Rice, Unreadable
Salter, Howard Olevia b 24 Dec 1908 d 28 Apr 1979 b/w Ahline
Salter, Ahline Rice b 27 May 1915 d 17 Sep 2003 b/w Howard
Salter, Jackson E b 9 Feb 1917 d 22 Aug 1992
Salter, Audrey L b 16 Mar 1923
Salter, Sherman Edward b 27 Jan 1938
Salter, Paula Lewing b 5 Jan 1946
Salter, Wilbur Lee b 30 Jun 1925 d 13 Feb 1993
Salter, Wilbur
Salter, Irene Hopkins b 27 Oct 1926
Sellers, Bobbye Lynn Salter Jones b 12 Jul 1933 d 25 May 2001
Small, Herbert Younger b 25 Oct 1911 d 20 Sep 1989
Small, Mamie Manning b 20 Oct 1917
Small, James P b/d 12 Aug 1929
Small, Michael Herbert b 27 Aug 1955 d 13 Sep 1970
Smith, Harvie b 26 Oct 1889 d 5 Aug 1905
Smith, Myrtle McConathy b 31 Jan 1910 d 15 Jan 1997
Stroud, George b 9 Dec 1902 d 12 Jul 1955
Stroud, Marian Jackson b 24 Dec 1878 d 13 Nov 1962
Stroud, Nellie Mae b 16 Aug 1906 d 25 Nov 1932
Stroud, OO b 3 Feb 1912 d 14 Jun 1929
Stroud, William Larcy b 24 Sep 1904 d 15 Jun 1961
Taylor, Bertie Mae b 3 Mar 1922 d 15 Nov 1976
Taylor, Carl b 26 Sep 1909 d 20 Nov 1909
Taylor, James F b 18 Jan 1876 d 1 Sep 1951 b/w Martha
Taylor, Martha V b 31 Dec 1877 d 7 Sep 1951 b/w James
Taylor, James Willard b 23 Dec 1918 d 11 Nov 1959
Taylor, Nancy M b 3 Mar 1841 d 4 May 1928
Taylor, Nemon b 20 Nov 1905 d 28 Feb 1908
Thomas, Rufus b 30 Mar 1873 d 17 Apr 1916
Tompkins, Archie S b 18 Apr 1870 d 8 Aug 1940 b/w Alvie
Tompkins, Alvie L b 14 Sep 1879 d 26 Aug 1959 b/w Archie
Tompkins, Edward Hubert b 12 Feb 1920 d 25 Sep 1948
Touchstone, George W b 29 Feb 1859 d 5 Jul 1930
Touchstone, Sabra C b 15 Apr 1863 d 17 Aug 1926
Tyler, James A b 21 Nov 1900 d 1 Apr 1986 b/w Tera
Tyler, Tera T b 23 Jan 1904 d 23 Jun 1974 b/w James
Underwood, David H b 20 Apr 1862 d 12 Jan 1929
Underwood, Estelle b 27 Jun 1892 d 8 Nov 1980
Underwood, James F b 29 Mar 1864 d 23 may 1923
Underwood, Jessie E b 10 Dec 1865 d 4 Dec 1934
Underwood, Latha Amy b 30 Jul 1922 d 13 Jul 2003
Underwood, Sidney E b 27 Nov 1900 d 28 Jan 1976
Underwood, Theoder Welton b 12 Apr 1904 d 2 Jan 1987
Unknown - there are several of these in the cemetery
Unknown, Dollie Elsie b 17 Sep 1915 d 10 Oct 1919
Unknown, Mary Ann b/d 17 Sep 1913
Vines, Crawford L b 3 Jan 1931 d 1 Sep 1991
Vines, Ellis Elory (MD) b 20 Oct 1884 d 2 Nov 1967 b/w Katie
Vines, Katie Cooper b 11 Mar 1895 d 9 Dec 1988 b/w Ellis
Waller, Charles R b 26 Nov 1877 d 11 Jun 1934 b/w Sarah
Waller, Sarah E b Nov 1881 d 12 Dec 1966 b/w Charles
Youngblood, Hamp b 27 Oct 1903 d 28 Dec 1997 b/w Hattie
Youngblood, Hattie Taylor b 8 Aug 1907 d 4 Jan 1995 b/w Hamp
---