Unknown Name Cemetery
(Suggested Willis/Dean/Bennett Cemetery)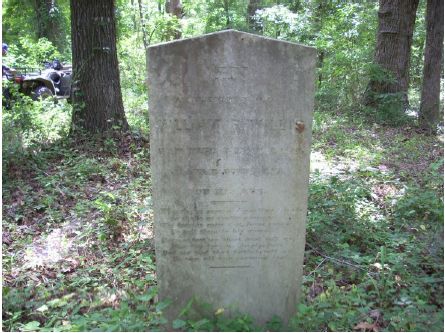 DeSoto Parish Cemeteries of LA
Submitted by Ms. Sally H. Mears and Mr. Jack Hunt, descendants of Hiram Larkin Dean.
Sunday, June 1, 2008 through Tuesday, June 3, 2008
This old plantation cemetery is Located near Mansfield, DeSoto Parish, LA, in woods on Sloan Road approximately 4.6 miles on Hwy. 579, before you get to Sloan Cemetery. Location of this cemetery is right in front of a home – bush hogged opening is beside the mail box, turn off Sloan Road on the right, go up into a clearing (pile of debris on left), there is the first opening at the clearing, then a second road (not much of a road about 50' from first opening) on the right –walk up this roadway – it kind of curves (like an "S" curve), and as you turn to the right as you walk in, before you make another curve, Hiram L. Dean's stone is to the right (area overgrown with vines & small scrub trees), then you come around the curve and you'll see Harriett Bennett's grave and the Willis's graves. Cemetery very overgrown.
Harriett E. Bennett's headstone reads:

In Memory of Harriett E. Bennett

b. 4/1/1845 -- d. 12/29/1889 (not sure of day)

She also has a foot stone with the initials H E B inscribed on it

Inscription: What dear ones view. . . (I could not read rest of inscription.)
William R. Willis headstone reads

In Memory of William R. Willis (could be initial P or D) Who died 7 March 1850In the 37th year of his age

Inscribed on headstone:

Why do we mourn departing friends on shake (?) at death alarms, tis but the voice that Jesus sends to call them to His arms. Dearest brother thou has left us, here thy loss we deeply feel but tis God that hath bereft us, He can all our sorrows heal.
Before you get to William's grave, there is another headstone on the ground, broken in 2-3 pieces.
At one time it stood as tall as Williams and is in same style. It reads: In Memory of Capt. James Willis Who died 16 April 1852, In the 75
th year of his age. (not sure if it was 75th or 77th year of his age) Inscribed on headstone: This grieving for a much loved sin (son?) (w)hose morning light was quenched at noon. The ____ years the father dies and in this grave in ____ he lies.
When you first come up the bush hogged opening, and come around the corner is the strange old tree with gnarly limb and Harriett Bennett's headstone, which has been broken with part of it propped up on the part still standing. To the left of that are the Willis's graves, one on ground and other standing (William's is standing). Look to be about 5 feet high, 3 feet across, and 2 inches thick. Then if you look to the middle, you see Hiram L. Dean's grave, in the woods & vines. That's all we've been able to locate, although Mr. Smith says there are more graves, which we could not locate.
Hiram L. Dean headstone reads:

To the Memory of Hiram L. Dean

b. 9/27/1817 -- d. 10/3/1882

Aged 65 Years

There is also a footstone with the initials H L D inscribed on it Has a base stone, then another piece on top of that with the inscription, then an obelisk (which stands about 3 feet), which had come off and was beside the other stone (see photos).
Other Photos Taken Tuesday, June 3, 2008