Rector Chapel Cemetery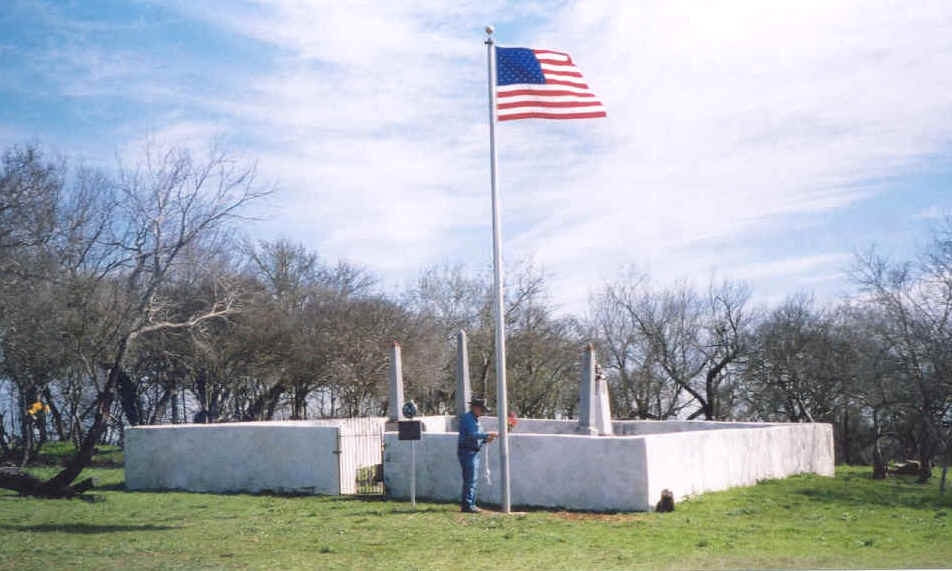 Wilson Co. Cemeteries of TX
Transcribed by Shirley Grammer
Claiborne Rector (1805-1873) settled the community of Post Oak (known today as La Vernia) sometime before 1850. William Robert Wiseman (1816-1888) settled in the area ca. 1851. They were both staunch Presbyterians and immediately became friends. By 1852, they had constituted the Cibolo Presbyterian Church with six members. The church had no regular meeting place of its own for several years, but in 1876 a frame building was erected on the William Robert Wiseman Farm approximately two miles east of La Vernia near the mouth of Elm Creek.
In honor of Claiborne Rector, who died three years earlier, the name changed to Rector Chapel Presbyterian Church. A cemetery was established in 1878 with the burial of James Connelly Duncan, Jr. The cemetery was called the Rector Chapel Cemetery. In 1891, the church building was moved to downtown La Vernia on Chihuahua Street and services continued for many years. Burials continued at the Rector Chapel Cemetery until 1920 with one final burial in 1949. William Robert Wiseman erected a four foot concrete enclosure around the Wiseman Family Plot which consist of 12 graves. The other 17 graves are outside the wall. William R. Wiseman specified that his grave was to be near the center of the east wall and his feet were to be placed toward the church and his head toward the wall. This unusual request was made so that when he arose on Resurrection Morning he would be facing the church he helped to build and the old log house which he had built and lived in all his life. Isabella E. Wiseman (1822-1911), wife of W.R. Wiseman, is buried adjacent to her husband. The Wiseman Farm is now owned by William M. Wiseman, III, (great grandson of William R. Wiseman) and wife, Mary Wiseman.
The cemetery is located 1.7 miles from downtown La Vernia. From the intersection of Chihuahua Street in downtown La Vernia and FM 775, go north one mile to the intersection of FM 2772 - bear right and go 7 tenths of one mile and the cemetery is located on the right side of the road. shirleygrammer@aol.com
RECTOR CHAPEL CEMETERY
LA VERNIA, TEXAS 3/2000
Allen, Mrs. B. M. 02/17/1844 03/08/1896
Allen, Charles Edward 1874 1949
Allen, Kathleen 04/18/1877 12/08/1903 25 yrs., 7 mo., 28 da.
Bowden, Eliza Armstrong 06/26/1835 01/28/1906

born Pender Co., N.C.
Bowden, Halstead Ash 03/22/1848 12/15/1886

born Pender Co., N.C.
Bowden, Richard Tate 07/29/1830 02/22/1904 born Pender Co., N.C.
Crews, William Littleberry 09/12/1856 06/12/1881
Cromer, Linda Cathreen 02/00/1845

08/18/1882 w/o T.L.
Duncan, James Connelly, Jr. 11/30/1877 01/01/1878
Duncan, Martha Eleanor Yantis ca 1834 12/27/1900 w/o James Connelly Duncan, Sr
Duncan, Yantis 02/27/1868 05/29/1889
Miller, Robert Wallace 04/14/1898 12/26/1899 s/o H.L. & S.L.
Murray, Owen 11/26/1810 10/04/1886
Murray, Sarah M. 01/25/1804 04/26/1887
Sharples, Robert L. 12/05/1798 02/05/1880
Yantis, Eli S. 08/24/1873 11/12/1891 s/o Susan & R.F.
Yantis, Susan E. 1831 11/03/1878 Age 47, w/o R.F.
Yantis, R.F. 05/28/1828 06/16/1912 h/o Susan
Wiseman, Allie Mae Houston 10/16/1880 11/19/1905 w/o J. V.
Wiseman, Coleman Blain unknown 12/08/1920
Wiseman, Frances Lou 04/27/1846 04/05/1893 (1st) w/o Hugh
Wiseman, Hugh W. 08/01/1845 07/02/1910
Wiseman, Infant 07/12/1878 07/12/1878 s/o John E. & Sue
Wiseman, Isabella E. 12/23/1822 11/28/1911 w/o W.R.
Wiseman, James Howard 07/04/1883 10/271884 s/o Hugh & Frances
Wiseman, James Oliver 05/07/1843 03/16/1872
Wiseman, Lizzie Lee 10/13/1902 03/25/1904 d/o W.M. & M.L. Wiseman
Wiseman, Mary E. 05/11/1881 06/10/1881 d/o John E. & Sue
Wiseman, Sallie 09/07/1872 07/22/1895 d/o Hugh & Fran.
Wiseman, William Robert 02/22/1816 01/10/1888