Casey Family buried in Florence City Cemetery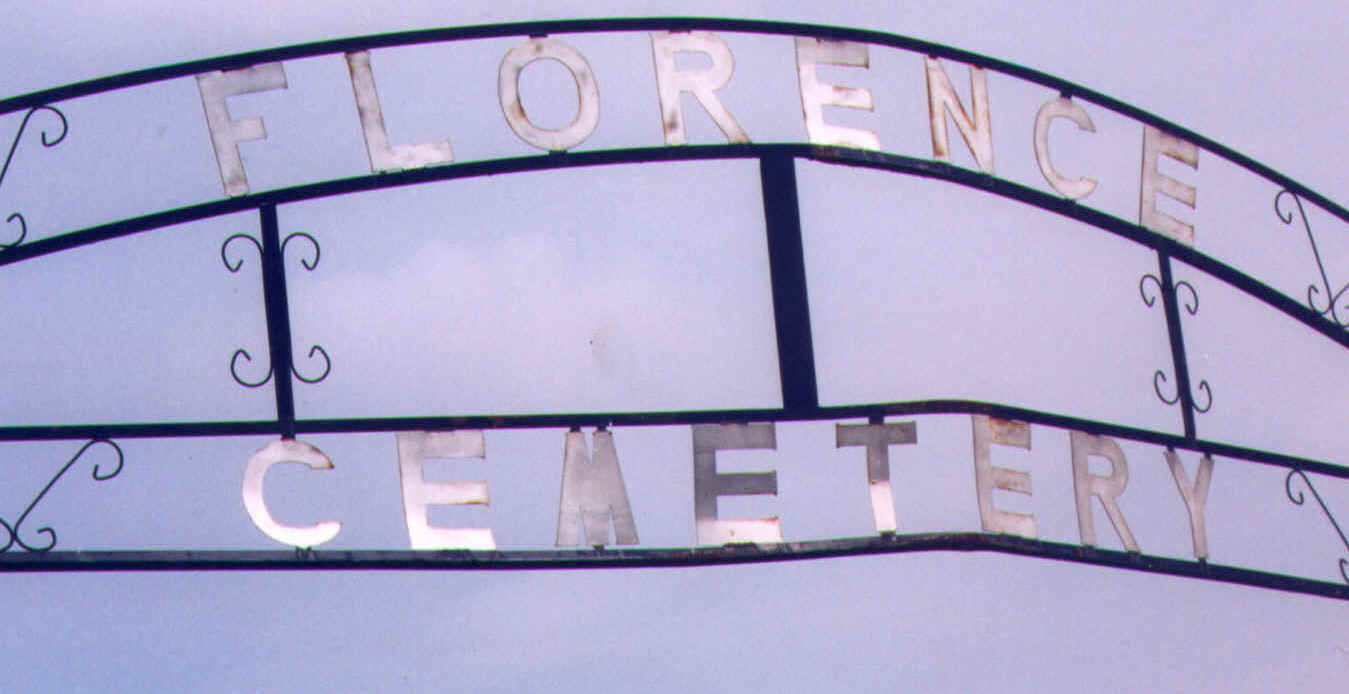 Florence, Williamson Co. Cemeteries of Tx
Submitted by David L. Casey dlc@casey-genealogy.com
http://www.casey-genealogy.com
Hoyle topped stone Historical Marker Sign
1) Willis Casey (W. Casey): "W. Casey, Husband of S.I. Casey, Jan 13, 1836 – Oct 18, 1895*" (*actual death date is debated.)
2) Isabell Casey: "Isabell, wife of W. Casey, Mar 20, 1838 – Jan 13, 1925"
3) Walker Casey: "Walker Casey, infant son of E.B. Casey & Wife, Jan 26, 1893 – Mar 16, 1894"
4) Joseph Lee Casey (same stone with wife Idonia): "Joseph Lee 1878 – 1914"
5) Idonia (Davis) Casey: "Idonia (Davis), 1878 – 1976"
6) J.H. Casey (same stone with wife Margaret Casey): "J.H. Casey 1866 – 1927" (funeral home marker embedded in cement)
7) Margaret Casey: "Margaret Casey, 1871 – 1931" (This is Margaret "Maggie" Fisher Casey, dau. of Joshua Fisher & Mary M. Ratliff Fisher.
8) Mary W. Casey (No Photo yet as of 6/28/04): The stone may read different dates, but a Williamson Co., TX history book states she was b. 10/16/1834 and died 9/6/1886. She was the wife of Hugh Casey, mother of William Fletcher "Billie" Casey, and daughter of the Hoyles who are buried nearby (? – headstone tipped over at last visit). Her maiden name was Mary Winkle Hoyle).
The people above relate to one another as follows:
Willis & Isabell Casey were married in 1856 in Bell County. Willis was the son of James Hill Casey (1813-1901) who was a pioneer of Williamson County (appearing in the courthouse) and was born in Wayne Co., Tennessee. Isabell's full maiden name was Samuel Isabell Harris, the daughter (one of two) of Samuel Overton Harris and Elizabeth "Bettie" Harris (maiden last name unknown). Soon after her birth (or perhaps just before), her father, S.O. Harris died. She was born in Arkansas. Her mother remarried a Mr. Willis H. Bruce, and she was in Texas by 1846 around Nolanville in Bell Co.
Mary W. Casey (Mary Hoyle) married Hugh Casey, a brother of Willis Casey. Hugh may be buried next to her, but there is no stone (I am researching this possibility).
Joseph Lee Casey & J.H. (James Hill Casey, or "Hill" or "Peg Leg" Casey) are the other graves with wives buried besides. These two men were brothers, and each was a son of Willis & Isabell Casey. Joseph Lee (known as Lee) married Idonia Davis who lived to be quite old, though he died somewhat young. No one around that I know remembers him, though many of the family elders still remember Idonia. Joseph Lee was a twin, and his twin was a girl named Josephine Lillian (known as Lil) who is buried elsewhere.
J.H. Casey is James Hill Casey, son of Willis, and named after his grandfather James Hill Casey who came to Williamson County in 1851. He went by Hill Casey, or "Peg-Leg" Casey and had various occupations including rock-quarrying (where he lost his leg) and ran a store with "Doc" Davis at Davisville (see Clara Stearns Scarbrough's book "Good Waters" for details), and he also is remembered for having a still back in the woods…so he may have bootlegged a little during prohibition.
Hill Casey died after being in a violent accident on the Salado Road out of Belton on Oct. 31, 1927. His son Harold (my grand-uncle) was driving, and Harold was so shaken by the incident, that he turned to the church and became a preacher. Hill was taken to Belton after the accident, and was not thought to be greatly injured, but he succumbed to his injuries before morning, and was buried the following day. His wife Margaret "Maggie" Fisher Casey followed him in death in 1931. She was the daughter of Joshua & Mary M. Ratliff Fisher. The Fishers and Ratliffs are apparently both pioneers of the Bell & Williamson County areas, coming in the mid 19th century. Joshua Fisher, Maggie's father was a son of Moses Fisher, who was born in 1805 in Illinois, and came to Texas with his brother J. King Fisher, also a prominent citizen of Bell County. Maggie's mother, Mary M. Ratliff was the daughter of James B. Ratliff, who was the son of Job & Agnes Ratliff, also pioneers of Williamson County, Texas (see the rotunda of the courthouse in Georgetown for photos).
Walker Casey was an infant son of E. B. (Ewin Bascom Casey) & Wife. Ewin Bascom Casey was another son of Willis Casey (they had 15 children, 11 of whom lived to adulthood) who lived in Williamson County early in life, but migrated later in life to California. I do have some old photographs showing Uncle Ewin (or Euin), and can share with anyone who would want to see them. There are probably descendants of this family out in California as that is where this family settled (again see my website for details.)
I hope this information helps any other researchers who are actively seeking information on the Williamson & Bell County families connecting with these Caseys, Fishers, Ratliffs, Harrises and others.