National Cemetery
Wharton County, Cemeteries of Texas
Submitted by Lois Kennedy
Photos by Tammy Gendke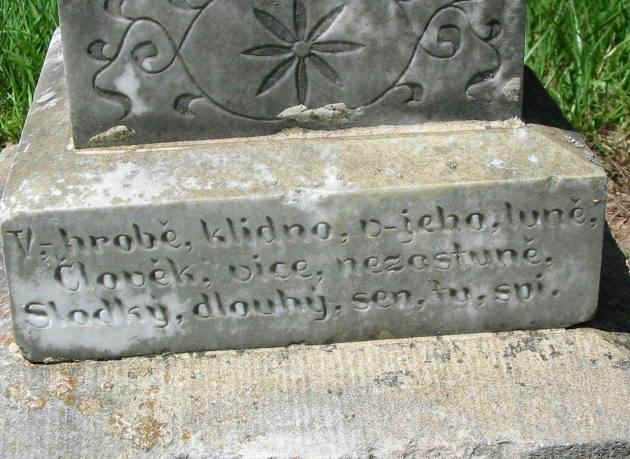 Cemeteries of Texas Coordinator: Dolores I. Bishop
This cemetery was begun in 1912 and is governed by the National Cemetery Association with Mr. Anton Kelner in charge. The survey was done on Jul 01 1985, but no name is given as to who did the survey. There is a note that states, "In reading the markers, the copier moved from west to east in an imaginary line".
The gate has the wording Cesko Nardoni Hrbitov, which means Czech National Cemetery. A map indicates it is north of the San Francisco Cemetery.
To get to the cemetery go west from East Bernard on 90A for the right on CR 291, 1 mile on the right.
Need Help! We have some photos that we need transcribed: email me
1. Rozina 2. ?? Holchak
| | | | | |
| --- | --- | --- | --- | --- |
| - | Augusta A. | 1916 | 191- | - |
| Andel | Charles | 1893 | 1961 | - |
| Andel | Veronika | Jan 02 1866 | Oct 06 1929 | SPJST |
| Andel | Voytech | Apr 23 1863 | Mar 04 1953 | SPJST |
| Baron | Vaclav | 1884 | | |
| Barta | Eugene | Sep 04 1928 | Dec 25 1971 | TX Cpl 224 Inf 40 Inf Div Korea |
| Beals | Ralph T. | Mar 04 1911 | Aug 05 1977 | H/o Helen |
| Beran | Oanter | Apr 29 1896 | Mar 29 1946 | TX Pvt 343 FA 90 Div |
| Bippler | Millie | - | 1939 | - |
| Borak | Frank | 1891 | 1939 | - |
| Borak | Tillie Betty | Jan 29 1907 | Mar 27 1956 | - |
| Brandl | Frank | Jul 22 1876 | Nov 18 1969 | Father |
| Brandl | Mary | Dec 08 1880 | Dec 09 1945 | Mother |
| Brietzke | Joyce Marie | 1949 | 1949 | - |
| Brietzke | Leasly R. | Jan 06 1913 | Dec 14 1963 | SPJST |
| Brodecky | John | 1883 | 1948 | - |
| Brzak | Klara | 1866 | 1928 | SPJST |
| Brzak | Martin | 1880 | 1959 | SPJST |
| Conaway | Collis C. | Feb 01 1911 | Jun 09 1974 | Pvt USA |
| Cykala | Charlie A. | Jan 28 1900 | Jul 13 1967 | Father |
| Cykala | Emilie A. | Dec 08 1906 | Nov 17 1970 | Mother |
| Dlouhy | Aneska | 1861 | 1921 | |
| Dlouhy | Frank Sr | 1854 | 1932 | - |
| Dobias | Antonio Valcik | Apr 10 1899 | May 18 1947 | - |
| Dobias | Francies | Dec 11 1897 | Jul 21 1930 | - |
| Dobias | Robert | 1895 | 1985 | FHM |
| Foitik | Frances | Oct 03 1889 | Aug 24 1974 | - |
| Foitik | Frank | Mar 09 1888 | Aug 07 1964 | TX PFC 145 Co TC WWI |
| Fojtik | Agnes | 1865 | 1951 | Wife |
| Fojtik | Ignac | 1861 | 1927 | Husband |
| Foitik | Jim V. | Nov 12 1885 | Apr 18 1966 | - |
| Foytik | Edwin | 1909 | 1976 | T5 USA WWII |
| Gajevsky | Frank J. | Jun 02 1908 | Apr 31 1938 | SPJST |
| Gajevsky | John | May 16 1880 | Apr 29 1963 | Husband |
| Gajevsky | Theresa | Oct 07 1879 | Jul 30 1962 | Wife |
| Genzer | Aneska | 1859 | 1935 | SPJST |
| Genzer | Anton | Sep 15 1888 | Feb 13 1935 | Son; SPJST |
| Genzer | Jan | 1861 | 1919 | SPJST |
| Genzer | John | May 18 1891 | Dec 01 1959 | SPJST |
| Genzer | Josef | 1894 | 1943 | H/o Anna; SPJST |
| Genzer | Louise | Jul 03 1894 | Feb 02 1973 | SPJST |
| Gilny | Annie | Jul 19 1918 | Feb 20 1919 | - |
| Gvrecky | Eugene A. | 1949 | 1977 | - |
| Hajducek | Charlie J. | 1922 | 1977 | - |
| Hajducek | Jerry | 1893 | 1965 | Father |
| Hajducek | Jerry | 1926 | 1926 | - |
| Hajducek | Louis | Apr 19 1928 | Jun 19 1928 | - |
| Hajducek | Mildred | Dec 10 1929 | Mar 06 1930 | - |
| Hajducek | Milton | Nov 07 1919 | Jan 15 1943 | TX PFC US Inf WWII |
| Hajducek | Stephanie | 1897 | 1962 | Mother |
| Herold | Annie | Sep 08 1896 | Jul 07 1920 | W/o George |
| Holchak | Clara M. | Sep 19 1882 | Dec 15 1968 | Wife |
| Holchak | Frank G. | Mar 10 1878 | 1980 | Husband |
| Holub | Charles | 1875 | 1965 | - |
| Holub | Frances | 1890 | 1941 | - |
| Holub | J.F. | - | - | - |
| Horelica | Bertha | Jan 09 1910 | May 01 1976 | Wife |
| Hranicky | Apolina | 1879 | 1961 | - |
| Hranicky | John | 1866 | 1938 | - |
| Hribek | Frank E. | Aug 16 1902 | Apr 12 1926 | Husband; Father |
| Hribek | John | 1888 | 1967 | FHM |
| Hruby | Josef | 1881 | 1937 | - |
| Hruby | Karolina | 1883 | 1940 | - |
| Hutyra | Albina | 1901 | 1961 | W/o Charlie |
| Janik | Emil J. | Jan 30 1899 | Jul 13 1971 | - |
| Janik | Frank Sr | Kve 10 1856 | 1927 | Father |
| Janik | Jerome | Nov 11 1929 | Sep 25 1967 | TX Sgt 580 Harcft Co TC |
| Janik | Johanna | Kve -- 1856 | Rij 08 1923 | Mother |
| Janik | Sophie A. | Oct 04 1899 | Apr 06 1980 | - |
| Jankowiak | Augusta | 1904 | 1983 | - |
| Jankowiak | Mike | 1899 | 1953 | - |
| Jochec | Caroline | 1904 | 1917 | - |
| Jochec | F. | - | - | - |
| Jochec | Frantiska | 1863 | 1959 | - |
| Jochec | Mary | Dec 05 1892 | Jan 24 1982 | - |
| Jochec | Peter | 1865 | 1945 | - |
| Jochec | William | Dec 09 1889 | Jan 30 1965 | - |
| | | 1859 | 1913 | - |
| Jolchak | Edwin D. | Jan 02 1909 | May 21 1931 | - |
| Kazmir | Frantisek | 1870 | 1938 | - |
| Kazmir | Veronika | 1877 | 1931 | - |
| Kelner | Albin | - | - | Infant |
| Kelner | Alouise | Aug 22 1880 | Mar 17 1959 | - |
| Kelner | Anton | Jun 01 1874 | Jan 08 1958 | - |
| Kelner | Felix | Feb 10 1906 | Sep 23 1976 | H/o Albina J; M: Oct 24 1938 |
| Kelner | Felix Jr | Mar -- 1946 | Oct -- 1946 | - |
| Kelner | Frank | - | - | Infant |
| Kelner | Jimmie L. | Aug 16 1950 | Jan 03 1974 | H/o Mary E. |
| Klecka | Joe J. | Mar 03 1893 | Oct 21 1959 | - |
| Klecka | John | 1876 | 1972 | - |
| Klecka | Karolina | 1885 | 1941 | - |
| Klecka | Lilia F. | 1893 | 1984 | - |
| Klecka | Willie E. | May 28 1920 | Sep 17 1947 | - |
| Kocich | Anna | 1871 | 1951 | - |
| Kocich | Robert | 1902 | 1949 | - |
| Kolafa | Vlasia (Mrs) | Feb 27 1903 | Apr 05 1932 | - |
| Kozik | Eddie | Feb 16 1904 | Mar 19 1969 | - |
| Kozik | Frank | Dec 11 1901 | Apr 04 1979 | - |
| Kozik | Raymond Jim | Nov 10 1947 | Jan 20 1969 | TX Sgt 1 Inf, 2nd Lt Inf Bde BSM, PH Vietnam |
| Kozik | Richard | | Dec 01 1982 | Age: 69 yrs FHM |
| Krall | Emil W. | Jul 28 1907 | Nov 05 1970 | H/o Louise |
| Krall | Lee | Nov 08 1885 | Oct 16 1977 | Husband |
| Krall | Mary | Jul 04 1887 | Feb 24 1981 | Wife |
| Krause | John A. | 1898 | 1971 | - |
| Kubena | Ben | 1869 | 1950 | Father |
| Kubina | Jakub | 1888 | 1939 | - |
| Kubena | Karolina | 1872 | 1939 | Mother |
| Kunetka | Maria (Mrs) | Sep 15 1888 | Feb 21 1916 | - |
| Kusy | Mary Fojtik Jochetz | Dec 13 1871 | Jul 25 1923 | - |
| Ladewig | Ely J. | Jun 20 1871 | Mar 14 1954 | - |
| Ladewig | Frances | Mar 07 1887 | Nov 02 1973 | - |
| Lamkin | Georgia Borak | Oct 03 1926 | May 25 1963 | - |
| Lamkin | Lester C. | Apr 13 1908 | Jan 01 1946 | - |
| Lupik | Brodrich | 1910 | 1918 | - |
| Lupik | Ernestine | 1873 | 1960 | Mother |
| Lupik | Frank | 1864 | 1951 | Father |
| Luquette | Clovise Joe | Oct 24 1897 | Apr 17 1974 | H/o Ann |
| Marsalia | Infant | - | - | - |
| Materanka | John | 1903 | 1963 | - |
| Mayer | Annie | 1891 | 1959 | - |
| Mayer | Frank | 1912 | 1939 | - |
| Mayer | John | Aug 29 1890 | Mar 22 1962 | SPJST |
| Mikeska | Christina | 1910 | 1937 | - |
| Mikeska | Emil | Oct 04 1899 | Apr 23 1976 | SPJST |
| Morris | Willie A. | Oct 02 1918 | Oct 28 1979 | PFC USA WWII |
| Nezval | Dominic | Jul 05 1897 | May 16 1981 | PFC USA The Philippines |
| Novosad | Frantiska | 1863 | 1953 | - |
| Novosad | Stepan | 1855 | 1933 | SPJST |
| Ondras | Julia Ann Kazmir | 1912 | 1968 | - |
| Ondras | Richard Robert | Dec 10 1930 | Feb 13 2000 | h/o Barbara |
| Orsak | Jan | Jun 24 1849 | Dec 28 1935 | - |
| Orsak | Katerina | Nov 01 1866 | Feb 14 1939 | - |
| Ovesny | Jan | 1872 | 1915 | SPJST |
| Ovesny | Julius A. | Jul 23 1899 | May 29 1983 | Pvt USA WWI |
| Ovesny | Kristina | 1899 | 1984 | FHM |
| Peters | Caroline | Jan 28 1881 | Oct 02 1953 | - |
| Peters | Charles | Jul 10 1881 | Nov 05 1932 | - |
| Petras | Edward | Dec 04 1859 | Jan 12 1932 | - |
| Petras | Justina | Jul 31 1879 | Feb 19 1962 | - |
| Petrash | Joe M. | Mar 21 1917 | Jul 08 1975 | PFC USA WWII |
| Pribyl | Apolena | Aug 24 1900 | Apr 05 1957 | - |
| Pribyl | Henry F. | Aug 14 1893 | Aug 16 1965 | - |
| Raska | Hedwig | Jun 20 1896 | Dec 01 1978 | - |
| Raska | Joseph A. | Jun 13 1889 | Nov 30 1960 | - |
| Raska | Julius | 1925 | 1936 | - |
| Sabrsula | Arnold | Dec 28 1923 | Nov 07 1925 | - |
| Selcer | Mary | Sep 16 1855 | Dec 04 1939 | - |
| Sindel | Alois | Aug 24 1869 | Nov 07 1945 | - |
| Sindel | Marie | Jun 26 1872 | Dec 06 1931 | - |
| Socha | Frank | 1864 | 1924 | - |
| Socha | Hermina | 1888 | 1970 | - |
| Sopcjak | August | Aug 22 1899 | Sep 05 1956 | - |
| Sopcjak | August Jr | Jan 07 1921 | Dec 04 1970 | TX PFC At Co 141 Inf WWII |
| Sopcjak | Lola R. | Nov 02 1899 | Jan 21 1983 | - |
| Srubar | John | 1900 | 1967 | - |
| Sulak | Albina | Oct 29 1895 | Sep 17 1970 | - |
| Sulak | Charlie | Nov 05 1905 | Feb 07 1971 | H/o Jane |
| Sulak | Robert | Dec 25 1898 | Jul 23 1967 | - |
| Sykora | Albert | Apr 12 1894 | Jan 30 1954 | TX Pvt Btry E 125 FA WWI |
| Sykora | Filip | 1869 | 1933 | SPJST |
| Sykora | Marie F. | 1882 | 1959 | SPJST |
| Syptak | Johanna Brodecky | 1894 | 1966 | - |
| Toma? | Raymond | Dec 29 1935 | Sep 11 1978 | FHM |
| Tomanek | Ed | 1900 | 1956 | - |
| Tomanek | Mary | 1895 | 1973 | - |
| Trncak | Frank | 1914 | 1914 | - |
| Trncak | Janie | - | - | Mother |
| Trncak | Steve | - | - | Father |
| Tymel | Frank Sr | Aug 01 1869 | Nov 21 1954 | - |
| Tymel | Teresa | Apr 22 1867 | Dec 15 1920 | - |
| Unknown | | 1922 | 1981 | FHM; Unreadable |
| Unknown | | | | |
| Unmarked Grave | | | | |
| Unmarked Grave | | | | |
| Unmarked Grave | | | | |
| Unmarked Grave | | | | |
| Unmarked Grave | | | | |
| Unmarked Grave | | | | |
| Unmarked Grave | | | | |
| Unmarked Grave | | | | |
| Urbanec | Alois | May 09 1867 | Mar 03 1937 | - |
| Urbanec | Louis R. | Oct 01 1903 | Mar 01 1954 | - |
| Valcik | Edwin Stassey | Dec 04 1921 | Feb 24 1972 | TX PFC 101 A/B Div WWII PH-OLC |
| Valcik | Jerry J. | Aug 09 1896 | Nov 02 1934 | TX Wagoner 9 Inf 2 Div |
| Valcik | Stepan | 1862 | 1947 | - |
| Valis | Anna | 1890 | 1978 | - |
| Valis | Paul | 1888 | 1958 | - |
| Venglar | Frank | 1917 | 1917 | - |
| Venglar | Hilda | Jul 25 1926 | May 28 1936 | - |
| Venul? | Frank | - | - | FHM |
| Vrana | Richard | 1880 | 1973 | - |
| Wigrys | Emil | 1879 | 1949 | FHM |
| Witek | Olga | 1907 | - | - |
| Zabodyn | Emilie | 1884 | 1915 | - |
| Zabodyn | Frank | 1880 | 1955 | Husband; Father |
| Zabodyn | Frank Jr | 1928 | 1968 | - |
| Zabodyn | Rosie | 1902 | - | Wife; Mother |
| Zahradnik | Emil B. | 1892 | 1965 | FHM |
| Zapalac | Pavel | 1870 | 1938 | Father |
| Zapalac | Sofie | 1881 | 1942 | Mother |
| Zotyka | Gary G. | 1945 | 1945 | - |
| Zotyka | Jerry W. | 1946 | 1946 | - |
| Zotyka | John | 1873 | 1956 | - |
| Zotyka | John Frank | 1944 | 1944 | - |
| Zotyka | Ladgie | May 06 1912 | Apr 02 1979 | H/o Mary Ann |
| Zotyka | Magdalena | 1874 | 1936 | - |